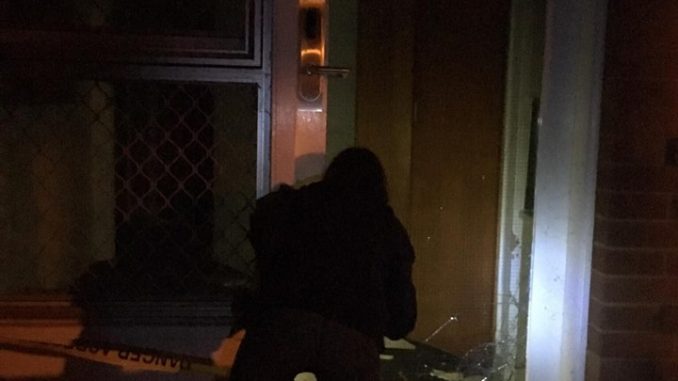 Late-night break-ins to the Bruce Hall demolition site have occurred en masse in past weeks. The visiting Bruce residents are at "considerable risk" of dangerous asbestos exposure, according to ANU. The late-night visits are motivated largely by nostalgia, but have also included vandalism, and looting of abandoned furniture.
Bruce residents, mainly returners, found and exploited poorly secured entrances to the demolition site. Demolition preparations, which were hastily done, left furniture, electronics, and other valuables in and around the old Bruce building. Residents described taking "posters, old books, and signature Bruce Hall glasses," as well as plaques from important rooms, and resident artworks still left on the walls. Many also visited their old rooms. Before long, the trips became "open conversation topic around the college," and many first-years were taken on midnight tours of the building. "We were just really curious about old Bruce" one described. "There's obviously a lot of heritage there."
Asbestos has been released by the demolition. The site is surrounded by warning tape, and concerns over potential exposure have been raised. ANU refused to comment on the specific level of danger from asbestos, but called the site "dangerous" and told Observer any visitors were "placing themselves at considerable risk." And exposure has only worsened as demolition continues. "Returners did their break-ins before a lot of the asbestos was exposed" one resident told Observer, "so it's actually the new ressies coming late to the game who are copping it the worst and they also have the least idea of what they're doing."
One resident explained their decision-making process:
The first night I went there was no asbestos warning. But the last week before mid semester break I went 4 nights in a row and it was getting progressively worse each night, there were some rooms and sections that were locked that weren't locked the night before, and that's like when I noticed the asbestos warnings …. But at that point I've been there so many times … what's an extra night.
ANU would not confirm whether they intend to take further action to prevent students' exposure to asbestos at the site.
As demolition has continued, many less pleasant ventures have occurred. Some students visited the building just to break and destroy; according to one resident, "People got hold of sledgehammers." More recent visitors told Observer  "It honestly felt like a COD map or a horror movie vibe because there was no power and rooms had been ripped apart."
"It's sad for those of us who lived in the hall to see it left in this state and treated this way." said Matthew Bowes, Bruce Common Room Committee President. Bowes faulted the rushed and incomplete removal process, arguing "The situation could have been somewhat mitigated had [the building] been properly emptied." Many doors to the building were left open, and no residents have been discovered or stopped. A student told us: "The night me and [my friend] went in we were standing right next to the fence … ANU security drove by and I don't recall being too fussed about that." ANU said they are "not aware of any visits to the site," although there are reports of increased security presence.
While most residents have left for the break, demolition has advanced considerably. However, one resident told us "a lot of people want to go … but haven't had the opportunity. I'd definitely go back again if I could."