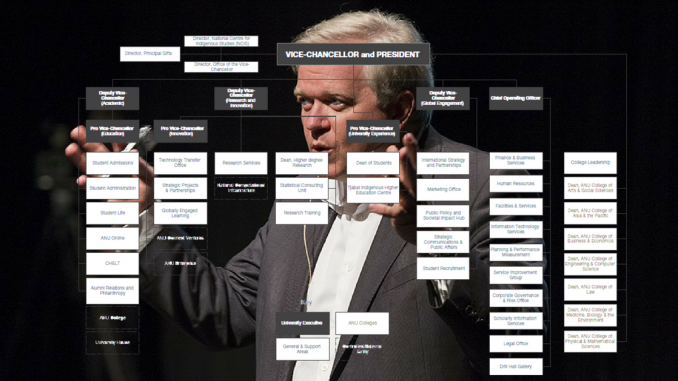 Students' educational experience will soon be in new hands, after the biggest restructure of ANU's Executive in recent years. Two new positions promise to reshape academic colleges and student's educational experience.
Last night, Vice-Chancellor Brian Schmidt announced to staff the appointment of a Provost, a Vice-President of Advancement, and a Pro Vice-Chancellor of Education. Changes to existing roles were also announced, including the new, more expansive role of Chief Operating Officer for Chris Grange, who was instrumental in ANU's plans to demolish and relocate Fenner and Bruce Halls. While the Provost and VP Advancement will be appointed later this year, other changes take effect immediately, and Schmidt expects to find a PVC Education "in the near future".
So what does this mean?
US-Style Provost will run Academic Colleges
Currently, the Dean of each College reports straight to Brian Schmidt himself. ANU gives its Colleges a lot of independence compared to other universities, and the independence of Deans is a big part of that. The creation of a Provost position changes this paradigm; The Provost will take Schmidt's vision and plans, and direct the Deans to execute those plans, a responsibility Schmidt described as "operational leadership". This person will wield enormous power and responsibility, as they're essentially in charge of the entire academic apparatus of the ANU. Recognising this significance, ANU will engage in an "international search" for Provost candidates.
Schmidt says this move will "free up some of my time" to focus on other aspects of the Vice-Chancellor's role, without having to directly manage the colleges. The change also highlights Schmidt's U.S. roots: Provosts are a prominent feature of American universities, and are relatively unheard of in Australia.
Another Voice for Education in Chancellery
Also announced was a new Pro Vice-Chancellor for Education. Schmidt was unclear on the exact details of the job, but said it will assist Marnie Hughes-Warrington, the Deputy Vice-Chancellor (Academic). Currently, the educational experience of students is managed by Hughes-Warrington, with assistance from Richard Baker, the Pro Vice-Chancellor of University Experience. The new Executive will likely take on some of their responsibilities. This may include teacher training for academics running courses, the new ANU+ volunteering program, curriculum change, or ANU's digital education initiatives. Whatever the specifics, this position adds a hugely influential new voice on education and student issues to Chancellery.
A New, Corporate-Focused Vice-President
Brian Schmidt is technically the President of the ANU, but unlike some Australian universities ANU has preferred to focus on academic rather than corporate titles. The appointment of a Vice-President of Advancement is a break from that tradition. Schmidt described the position as fostering "growth in alumni relations and philanthropic engagement". At other Australian universities, the role of VC Advancement is highly corporatised, and manages the University's marketing and branding arms, in order to facilitate reputation growth and external sponsorship.
---
University Structure as of Last Year: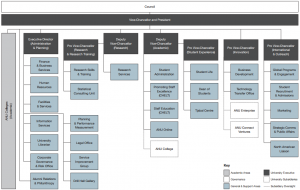 University Structure as of Today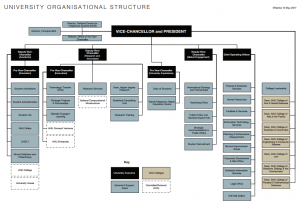 ---
Full Letter from Brian
Dear all
Following the launch of the ANU Strategic Plan earlier this year, I have been considering how we – the University Executive working with the Colleges and the whole ANU – can best deliver on our vision for the University. As you know, I want us to focus on achieving excellence in our education, research and global engagement activities; building our reputation to recruit the very best talent; and positioning ourselves as an outstanding contemporary national university.  To do this, I have decided to make some changes to our Executive structure.
I will appoint a Provost to help drive the delivery of the ANU Strategic Plan. Reporting to me, the Provost will work with the DVCs and Deans to provide the operational leadership that will ensure we meet our strategic goals. This new position will also free up some of my time, which I can spend engaging more both inside and outside the University. We will soon launch an international search for a Provost, and I look forward to receiving any ideas you might have for suitable candidates. In addition, as already announced, we are seeking to recruit a new Executive role, Vice-President Advancement, to lead our growth in alumni relations and philanthropic engagement.
Of course, this new structure will not be realised until later in the year when the recruitment of these two positions is completed. However, I have decided that some changes to Executive portfolios and titles will take effect from tomorrow, Wednesday 10 May. These immediate changes are summarised below, and in an updated org chart available here.
Professor Shirley Leitch will take on the role of Deputy Vice-Chancellor (Global Engagement), responsible for managing all aspects of our external profile and positioning. Shirley will lead a portfolio that will consolidate many of the University's key outward-facing divisions, including International Strategy & Partnerships; Marketing; Strategic Communications & Public Affairs; Student Recruitment. Shirley will take on operational responsibility for the new Public Policy and Societal Impact Hub, which will also report to a VC-chaired Board.
In the Academic portfolio, we expect to appoint a new Pro Vice-Chancellor (Education) in the near future to work with Deputy Vice-Chancellor (Academic) Professor Marnie Hughes-Warrington. Professor Richard Baker, Pro Vice-Chancellor (University Experience), will report to me, and subsequently the Provost when that role comes into being, to ensure equity, diversity and inclusion is at the heart of implementing our strategic plan.
Professor Margaret Harding's title will be updated to Deputy Vice-Chancellor (Research and Innovation), and Chris Grange – currently known as Executive Director Administration and Planning – will become the Chief Operating Officer. Both title changes better reflect the roles Margaret and Chris play. Other Executive arrangements, including Professor Mick Cardew-Hall continuing to work with Margaret as Pro Vice-Chancellor (Innovation), remain unchanged.
Above all, the Executive will stay focused on delivering engaged leadership to this great University, remembering it is you – our staff and students – that make us great.  
Brian
Professor Brian P. Schmidt AC
Vice-Chancellor and President
The Australian National University