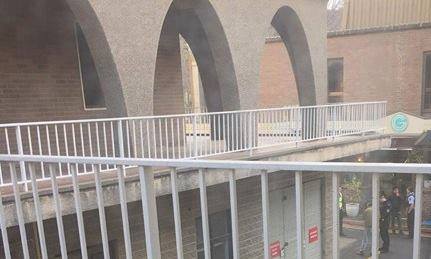 A man "screaming" at staff and demanding money invaded The Gods Cafe Wednesday afternoon, claiming to be a short-changed worker. The intruder was removed after police were called, though he attempted to re-enter the building,
The man entered Gods through the staff entrance and "started screaming and threatening staff" according to Gods director Jaye Min. The man "demanded money", Min said, arguing he had worked a training shift and was never payed. No Gods staff, according to Min, had ever seen the man, who looked in his 50s and appeared to have been sleeping rough.
ANU Security quickly arrived, as the man sat at the bar and continued to "yell at the staff for money", which "scared employees and customers", Min said. Security did not remove the man, reportedly telling Gods they could only physically remove him if he was actively violent.
Police were called to the scene, and removed the still-screaming man under threat of force. Min says he then attempted to enter the cafe again through the Arts Centre doors, after which police officers "had their fingers on a taser gun" and told the intruder he would be arrested unless he left immediately, after which he departed.
Min expressed concern for his staff's safety and doubts over campus security after the incident. The shop-owner, recently embattled by a court case with ANU, said it was "crazy' that ANU security would not remove the man. Min asked, "what would happen if he came back with a knife?". He described Union Court as "a ghost town" during winter break, saying this made him feel unsafe.
Min made it clear he does not believe the incident is related to his ongoing legal dispute with ANU. There is no evidence to suggest any relationship between the events.