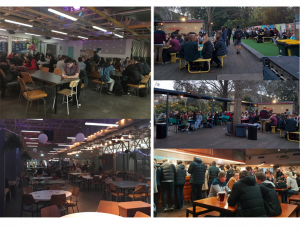 ANU Bar attracted far more students than the Pop-Up Village's MOLO last night, in the first real test of the now-competing venues. But the Bar's success in numbers may not translate into financial sustainability, as drinks were heavily subsidised.
Observer attended both venues, to the detriment of several reporters' health, and compared patronage throughout the night. Attendance at MOLO was notably lower, with large empty spaces contrasting an ANU Bar where at times seats couldn't be found. This trend continued the entire night, despite the Pop-Up Bar holding ANUSA's 'SPICE UP YOUR LIFE' event and later, a Univibes 'Groove Induction'. While MOLO set their happy hour after ANU Bar's ended, and remained open well after the Bar, neither point saw a significant rise in student patrons.
Nostalgia and loyalty are doubtless factors, but price may be partly responsible for ANU Bar's victory. With $3 canned ciders and $12 jugs in their happy hour, the Union-run Bar outperformed the $5 MOLO lager and $15 jugs offered throughout the night – unusually low prices which sources say have the Union tuning little to no profit on these sales. One student told Observer "Students go where beer is cheapest: nobody is surprised".
MOLO management told Observer that pricing and available drinks at MOLO are aimed at a "broader audience" than its competitor: MOLO offers wine, and pricier spirits. MOLO said this strategy has been successful in drawing in business from wider Canberrans. MOLO asserted that competition with the Bar has not affected their revenue.
The continued existence of the ANU Bar rests on the ANU Union's ongoing legal dispute with the University. This case may stall the redevelopment and leave ANU Bar open until October.
Jason Pover, Eliza Croft & Laura Farag contributed to this report