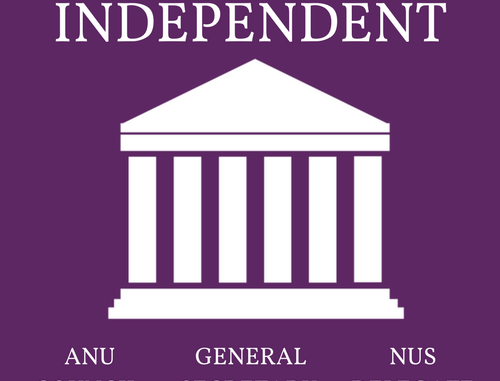 Howard Maclean is bucking the ticket structure and running solo for General Secretary of ANUSA, a place in the NUS, and the student position on the University Council. The staunch independent has promised a radical rethink of ANUSA's democracy, a deeply anti-factional position on NUS, and to make students heard on Halls of Residence on the ANU Council.
He wants the ANU Council seat, to tell ANU how Halls of Residence should be run.
Maclean is the first ever independent candidate for University Council, the ANU's most powerful student position. The Council runs ANU; it sets policy on Halls of Residence, admissions, teaching and everything else the University does. Previously the ANUSA President has had an automatic seat on the Union, but this year the position will be separately elected, allowing an independent candidate for the first time.
Residential Halls form the crux of Maclean's Council ambitions. Next year will see the development of the new Bruce Hall, the Union Court residences, and the new residents of SA5, which he calls "the largest shift in the history of residential accommodation at ANU". He wants to make "consultation more open and public" with a "more active student voice". "
Can an independent win an Executive position? 
ANUSA's Executive contains the most influential, contested and highly paid student positions, and candidates traditionally run as a tight-knit team with a common goal. However, Maclean is running independently for General Secretary. The last time an independent candidate ran for Executive was 2013, and they were unsuccessful. Without the backing of a ticket, Maclean described his chances of winning as "slim", but said he still considers running independently the best choice.
"The referee shouldn't play for a team", he argues. ANUSA's General Secretary is responsible for running meetings and voting, enforcing the policies and procedures of the Association, and overseeing, to some extent, the ANUSA elections. Maclean makes the case that ANUSA's Executive has become free of SRC oversight (a criticism shared by ticket Shake Up), because the "President chose [the General Secretary] for a ticket slot".  Maclean claims this creates a "power imbalance" which an independent General Secretary avoids.
He dislikes the NUS, and wants to tell them directly.
The National Union of Students is also in Maclean's sights. His dislike of the controversial organisation is no secret – Maclean voted against ANUSA's affiliation earlier this year, and called NUS a  "farce" which is "actively damaging" students ability to affect change. Maclean blames the NUS's factionalism (which he describes as "rampant") for these issues, and promises to go as an independent. Maclean has also promised to push for live-streaming of NUS's highly controversial National Conference, which currently prohibits video footage of any kind.
Who is this guy?
Maclean began his student political career in Unilodge, where he became President of the Resident's Committee and pursued many projects, including a (short-lived) student bar. Last year he ran for ANUSA General Representative, and was elected as part of a surprising sweep which saw all four independent Gen Rep candidates elected.
Maclean also promised to advocate for Halls of Residence in his Gen Rep campaign – but so far has done little in that space. Maclean told Observer he "had hoped" to "contribute to the Association's policy" around residential halls, but says his position did not allow him to sit on the necessary committees, which are typically occupied exclusively by the President and Vice-President. However, he is currently working on a Future Residences report, to attempt to guide the University's direction based on what students want. Maclean says he has also spent time "working on constitutional reform" to refine "issues with the Gen Rep role".