NTEU Protests Cuts to Higher Education
---
Jason Pover & Skanda Panditharatne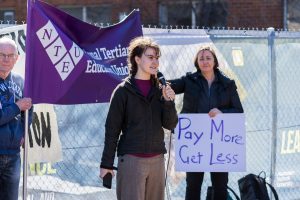 Staff and students protested today against imminent cuts to tertiary education funding in an event organised by the National Tertiary Education Union (NTEU). The cuts, apparently worth $15 million for ANU, will go before the Senate tomorrow.
Over 100 staff and students gathered at the Pop-Up Village to hear representatives from ANUSA, PARSA and various union bodies. Labor MP Gai Brodtmann spoke at the event, and argued against the government's higher education policy, noting that ANU would undergo a cut of $15 million over the next four years. "They label these attacks, these cuts, as reform," Brodtmann said, "we know this is an 'incoherent, contradictory mess'," echoing the statement of Vicki Thomson, Group of Eight Chief Executive, from June.
Protesters claimed that students will pay more for a diminished education experience under the new policy. NUS Welfare Officer Jill Molloy said, "we are now faced with paying more for our degree and getting less." This sentiment was repeated by ANUSA Education Officer Robyn Lewis, who said that students "are already struggling" and would not "tolerate paying more and getting less".
There are fears funding changes may result in a staff reduction at ANU. Matthew McGowan, NTEU Assistant National Secretary, told Observer that there are "rumours among staff about a voluntary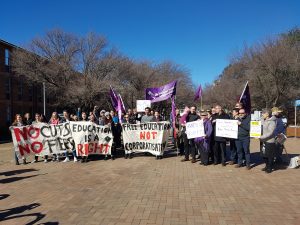 redundancy drive" and an increase in the number of casualised academic and administrative roles. He went on to note that "any cuts to staff will inevitably affect students" whether or not changes affect student facing services. Unions ACT Secretary Alex White also stressed the increasing casualisation of university staff. "The university management is trying to use enterprise bargaining to cut workers rights and penalty rates," White argued, "The first step to changing the rules is a strong union movement."
The Australian has estimated that the higher education package, in its current form, does not have sufficient support to pass the Senate.
Observer contacted Senator Zed Seselja for comment. The Senator has not replied at time of publication.
---