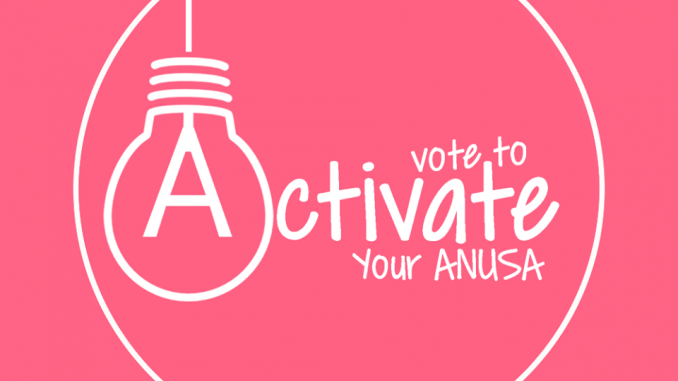 'Activate your ANUSA', have put forward policies on elections and sexual assault which directly challenge ANUSA's  policies and positions in the leadup to the election. The ticket, made up of General Representatives and National Union of Students (NUS) delegates, promises to "hold the Executive to account" more than current General Representatives.
Activate is organised by Nick Douros. Douros told Observer  that current General Representatives were not achieving their "basic function of holding the Executive to account". This problem stems from the major tickets, Activate claims. "Because they are a part of a larger ticket," Douros said, General Representatives can feel an obligation to their ticket Executives, and "may not be able to criticise the people above them".
The ticket has certainly wasted no time being critical of ANUSA's current reps. Multiple candidates have campaigned on more action to combat sexual assault, and candidate Camille Inez accused ANUSA representatives of a "lack of positive progression towards action on sexual assault/harassment and abuse relationships". President James Connolly rejected these accusations, citing the addition of a full-time sexual assault counsellor and an external review into ANU's policies on sexual assault, both of which were brought about by ANUSA. Connolly called Activate's claim a "mischaracterization" [sic] which "diminishes the tireless and often thankless work of ANUSA representatives" such as the Women's Officer.
Election rules have also caught Activate's attention. The ticket has promised two major changes to campaigning regulations: that campaigning be allowed in the Pop-Up Village, and that campaigning not be allowed until Bush Week. The ban on Pop-Up campaigning was approved by a large majority at a General Meeting earlier this year, but many, including Douros, criticised the decision for blocking direct engagement with the student body. Their policy on limiting campaign times comes after rival ticket Shake Up launched their campaign in the winter break, a move widely agreed to have encouraged earlier launches of other tickets and extended the campaign period. Activate said they "know that students can find it frustrating" to deal with candidates over a long period, and that this policy would "restrict pesky candidates" who wished to extend the election.
Current ANUSA General Representatives have questioned Activate's promises – General Representative Tom Kesina, who has been active in scrutinising Executive decisions in 2016, criticised a lack of experience on the Activate team. "I'm sure Activate candidates are genuinely interested in improving ANUSA , but I have not seen them at the SRC" Kesina said. He argued that while "promising transparency and accountability and accessibility are easy," candidates need "a working knowledge of ANUSA" to actually make change. Douros responded that many candidates had viewed SRCs on livestream, and Activate has highlighted the lack of previous involvement as a positive which allows them to better scrutinise the Association.
Activate have promised to make efforts to better communicate Executive decisions to the student body, including social media graphics of motions on which SRC is voting.
Activate is also running a full ticket of NUS candidates, and are the most pro-NUS ticket in the election. Douros, the ticket convener, is the current President of the NUS's ACT state branch, and is a member of the National Union of Students' Labor Right faction, Student Unity. "It's important to be contributing to the national conversation around higher education," Activate argues.
While not formally affiliated with a party or group, Activate contains several members of the Labor Students Club (the Labor Right club on campus). Labor students on campus have not had organised an ANUSA ticket since the ill-fated 'Ready for ANUSA' campaign of 2015.
Voting for the 2017 ANUSA election begins on Monday 21 August.