Progress Dominates PARSA Election
Posted On August 18, 2017
---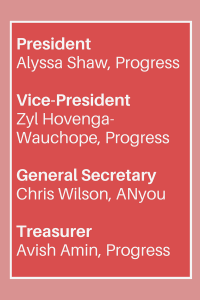 Michael Turvey, Valerie Ng & Skanda Panditharatne
The Progress ticket has dominated the PARSA elections, winning all but five positions. Alyssa Shaw has been elected President and University Council representative for a second term, but will have to preside over a split Executive, with ANyou's Chris Wilson elected as General Secretary.
Progress cleaned up in the 2017 election: the ticket picked up 26 of a possible 31 positions on the Postgraduate Student's council. However, their victory was far from easy – while Progress won a dominating majority, many candidates were only elected by a few dozen votes. Progress also holds three of the four Executive positions; Zyl Hovenga-Wauchope and Avish Amin of Progress won VP and Treasurer respectively, while ANyou only picked up General Secretary, which went to 2016 PARSA President Chris Wilson.
Chris Wilson's election to General Secretary means PARSA will have a split executive in 2018, with all other Executives and Officers from the Progress ticket. This is a change from last year, when Shaw's ticket Unite! won all executive roles, losing six seats in other areas. Wilson ran against Shaw for this year's ANU Council seat, and supported independence between the president and council roles. This, along with differences in the two tickets' policies, could result in tension between the two officers.
Shaw, PARSA's current President, comfortably re-won the Presidency with 64% of the vote against ANyou's Paul Taylor, by far the largest first preference margin on the Executive. Hovenga-Wauchope, the elected Vice-President, only received 53% of the vote. Chris Wilson's election was the closest: the new General Secretary received only 52% of the vote. Turnout was low, overall – the highest vote count was 1041 for General Representative, a turnout rate among Postgraduates of less than 10%.
Hovenga-Wauchope told Observer he believed Progress' victory was due to "the experience and diversity of our ticket" as well as Shaw's "excellent organisation and leadership". He also credited a "really cute doggo".

Hovenga-Wauchope went on to say that Progress' majority in PARSA means the association can "continue and build upon the excellent work of the past" singling out responses to the AHRC survey and better support for students as key priorities of the new administration.
Taylor, the Presidential candidate for ANyou, said, "Alyssa will do a great job continuing her work as President and General Council… PARSA is an evolving Association and I hope that by next year's election it is even better than now." He expressed hope that  "many [ANyou candidates] will return in future years to run for election again," and that "[ANyou's] supporters continue to believe and support the ideas and values we brought to the debate this year".
The campaign was bitterly contested, with sanctions for electoral offenses handed out to both tickets by the Returning Officer. ANyou Education Officer candidate Aries Meng saw his campaign declared 'null and void' after a complaint of bribery was made. Multiple candidates withdrew for various reasons during the election period.
---
Full results
PRESIDENT: Alyssa Shaw (Progress)
VICE- PRESIDENT: Zyl Hovenga-Wauchope (Progress)
TREASURER: Avish Amin (Progress)
GEN SEC: Christopher (Chris) Wilson (ANyou)
ENVIRONMENTAL OFFICER: Randa Akila (Progress)
EQUITY OFFICER: Felicity Miller (Progress)
EDUCATION OFFICER: Storm Viall (Progress)
INDIGENOUS AUSTRALIAN OFFICER: Darcy Jackman (Progress)
WOMEN'S OFFICER: Emma Davies (Progress)
INTERNATIONAL OFFICER: Dipin Thampachan (Progress)
COMMUNICATIONS OFFICER: Abhishek Tilgulkar (Progress)
SOCIAL OFFICER: Tholokuhle (Tholi) Sithole (Progress)
COLLEGE REPRESENTATIVES:
COLLEGE OF LAW (COL):
Alexandra (Aly) Haenni-Gabriel (Progress)
Bede Thompson (Progress)
COLLEGE OF BUSINESS AND ECONOMICS (CBE):
Chahat Chugh (Progress)
Kai Yang (Independent)
COLLEGE OF MEDICINE, BIOLOGY AND ENVIRONMENT (CMBE):
Patrick Halton – (ANyou)
Rebecca Wardell (Progress)
COLLEGE OF PHYSICAL AND MATHEMATICAL SCIENCES (CPMS):
Bethany Ellis (Progress)
Zoe Tulip (Progress)
COLLEGE OF ENGINEERING AND COMPUTER SCIENCE (CECS):
Usama Elahi (Progress)
Lanmixue (Michelle) Mao (Progress)
COLLEGE OF ASIA & THE PACIFIC (CAP):
Abdullah Bashir (Progress)
Naimah Talib (Progress)
COLLEGE OF ARTS & SOCIAL SCIENCES (CASS):
Sumati Maharjan (Progress)
Lauren Sadow (Progress)
GENERAL REPRESENTATIVES:
Shaaf Khurram Danyal (Progress)
Mingxin Dong (Independent)
Airui Mao (Progress)
Edna Mendoza (Progress)
Sisca Rudy (ANyou)
Voting totals for each position may be found on the PARSA website.
---