BREAKING: ANU will be closed on Monday 26 February due to the effects of the flooding.
Heavy rains today caused flooding around campus, and the temporary closure of Chifley Library. The Bureau of Meteorology estimated there had been over 50mm of rainfall in Canberra between 9am and 3pm, causing Sullivan's Creek to break its banks in several locations and major flooding of the Union Court Redevelopment.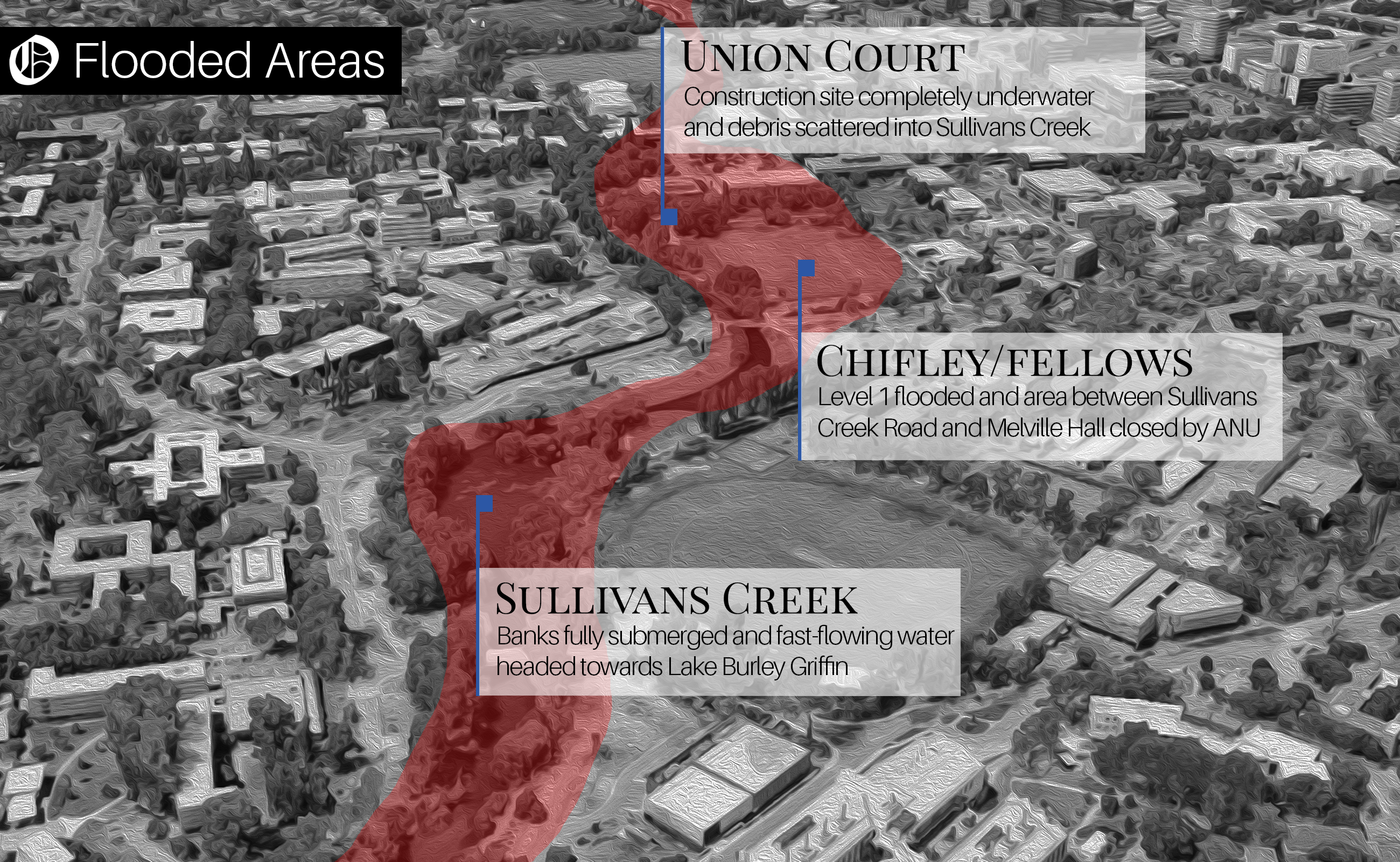 An ANU statement urged staff and students to "take extra caution" noting "significant flooding and power interruptions around campus". The area between Sullivan's Creek Road and Melville Hall has been temporarily closed due to flooding. Much of the Union Court Redevelopment is also completely underwater, although it is currently unclear whether, or by how much, this will set back the construction.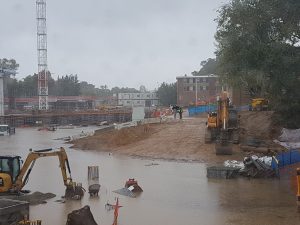 Chifley Library, which is in the quarantined area, was closed to students earlier today. Photos posted on social media showed that significant amounts of water had got into Level 1 of the library. University Librarian Roxanne Missingham confirmed that Chifley was closed to students, and suggested that students use Hancock Library today instead. ANU Security told Observer that there was currently no power to the building, and that while they were trying to get the water out, there was as yet no assessment of damage to the books. There were also reports of minor flooding in the Law Library.
Vice-Chancellor Brian Schmidt lamented the effect of the rain to his Maipenrai vineyard on Twitter. Schmidt, an avid wine enthusiast, explained that heavy rains just before vintage meant that "the grapes split, they become diluted in flavour losing both sugar and acid, and disease often follows". Schmidt also expressed concern for the effect of the rain on the Union Court Redevelopment.
Tasneem Hudson contributed reporting.
Update: Below is a statement from the ANU on the closure of the campus:
The Australian National University (ANU) Acton campus will be closed tomorrow, Monday 26 February, following weekend flooding.

The closure is to ensure the safety of all students and staff as the University conducts essential safety checks on infrastructure including bridges, creek banks and electrical switchboards.

All classes and all events on campus will be cancelled on Monday 26 February and all ANU libraries will be closed.

Students should not come onto campus, and residential students should stay away from affected areas.

Staff should not come onto campus unless requested by their Directors for essential work. All ANU staff should check their emails for updates from their directors and for instructions. All meetings and interviews should be rescheduled.

Childcare centres on campus and University House will open as usual on Monday.

Students will be advised by course conveners of make-up arrangements for missed classes.

Students and staff should continue to check emails and the ANU web page for updates.

Unless advised otherwise, the ANU campus plans to re-open for normal activities on Tuesday 27 February.

The ANU hotline will have up to date information on 1800 275 268.