Copland Access via University Avenue Closes
---
Access to the Copland building via University Avenue was closed off early today. To access the building, students now have to walk via Kingsley Place, which has been reopened as a walkway.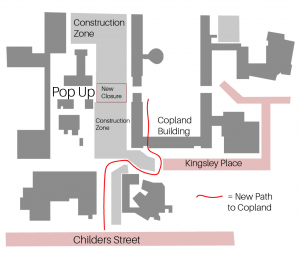 The pathway will reopen in early 2019, when it will become the main entrance to the new Kambri precinct. In an email to students on Monday, the Deputy Vice-Chancellor Marnie Hughes-Warrington argued that while "the construction is both noisy and inconvenient, it is essential to deliver the campus our community deserves, both now and into the future."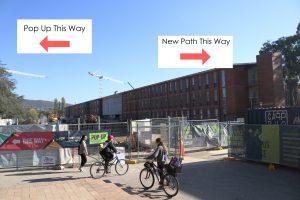 In Brian Schmidt's blog, he emphasised the aesthetic benefits, stating that the "work is essential to create a spectacular gateway into the new precinct". The Kambri development has been ongoing since the start of 2017, with disruptions to student thoroughfares since August last year.
Kingsley Place walkway reopened yesterday, on ANZAC Day, in preparation for the closure. The adjacent carpark is still closed, and an alternate opening date has not been given. The carpark has particular importance in terms of accessibility, given its proximity to the Access and Inclusion office and its six disabled parking spots. Observer has contacted the ANUSA Disabilities Officer for comment.
Some students have expressed their frustration about the closure in online forums. In comments on ANU Schmidtposting, multiple students stated that they would be unwilling to go to classes today. Comparisons were made to the falling of the Iron Curtain, with one student stating " At least ANU and 1960s Berlin have some things in common now".
The area closed at 6am this morning (26 April), and is currently manned by security guards at both ends. Observer previously reported on the imminent closure here.
Photography Isabel Matthews
Know something we don't know? Email [email protected] or use our anonymous tip submission.
If you have an issue with this article, or a correction to make, you can contact us at [email protected], submit a formal dispute, or angery react the Facebook post.
Want to get involved? You can write articles, photograph, livestream or do web support. We're also looking for someone to yell "extra!" outside Davey Lodge at 1AM. Apply today!
---