News you might have missed: Week 8
---
Welcome to Week 8! If you've lost hours trekking around The Wall, here's the news you might have missed this week.
Coursework
The CAP 'Asian and Pacific Cultural, Media, and Gender' major was launched this week. The major can be taken as part of a Bachelor of Arts or Bachelor of Asian Studies degree, and includes courses from both CAP and CASS.
Halls of Residence
Griffin Hall has won Big Night Out, with Bruce placing second, and Fenner third. This leaves overall IAC rankings with Bruce, B&G and Johns in equal first place.
University Administration
Content Warning: this section contains mention of sexual assault and harassment.
ANU announced it would be conducting an audit of the Counselling Centre in May. This will examine a number of points, including wait times, outcomes, and counsellor training. The Human Rights Commission's 2017 report on sexual assault and sexual harassment at universities recommended that all universities conduct an audit of counselling services.
Campus
A Chinese takeaway outlet is coming to the Pop-Up. It will be located between the Tikka Stand and Brod and is currently being fitted out.
University Avenue closed between the Pop-Up and the Copland Building. Kingsley Place has reopened to serve as a walkway between the two precincts. University Avenue will be closed until the opening of the Kambri development early next year.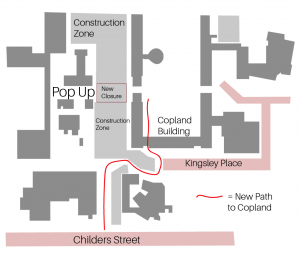 Know something we don't know? Email [email protected] or use our anonymous tip submission.
If you have an issue with this article, or a correction to make, you can contact us at [email protected], submit a formal dispute, or angery react the Facebook post.
Want to get involved? You can write articles, photograph, livestream or do web support. We're also looking for someone to yell "extra!" outside Davey Lodge at 1AM. Apply today!
---