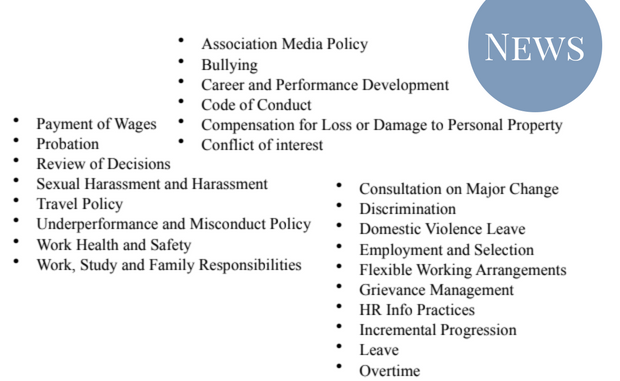 Jason Pover and Eliza Croft
A motion to be moved by ANUSA President, Eleanor Kay, at Tuesday's SRC will seek to push through a number of policy items collectively. Kay has previously claimed that these policies had been passed and has enforced the Media Policy to restrict representatives' comments to media.
The motion seeks to pass the Media Policy, Code of Conduct, Bullying Policy, and over 20 others as a single bloc. In the motion seconded by Vice President Tess Masters, it is described as 'an administrative formality'. General Representative, Ashish Nagesh commented to Observer that this method for passing policy "obscures the gravity of what is being passed" and impedes their "ability to be debated on".
The motion also purports to operate "with retrospective application". Under the ANUSA constitution, SRC is empowered to pass policy "as a plan or course of action relating to decisions, actions and other matters, or as a guiding principle", which would suggest policy must be prospective. Besides this provision, there is no mention of any power to pass policy retrospectively and the constitution precludes any other method: "Policies may only be made, amended or repealed as governed by this Constitution and the Regulations".
The media policy has already been enforced against General Representatives. Ashish Nagesh made comments to Observer on his proposed NUS disaffiliation referendum, but then later asked Observer not to use these due to the media policy. Nagesh publically made it clear that he did not agree with this, pointing out that even if the media policy is in force, there appears to be an exception for representatives talking about their own motions. When asked at SRC 2 whether it was appropriate to silence an elected representative expressing their opinion Kay said she had "discussed this privately with Ashish" and claimed that "the current media policy does still stand". Howard Maclean, speaking privately, commented to Observer, "The media policy is profoundly undemocratic and used to gag members."
Kay has in correspondence and at multiple SRCs has represented the media policy as being in force. At SRC 3, when asked when the policy was passed and where a copy of the passed policy could be found, she said that it could be found online. However, the document on the website is watermarked as a draft. The General Secretary's report at a 2015 OGM makes mention of the Media Policy, but no OGM or SRC minutes available on the website document its passing.
Observer first contacted Kay requesting proof that the media policy was passed on March 19th. In this correspondence she also referred to the draft watermarked document, while saying that she would respond "later in the week". Later that week at ANUSA's first general meeting this year, she still maintained it had been passed but did not have the details "off the top of my head". A final email requesting the passed policy, dated 28 March, did not receive a response.
Other policies to be confirmed include the Leave Policy, Discrimination Policy, Code of Conduct, and the Bullying Policy. The Bullying Policy deals with the procedure of the Association in response to bullying complaints. As it stands on the website, the policy names Ben Gill, the 2015-2016 ANUSA President, rather than his position, as the official contact person under the policy. The Discrimination Policy also explicitly mentions Ben Gill. Gill graduated in 2016.
The new motion claims that the Association does not have a record of the policies passing at SRC "due to some missing minutes from 2015". However, all 2015 SRC minutes are available on the ANUSA website. The only missing 2015 minutes are from the Annual General Meeting, but this occured after the OGM in which the Media Policy was mentioned, implying that it at least was passed earlier. In her President's Report, Kay claims that "it is fair to consider that the SRC is aware of the policies and is treating them as in force", citing a motion at OGM 2 in 2017 about Payment Regulations. This motion lists a number of policies that Executive members must follow – about half of those needing confirmation –  "subject to the Constitution and Regulations".
Some involved in the Clubs Council have expressed their concern that some of the policies will apply to members of Club executives. Clubs Council Secretary Howard Maclean told Observer, "I do note that some of the policies, pertain to the Clubs council and club trustees in a way that gives expansive power to the executive." He said this would constitute hundreds of people, and that the Clubs Council Executive had not been contacted regarding the motion.
The agenda for SRC was not released until today (30th of April). This gives SRC members 26 hours to read over these documents before voting on them, as they are obligated to do so.
Eleanor Kay did not respond to a request for comment.
Know something we don't know? Email [email protected] or use our anonymous tip submission.
If you have an issue with this article, or a correction to make, you can contact us at [email protected], submit a formal dispute, or angery react the Facebook post.
Want to get involved? You can write articles, photograph, livestream or do web support. We're also looking for someone to yell "extra!" outside Davey Lodge at 1AM. Apply today!