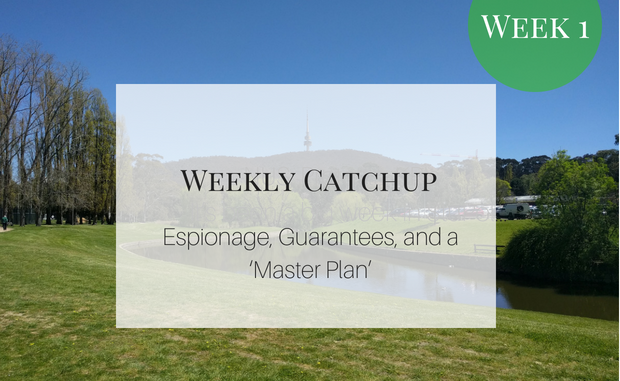 Class is back in session! Settle back in with all the news you might have missed over the break and Bush Week.
ANU
ANU released a progress report outlining its response to sexual assault and harassment on campus. As it stands, the Australian Human Rights Commission recommendations have been partially fulfilled.
International students will no longer be able to do ANIP (the Australian National Internships Program) in Parliament. This is due to concerns over espionage, and particularly on the influence of the Chinese government.
A candidate for Honors in Psychology was left out of the program after ANU "mislaid" her application. After taking her case to the Commonwealth Ombudsman, Richa Sharma received an apology, but ANU declined to state what measures it is taking to prevent a repeat.
The University announced an overhaul to the admissions system at the end of last semester. From 2020, there will be a "threshold" amount of extracurricular activity a student must clear to be considered for a position at the ANU, while the ATAR system will remain in place. Scholarships, admission, and accommodation would also be centralised in one application process.
ANU officially walked away from negotiations with the Ramsay Centre over the proposed Western Civilisation degree. VC Brian Schmidt has cited academic integrity as the reason. Ramsay Centre Chair John Howard denies that the Centre wants a "sponsored program" for the degree.
ANUSA
The first ticket for the upcoming ANUSA elections was announced. Current General Secretary Eden Lim will be running as president, and Griffin Hall President Hannah Minns as Vice President. Only executive candidates have been announced at this time, but policy and General Representative candidates are expected to follow in the coming weeks.
ANU Union
The ANU Union is in negotiations with the university over a potential lease of the ANU Commons space. Tensions reportedly emerged over naming, with ANU allegedly not wanting the space to be called the "ANU Bar".
Campus
The Kambri development is on track to be ready for O-Week 2019, despite the floods earlier this year. The development will include 45 shops, "including dining, retail, services, bookshop, bars, [and] small offices", according to a press release. The development is to be a "urban experience", integrating a "seamless" link between Kambri and Civic.
ANU has begun accepting input on its ''Master Plan' for the campus. Students are invited to visit the team in the RN Robertson foyer to give their comments.  There is the opportunity for transit fans (also known as Transit-Oriented Teens) to petition for the next stage of Canberra's light rail to pass through campus.
Clubs
Clubs Council Chair, Lewis Pope, resigned in order to take up paid work. Communications Officer Joel Baker and Funding Officer Ian Fulton have also resigned. Clubs Council positions are currently unpaid, despite discussions of payment at several ANUSA meetings.
Over the break, Jacob Mildren took up the position of Chair while James Howarth took up the role of Communications Officer. Mildren was previously a General Officer and ran for Chair last year.
PARSA
PARSA passed a new constitution and voting regulations. These will come into effect this year, with the upcoming PARSA elections this term.
ANU has extended the 1st year accommodation guarantee to postgraduates, beginning in 2021.This comes following a lengthy campaign by PARSA, beginning with a survey in February.
Postgraduate students slept out in front of Chancellery this week to raise awareness of housing issues. While happy about the promised accommodation guarantee, PARSA wants ANU to enact "interim measures" in the time before 2021.
Sport
The university competed in the Australian University Championships on the Gold Coast earlier this month. ANU took out first place in Men's Football, and second in both Women's Football and Women's Hockey. The Mixed-Gender Touch Football team placed fourth in their competition.
Know something we don't know? Email [email protected] or use our anonymous tip submission.
If you have an issue with this article, or a correction to make, you can contact us at [email protected], submit a formal dispute, or angery react the Facebook post.
Want to get involved? You can write articles, photograph, livestream or do web support. We're also looking for someone to yell "extra!" outside Davey Lodge at 1AM. Apply today!