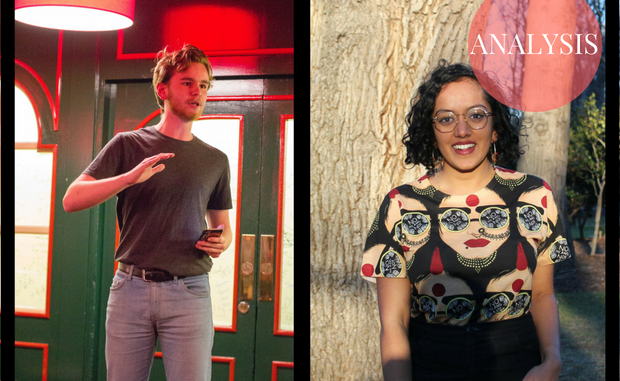 Eliza Croft and Jason Pover
Content Warning: This article contains discussion of sexual assault and sexual harassment
The Job
Every now and then, the Government and students conflict about what they think is best for students. The Education Officer's job is to remind them that students vote. Protests, campaigns and rallies go alongside negotiations and community-building for ANUSA's chief political advocate.
The Education Officer's role is to organise protests, campaigns, and rallies, and to generally advocate for higher education policy that is in the interests of students. They work with broader student advocacy bodies like the NUS as well as single issue campaigns like Disarm ANU. In 2014, when fee deregulation loomed, ANUSA's Education Officer sat before federal Senators to discuss how students would be hurt. The Education Officer also runs the Education Committee, which helps choose and organise campaigns. All undergraduate students can join this Committee.
The Candidates
Niall Cummins is the candidate for Ignite ANUSA. He was been involved in the education committee and sits on the Clubs Council as the political club branch officer. Cummins has been involved with the NUS as a national executive member. He is involved in the the ANU Labor Students Club (Labor Right), and is affiliated with Student Unity at NUS (Labor Right).
Tanika Sibal is running with Refresh ANUSA. She is currently Deputy Ethnocultural Officer, and last year was a General Representative on ANUSA. She organised the Network of Women Students Australia (NOWSA) Conference last year, and attended the NUS Education Conference (EdCon) this year.
The Policies
Sexual Assault and Harassment
Sibal is planning to make the Education portfolio more active in the area of Sexual Assault and Harassment (SASH). She notes in her policy statement that "sexual violence on campus has a huge impact on how women and other groups such as Queer* students receive higher education", and that currently the Women's Officer has been carrying most of the "burden of advocating against sexual violence on campus". She cites declining retention (the rate of dropouts) at the ANU as linked to the lack of student support in the area. In terms of concrete policy, she promises to  "advocate to the Tertiary Education Quality and Standards Agency" (TEQSA) to involve itself in this policy space, as well as working with existing players like End Rape on Campus and the NUS. She also wants to expand the funding for the existing support structures like "Access and Inclusion, ANU Counselling and the Dean of Students". ANU Counselling has been continuously criticised by ANU student advocates, and at the recent student vigil on the issue criticism was level at the dean of students. Finally, she promises to continue the work already being done by the Women's Officer and ANUSA Executive.
Cummins also agrees on this point, although he has less detail on his specific plans in the area. In his policy statement, he quotes NUS Women's Officer Kate Crossin saying "sexual assault and violence can no longer just be considered a "women's portfolio" problem.' He says that whoever is elected to the position must "support and work with the tireless activists who have made significant progress on this issue". He stresses that this would be responsibility of whoever is elected.
Coursework and Curriculum
Both candidates are opposed to the change to 12 week semesters, which occurred at the start of 2017. Sibal emphasises that students are not getting the same education experience and are yet paying the same amount, saying "courses were already struggling to complete content in 13 weeks". Cummins says that the change is "symptomatic of the de-prioritisation of students by governments and university management." While both candidates share their opposition to the changes, they have subtly different approaches to the response.
Cummins wants to "work with the Education Committee to coordinate a response" to the issue of the change to 13 week semesters. He also has a number of temporary responses he promises to consider, including "encouraging lecturers to record an audio or video file going over course administration and introductions" during week one so lectures can be dedicated to coursework. Cummins is also promising a campaign with the Education Committee and CRC to reduce the weighting of individual assessment items, presumably with a focus on final exams.
Sibal on the other hand is already promising a campaign, rather than consultation with the Education Committee. She wants to highlight "this inequity to pressure the ANU to bring back 13 week semesters, so that content is not continually squished, and often skipped over".
Housing
Sibal and Cummins both want to continue running "information sessions" with bodies such as the ACT Tenants' Union. ANUSA organised its first such session in Bush Week with six people attending. Sibal plans to work with the ANUSA lawyer to give students information on "what a healthy tenancy contract should look like".
Cummins also plans to lobby the University and the ACT Government on the issue of housing affordability. "This crisis extends beyond the jurisdiction of the university," Cummins notes. He also promises to produce "infographic material and other engaging content" to inform students of the ways ANUSA can assist with housing difficulties.
Federal Election
Both candidates agree that a 2019 Federal Election seems likely. Both Sibal and Cummins plan to run "Politics in the Pub"-style events, where politicians come and speak to students in an informal setting. Both also want to run stalls and put up posters to encourage students to enrol to vote or update their enrollment. Sibal further plans to "work with the departments to ensure that all students are able to vote".
In relation to deciding who to vote for, Cummins and Sibal both propose organising policy analysis working groups to deconstruct policies and how they will affect students. On this, Sibal specifically suggests allowing students to send their questions and requests to the working group. Sibal also promises to "make public materials on the changes that have been made by the Federal Government" in relation to HECS, and "compare them with the policies of other candidates to ensure that students are making an informed choice".
First Year Camps
The Education Officer is generally in charge of organising the First Year Camps. Sibal proposes to drastically change the current model of all camps being at the start of the year, and camps being held separately for the different academic Colleges. Instead, she wants to hold just two camps – one at the start of each semester – that do not distinguish between discipline.
Education Committee
Currently, both candidates agree that the Education Committee is plagued by low engagement. Cummins wants to reorganise the Education Committee to bring more into line with the organisational structure of Departments. He would have two deputies assist the Education Officer, who would be drawn from the pool of Gen Reps who have interest in education policy. They would assist the Education Officer in organising campaigns and fulfilling the plans made in Education committee.
Want to get involved? You can write articles, photograph, livestream or do web support. We're also looking for someone to yell "extra!" outside Davey Lodge at 1AM. Apply today!
Know something we don't know? Email [email protected] or use our anonymous tip submission.
If you have an issue with this article, or a correction to make, you can contact us at [email protected], submit a formal dispute, or angery react the Facebook post.