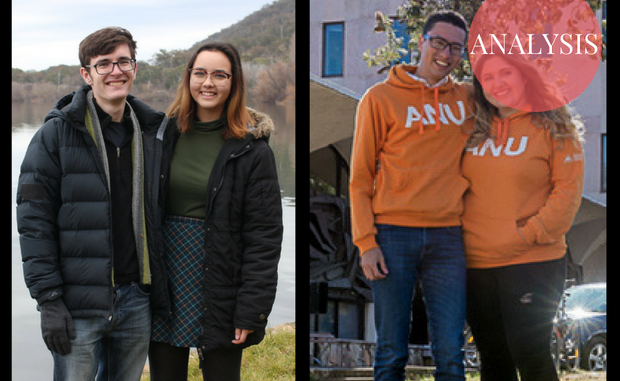 Jason Pover and Jessica Whiting
In this year's ANUSA elections, the only contested race amongst the college representative positions are for the College of Asia and the Pacific (CAP). Refresh ANUSA, whose candidates have taken out all the other College Rep positions unopposed, will be running Dom Harvey-Taylor and Alison Wong against an independent ticket of Lauren Kightly and Kai Clark. Here are the CAP Rep candidates, head to head.
The Candidates
Dom Harvey-Taylor and Alison Wong are running on the Refresh ANUSA ticket. Harvey-Taylor is one of the current Education Officers of the CAP student society (CAPSS), while Wong is the current Social Officer of CAPSS.
They are up against Lauren Kightly and Kai Clark who are running as independents. As previously reported by Observer, Kightly ran as a general representative in the 2017 election as a part of the LIFT ANUSA ticket, but not was elected. She is on the board of the ANU Union and attended Ignite for ANUSA's launch on Tuesday, which are both associated with Labor Right, a faction Kightly herself is affiliated with.  Both Clark and Kightly have been first year CAPSS reps. Kightly is also a CAPSS Education Officer this year.
The Policies
| | | |
| --- | --- | --- |
| Issue | Wong and Harvey-Taylor (Refresh) | Kightly and Clark (Independent) |
| Unpaid internships | No concrete position, but seek to increase accessibility of internships | Oppose |
| ANIP exclusion of international students | Paying "close attention" but don't openly oppose | No specific position, but support accessibility of internships to International students. |
| Review of International Security Studies | Support | Support |
| Cuts to Diploma of Languages | Oppose | Wants to campaign against |
| CAP presence on campus/ in clubs | Support | Support |
| Increased information about courses | Support | Support |
| Creation of a CAP Wattle Page | Support | No stated position |
Internships
The Refresh ticket is running on a platform of increased access to internships for CAP students. Refresh is "paying close attention to" the federal government's decision to cut international students from the Australian National Internship Program (ANIP), saying they aim for an "inclusive" college, but they have not gone as far as to oppose the move.
Speaking to Observer, Kightly and Clark stated that unpaid "students should not be required to to do work at the level or standard of paid employees". They also support "opportunities for all students, whether they be domestic or international".
Harvey-Taylor and Wong from Refresh have not taken a concrete stance on the issue of unpaid internships. When questioned by  ANUSA Education Officer Harry Needham on the Refresh Facebook page, they acknowledged "that internships for course credit are inaccessible and discriminatory against many." They qualified this by adding "that there is a desire amongst the student body in the college for more workplace learning opportunities or skills."  
Course Structure and Classes
Both tickets emphasise the importance of the University's review of the Bachelor of International Security Studies next year, citing booming course enrollments. Both also emphasise the role of ANUSA's Student Partnership Agreement to voice student concerns to the university administration. Kightly and Clark have also announced their intention to "campaign against federal cuts" to the the Diploma of Languages. Refresh noted that they oppose the removal of the Diploma of Languages, and both Harvey-Taylor and Clark attended a Working Group Meeting to plan opposition to the cuts earlier this week. Refresh also highlights the need to improve course quality, including those compulsory College of Arts and Social Sciences (CASS) courses that students with CAP are required to take for their degree.
Student Life
The Refresh ticket believes that current facilities around the Coombs precinct were not created "with students in mind", and advocate for a club-friendly space. Kightly and Clark's platform also calls for such a space, focusing on increasing engagement with first-year students. They also emphasise the role O-Week plays in engaging students, and wish to see a greater CAP presence in events.
This article was amended after publication to clarify that Harvey-Taylor and Kightly were the CAPSS Education Officers in 2018, and to update Refresh's position on the Diploma of Languages cuts.
Kai Clark was previously a member of the Observer Digital Team, and resigned in Term One of this year. He has no ongoing role in the organisation.
Want to get involved? You can write articles, photograph, livestream or do web support. We're also looking for someone to yell "extra!" outside Davey Lodge at 1AM. Apply today!
Know something we don't know? Email [email protected] or use our anonymous tip submission.If you have an issue with this article, or a correction to make, you can contact us at [email protected], submit a formal dispute, or angery react the Facebook post.