News You Might Have Missed: Week 2
---
Whether you went to your first tutes this week, or you're still trying to work up the energy to head into campus, here's the news you might have missed.
ANUSA, PARSA and Departments
PARSA and the ANUSA Women's Department hosted Women's Week to coincide with International Women's Day on Friday 8 March. Events included the 2019 Pamela Denoon Lecture (delivered by Khadija Gbla), an autonomous picnic, and family-friendly karaoke. ANU hosted a lecture on Friday, delivered by Dr Sam Mostyn.
ANUSA ran an 'O-week in a Day' on Thursday, aimed at students who may have missed O-Week. The day re-capped some of the major events from O-Week, such as the Welcome Breakfast and Food Fare.
The first ANUSA SRC meeting of 2019 was held on Tuesday. The SRC passed a motion to endorse the upcoming 'Student Strike 4 Climate' protests on 15 March.
A motion to ratify a Free Speech Charter passed by the National Union of Students was hotly debated by both SRC and non-SRC members. The motion ultimately failed after General Secretary Lachy Day ruled that motions need an absolute majority 'in favour' to pass – making the multiple abstentions essentially 'no' votes.
Clubs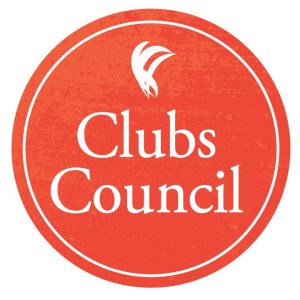 A new Clubs Council logo was revealed and adopted at the Clubs Council meeting on Friday. The logo features "Clubs Council" and the ANUSA logo in white on a burnt orange background.
The Clubs Council also debated and adopted changes to the Funding Policy. In light of clubs' Student Services and Amenities Fee (SSAF) funding being reduced this year, these changes will lower the per capita funding rates. A number of amendments to the policy were also debated, with two of the three passing in some form. Successful amendments included a decrease in the constraints on a club's one-to sign account. The proposed amendment to increase capital expenditure was unsuccessful.
A number of new clubs successfully affiliated. These include the ANU MBA Students and Friends Association, ANU Science Revue, ANU Pokémon Fan Club, and Taboo ANU. The Maths Society was also successful in their bid to affiliate, subject to confirmation from the Clubs Council Affiliations Officer that they have met all the requirements for affiliation.
Ophel Trial
The Ophel re-trial commenced on Monday at the ACT Supreme Court, and is expected to continue for at least another two weeks. Witnesses this week included a number of Ophel's schoolmates, and a psychiatrist appearing as an expert witness for the Crown. The daily blog of the trial can be found here. Please note that the daily blog contains a high level of detail, which may be distressing or disturbing.
University Admissions
ANU's new domestic admissions process opened for applications on Tuesday 5 March. Under this model, prospective undergraduate students can now apply directly through the ANU. Applicants will need to meet a "co-curricular or service" threshold, alongside academic requirements. Applications close 31 May. According to ANU, "School-leavers who miss the application deadline can apply through UAC, subject to ANU program availability."
Support is available:
ANU Counselling: 02 6125 2442 (9am-5pm, Mon-Fri)
ANU Crisis Line: 1300 050 327 (5pm-9am Mon-Fri, 24/7 weekends and public holidays)
Lifeline: 13 11 14 (24/7)
Canberra Rape Crisis Centre: (02) 6247 2525 (7am-11pm) – counselling for those affected by sexual assault, with a dedicated counsellor on campus
1800 RESPECT (24/7) – sexual assault and domestic violence counselling and information
The Suicide Call Back Service: 1300 659 467 (24/7) – free phone counselling for anyone affected by suicide
The Crisis Assessment and Treatment Team (CATT): 1800 629 354 (24/7) – assessment and treatment of mentally ill people in crisis situations
Know something we don't know? Email [email protected] or use our anonymous tip submission.
If you have an issue with this article, or a correction to make, you can contact us at [email protected], submit a formal dispute, or angery react the Facebook post.Want to get involved? You can write articles, photograph, livestream or do web support. We're also looking for someone to yell "extra!" outside Davey Lodge at 1AM. Apply today!
---