Liberal-Associated You! For ANUSA Launches
---
By Rebecca Zhong
You! For ANUSA is the second ticket to launch ahead of the ANUSA Election. The Liberal-aligned ticket is putting forward candidates for President, Vice President, Treasurer, NUS Delegate, CBE, Law and CASS Representatives, and all General Representative positions.
The ticket is "supported" by the ANU Liberal Club. The Liberal Club has previously supported ANUSA tickets Reform ANUSA in 2018 and Stand Apart in 2017. These tickets each had one General Representative elected. Both of these tickets were notably opposed to affiliation with the National Union of Students, but You! For ANUSA has not yet announced its stance on the matter. Going back further, the Liberal Club was involved in the 2015 "Axe the SSAF" ticket, which did not see any candidates elected.
None of the You! For ANUSA candidates currently hold ANUSA positions. Presidential candidate Adam Cass is currently the President of the ANU Liberal Club. His platform for the Liberal Club presidency included running a ticket for ANUSA. Ethan Gardiner, who is running for the position of Treasurer, is currently the Treasurer of the CAP Students' Society.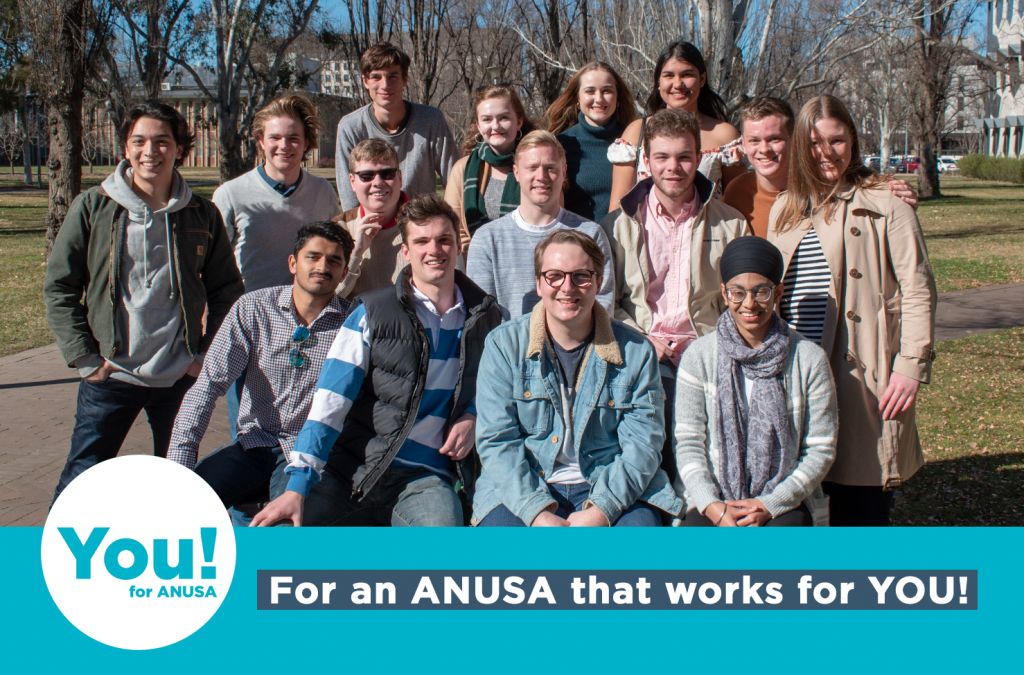 The You! For ANUSA platform focuses on a cut back in spending on the ANUSA Executive, providing more services to students such as mental health support, and ensuring that meals and accommodation on campus are affordable for students. According to Cass, reduced spending on the Executive would include cutting back on "student stipends, bougie leadership retreats and excessive food for meetings". He stated the the ticket would prioritise "[expanding] the ANUSA Student Meals program and [organising] deals and vouchers with Kambri vendors" in order to ensure that students have access to affordable meals.
The ticket has also promised it would "demand a commitment from the ANU" regarding the security of student data, in the wake of the University's June announcement of a "significant" data breach.
The fact that You! For ANUSA is contesting multiple Executive positions means that the Executive and College Representative positions will be more competitive that last year's election, which saw only the Education Officer and CAP Representative positions be contested. Nominations for the election are open until 7 August, with voting to occur from 19 to 22 August.
Adam Cass was a Digital Editor with Observer in 2018. He has not had any involvement in the organisation since November 2018.
---
Know something we don't know? Email [email protected] or use our anonymous tip submission.
If you have an issue with this article, or a correction to make, you can contact us at [email protected], submit a formal dispute, or angery react the Facebook post.
Want to get involved? You can write articles, photograph, livestream or do web support. We're also looking for someone to yell "extra!" outside Davey Lodge at 1AM. Apply today!

---