Students Walk Out for Climate Rally
---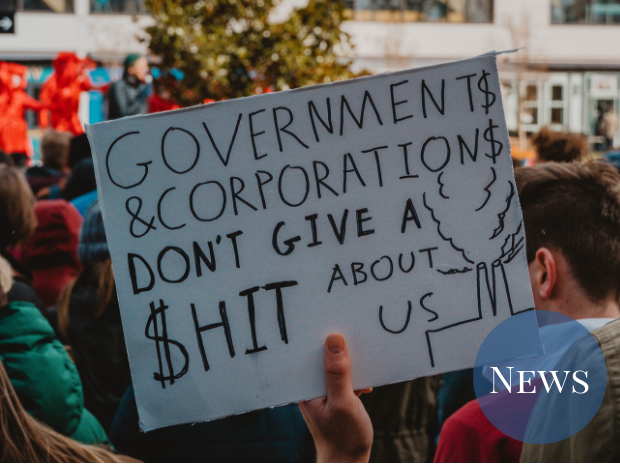 By Rebecca Zhong
ANU students braved the cold weather to take part in a mass walkout at midday today. Students from the University of Canberra also joined the rally in Kambri, which gathered on University Avenue to call for action on climate change.
The rally for climate action began in Kambri at 12 pm. At 1 pm, protesters proceeded down University Avenue to Civic, and stopped for a sit-in at the Northbourne Avenue and Alinga Street intersection.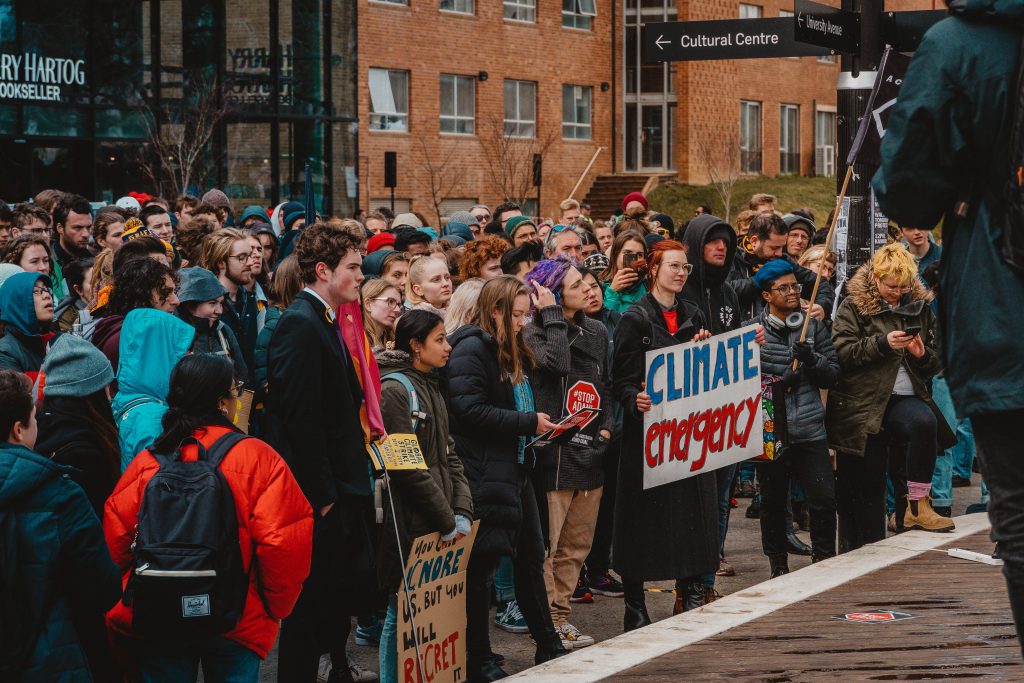 A number of speakers addressed the crowd to "demand that the Liberal government take real action on climate change", and were accompanied by protesters in red robes, who are referred to as the 'red brigade' or 'red rebels' associated with the Extinction Rebellion movement. A representative for the School Strike 4 Climate movement told those in attendance that "it is through our education and science that we know what we have to do". UnionsACT Secretary Alex White said, "There is no more important issue than the climate catastrophe that is facing humanity…There are no jobs on a dead planet." Other speakers included Extinction Rebellion and ANU Socialist Club representatives, Tim Hollo from the ACT Greens, and First Nations activist Alwyn Doolan.
Signs at the protest featured slogans from "Stop Adani" and "Extinction Rebellion", to "I've seen better Cabinets at IKEA" and simply, "Fuck coal". Chants included "Keep the carbon in the soil, no more coal, no more oil" and "Stand up, fight back".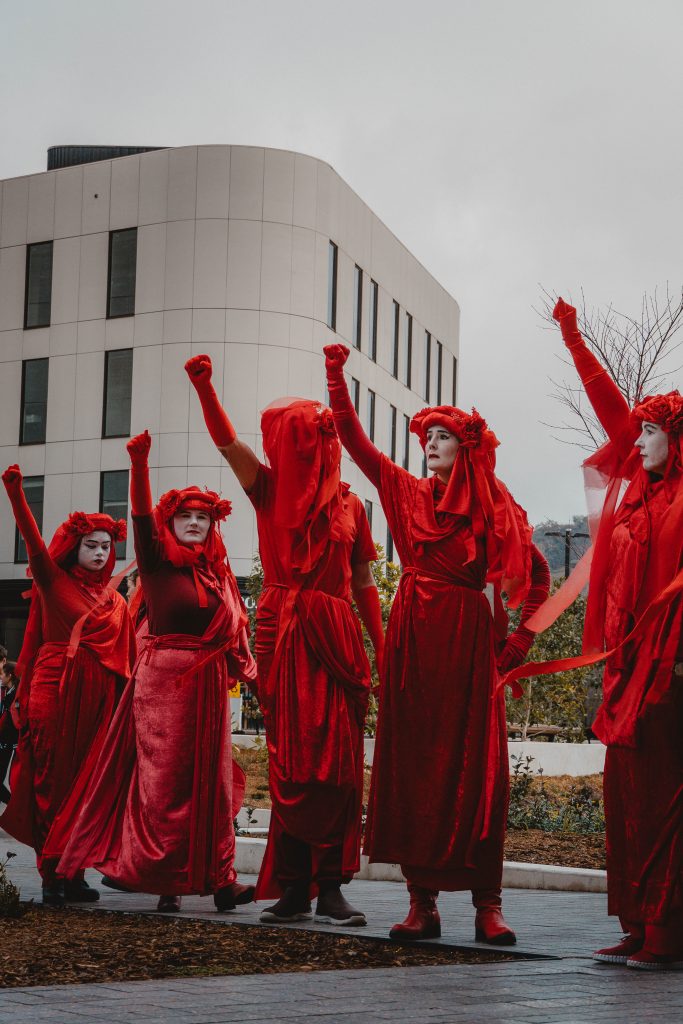 The Walkout for Climate Action at ANU was jointly hosted by the groups Uni Students for Climate Justice and Stop Adani Canberra, alongside ANUSA and PARSA. The protest in Kambri today was part of a nation-wide walkout by university students in cities around Australia, which was organised by the National Union of Students (NUS).
The four key demands being made those in the walkout were: "no new coal mines or gas fracking, stopping the Adani mine, a full transition to renewables by 2030, and a sustainable jobs guarantee for workers to transition to a green economy". NUS President Desiree Cai called on universities to "step up and stand with students to demand climate action". She added, "That involves ensuring ethical research and investment within universities, and preparing the higher education sector for the future of work in a new sustainable economy."
In a joint statement from the National Tertiary Education Union (NTEU) and NUS, NTEU President Alison Barnes said, "NTEU members strongly support the stand that students are taking." According to the statement, 82% of students who responded to the NUS survey on student values agreed that "action on climate change should be taken, even if it comes at the cost of economic growth".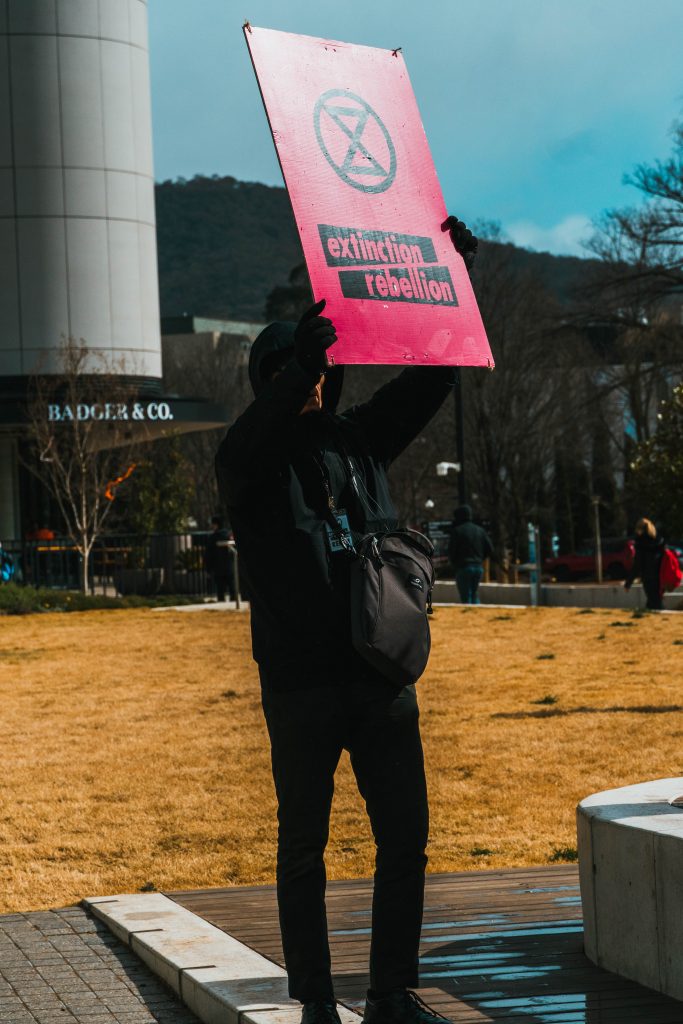 Last week, ANUSA's SRC passed a motion which endorsed the protest, and expressed support for students who would be missing class to attend the walkout. A number of lecturers and schools have chosen not to penalise students who skipped class in order to join the walkout. The Schools of Law, Astronomy and Astrophysics, and Chemistry have officially stated that students will not be penalised for missing class in light of the protest. However, it does not appear that this was a University-wide attitude. An ANU spokesperson told Observer that ANU "[knows] that those who participate [in the protest] will do so mindful of any long-standing commitments they have on campus". However, the spokesperson maintained that "[ANU] takes action on climate change seriously," noting the work of climate scientists, energy experts and economists at ANU in this area.
Earlier this year, ANU and University of Canberra students took part in the Canberra Strike 4 Climate protest, which saw students of all ages gather at Garema Place to call for government action on climate change. Another School Strike 4 Climate is set to take place on 20 September.
Photography by Bhuwan Bansal
---
Know something we don't know? Email [email protected] or use our anonymous tip submission.
If you have an issue with this article, or a correction to make, you can contact us at [email protected], submit a formal dispute, or angery react the Facebook post.
Want to get involved? You can write articles, photograph, livestream or do web support. We're also looking for someone to yell "extra!" outside Davey Lodge at 1AM. Apply today!
---