Resources and Events You Can Access During Lockdown
---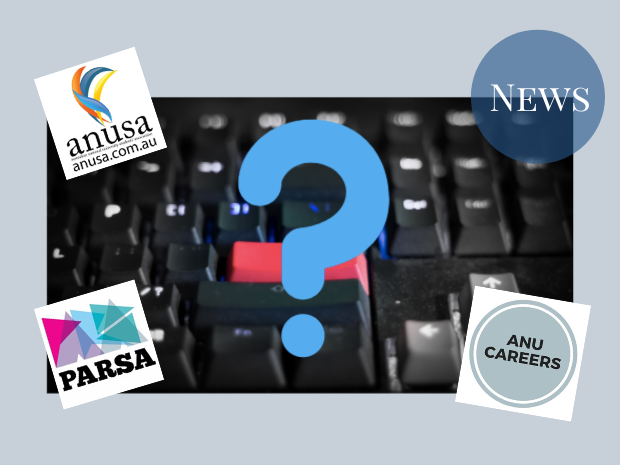 By Hayley Hands
Although campus will remain closed for the foreseeable future, there are still many resources available online to assist students, from counselling services and academic support, to financial assistance.
ANU Careers
ANU Careers are now offering remote appointments with career counsellors, who offer guidance and advice at any stage of career planning. They are also offering a number of digital webinars on graduate employment, online workshops, and career development advice tailored towards students with a range of needs, including for those who are neurodiverse. These events can be found on the ANU career hub. 
ANU Global Programs
ANU Global Programs are holding Zoom information sessions about 2021 exchange programs and travel scholarships. They are also offering online appointments and drop-in sessions. More information on these sessions can be found on their Facebook page.
Academic Skills
Academic Skills is now offering a number of their usual services remotely. A peer writing service operates on Wattle from 10am to 2pm Monday to Friday. This service is delivered by senior students trained as peer writers who are able to help students break down their assignment requirements, as well as provide advice on assignment structure, clarity, and more. Writing coaches, who are mostly PHD candidates with extensive academic writing experience, are available for 30 minute sessions over Zoom. Learning adviser Zoom appointments are available for students completing HDR, Honours, ANIP, or other programs involving long and complicated assignments. They are also hosting English conversation groups over Zoom for people who want to strengthen their English speaking skills or meet new people.
ANUSA
ANUSA is still open virtually. They can be contacted through [email protected] for enquiries about a number of issues including academic, financial and legal assistance, and [email protected] for general queries. ANUSA has a number of emergency grants available, including grocery voucher programs, emergency financial grants of up to $750 per year, assistance for medical bills or unexpected medical treatment, and grants for carers.
They are also operating the Virtual Brian Kenyon Student Space, a Facebook group which acts as an online hangout space. 
ANUSA Departments and Collectives
Many ANUSA Departments and Collectives are also holding virtual events to help students keep in touch and informed during these difficult times. 
The ANU Disabilities Student Association is holding online events including guided stretching and Netflix and tea. 
The ANU Environment Collective is hosting an ANU Contingent to the online National Climate Strike on 15 May. 
The ANU Ethnocultural Department is conducting a number of autonomous 'Chai and Chats' Zoom sessions, and is publishing online newsletters. They are also planning online book and TV clubs, a POC Art Competition and a POC Talk Podcast. 
The ANU Indigenous Department stated at SRC 2 that they were looking into the possibility of hosting events such as an online coffee catch up.
The ANU International Students' Department is holding online 'Shut-Up and Write' sessions for International Students to study while making new friends. They are also hosting a collaborative event with the ANU Cooking Club called 'What's for Dinner Tonight?' to provide meal ideas for students. At SRC 3, International Students' Officer LC Yip stated that a penpal event was also in the works.
The ANU Queer* Department stated at SRC 3 that a number of autonomous and non-autonomous events are being held online including digital movie and board game nights. 
The ANU Women's Department has held Virtual Movie Nights as well as Women* in STEM Coffee Catch-ups over Zoom.
PARSA
PARSA is also open virtually and can be contacted by email at [email protected]. They provide legal assistance as well as financial support to Postgraduate students including Emergency Grants, a Family Supplement Grant, Emergency Accommodation Grants, Indigenous Health and Wellbeing Grants, and Grocery and Textbook assistance. 
PARSA is holding a number of online events including PARSA Spotlight, a themed weekly talent search, Weekly Mediation, Virtual Trivia Nights, Women's Catch-ups and Writing Groups, Weekly Online Movies and many more which can be found on their Facebook Page.
Health and Wellbeing
ANU Counselling has expanded their opening hours and is hosting remote sessions over Zoom. Sessions can be booked here. Access and Inclusion appointments are also available over Zoom for the registration or renewal of Education Access Plans (EAPs), which provide special consideration and accommodations for students with needs. They encourage students with general enquiries to email them at [email protected]. ANU Thrive hosts a number of online mental health and wellbeing events, including panels and Q&As with Clinical Psychologists, as well as an online 'Feast of Strangers' event with mental health organisation Batyr. ANU Sport has been uploading at home workouts to complete while ANU facilities are shut.
Student Central
While students would usually be able to walk into the Di Riddell Building to access services from Student Central, many have now moved online. At the moment, students can attend Zoom Virtual Drop-in sessions that run from 9am to 12pm and 2pm to 5pm on Monday to Friday. At these sessions, students are able to seek advice and ask questions regarding student administration services, such as enrollment and fees. For more complex issues, students are able to book private Zoom or phone sessions. 
Virtual Information Commons and Digital Resources
ANU has created the Virtual Information Commons which allows at home access to programs that would usually only be accessible on University computers. The software can be downloaded here with further information provided by ANU IT here. Students can use the ANU reverse proxy to access resources on the ANU network such as Google Scholar. ANU Library also has methods for remote access to resources such as through their SuperSearch system. Some collection material can be digitised upon request and other enquiries can be sent to [email protected]. ANU Library is also holding a number of webinars about thesis writing, digital research, and how to use Endnote. 
Did we miss an important resource? Have you heard of a cool online event? Let us know through our email at [email protected] or through our anonymous tip submission. 
Know something we don't know? Email [email protected] or use our anonymous tip submission.
If you have an issue with this article, or a correction to make, you can contact us at [email protected], submit a formal dispute, or angery react the Facebook post.
Want to get involved? You can write articles, photograph, livestream or do web support. We're also looking for someone to yell "extra!" outside Davey Lodge at 1AM. Apply today!
---