ANU Accused of "Failing Students" With Disabilities
---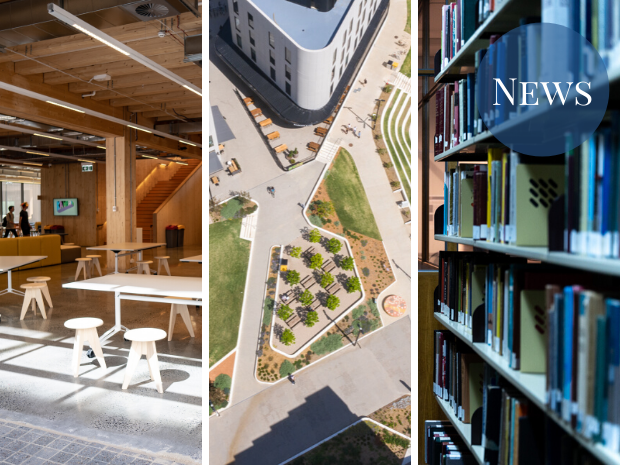 By Helena Burke
Content Warning: This article contains discussions of discrimination, institutional betrayal, and mental health
An investigation by Observer has uncovered allegations of discrimination by ANU against students with disabilities. Some of these students claim course convenors have made courses inaccessible to them, while another student alleges discriminatory treatment by the University's administration.
ANUSA Disabilities Officer Zoe Ranganathan has stated that the allegations highlight the "unacceptable levels of discrimination" students have faced at a University which she asserts is "failing students with disabilities". Ranganathan further suggested that the allegations may be in violation of the Disability Discrimination Act, and the Disability Standards for Education.
An Undergraduate International Relations student, who wishes to remain anonymous, has described being "reduced to tears multiple times" while attempting to clarify how their Educational Access Plan (EAP) would be implemented in a course.  The student alleges that their queries were continually ignored by the Course Convenor.
An Educational Access Plan is a support document that makes recommendations for related course and exam adjustments for students with disabilities. Students may receive Special Exam Arrangements or alterations to the delivery of course material to accommodate their individual learning requirements. 
The International Relations student told Observer that they failed an assessment after the Special Exam Arrangements stipulated by their EAP were not adhered to. The student says they were achieving Distinctions and High Distinctions in other assessment items for that course.
Despite having positive experiences with Access and Inclusion in the past, the student says that they "felt really abandoned" by the department, who they say did not respond to many of their initial requests for help.
The student also alleges that a different Course Convenor shared private medical information with other teaching staff without the student's consent.
Akiko, a Postgraduate student from the College of Asia and the Pacific, described experiencing similar issues with a Course Convenor when she was enrolled in the Chinese language courses CHIN6523 and CHIN6524. Akiko, who suffers from hypersensitivity to light related to Autism Spectrum Disorder, requires access to recordings of lectures so that she can personally moderate her exposure to light. After first requesting the recordings in Week 5, Akiko was informed by the Course Convenor for CHIN6524 in Week 8 that the recordings for Weeks 5, 6, 7, and 10 would be unavailable due to technical issues. Of the recordings that were available, Akiko says that the video file which was uploaded to Wattle instead of Echo360 required a faster and more stable internet connection than was often available at her UniLodge residence.
Akiko says that when she had sought accessibility support for CHIN6524 in relation to her disability, she often received responses of doubt from the Course Convenor. She says that the Convenor pointed out that Akiko did not  have issues in CHIN6523 last semester. Akiko maintains that, contrary to the Convenor's statement, she had also struggled with CHIN6523 because she was "not able to receive appropriate support".
Accusations of disability-based discrimination have not been limited to ANU's course convenors. A postgraduate Computer Science student who wishes to remain anonymous has detailed a two year dispute with the Dean Of Students (DOS) office which he says have been detrimental to his mental health.
Following a verbal disagreement between the Computer Science student and another ANU student over the management of an ANUSA social event in May 2018, the Computer Science student received an email from the DOS office notifying him that he was henceforth banned from physically entering a number of on-campus locations. In the email correspondence shown to Observer, the student was banned from the ANUSA and PARSA offices along with any ANUSA or PARSA-run clubs and events. This meant that the student was not permitted to participate in meetings or events organised by the Disabilities Student Association, nor engage with the on-campus faith and ethnicity-based groups which he identifies with. The student was also banned from entering the Brian Kenyon Student Space and the Student Central building.
The student, who is on the autism spectrum, told Observer that the restrictions, along with the often "harsh and cold" communications from the DOS office, caused him immense distress. This caused him to consider dropping out of his Masters program. The student claims that during in-person meetings with the DOS he was told that his appearance may be "scary for other students".
In email correspondence between the student and the DOS shown to Observer, communication altering the restrictions placed on the student span over 25 emails between  May 2018 and Feb 2020.  The student explained that living with an Autism Spectrum Disorder meant that properly understanding and following rules is very important to him. He says he found the experience particularly stressful as the restriction rules "seemed to change every time [he] asked for things to be made more clear". 
On 5 September 2018, the student was informed by the DOS via email that he should stop his studies "immediately." The student claims this was due to the depression and anxiety he was experiencing at the time.  While the student admits that he was struggling emotionally, he said he was made to feel like he "had no choice" about whether he could remain at ANU. In the email shown to Observer, the DOS office informed the student that he could either drop his courses and return home to his family, or remain in his program and face "expect[ed]" suspension or termination of his candidature by the Student Registrar.
After sharing the details of his ANU experience in parliament in April, the student says a number of the restrictions have now been lifted by the DOS office. In his speech at the launch of the United Nations Youth Report, the student described being made to feel "belittled, unsafe and unequal to the rest of students" due to his disability.
The student told Observer that he hopes sharing his story will "prevent the similar treatment of other students".  
ANU has responded to the accusations by asserting the University's commitment to an "inclusive work and study environment for all students and staff with disabilities". An ANU Spokesperson stated that while ANU does not comment on individual cases, the DOS office is "committed to working with all students who need assistance" and encourages any student with concerns to "bring these to the Dean of Students". 
The ANU Spokesperson also stated that any questions or concerns which cannot be clarified with course conveners can be directed to Heads of School, Associate Deans or student course representatives.
Zoe Ranganathan has expressed dismay over the absence of "tangible steps taken" to address the "ableist actions from certain course convenors". She has also called for an official complaint mechanism to be made available for students with disabilities. Ranganathan concluded that there was currently "a lack of trust between the university and disabled students", a lack of trust which she  "[doesn't] believe can be rectified until the issues raised today have been addressed".
Graphics by Rebecca Zhong.

Know something we don't know? Email [email protected] or use our anonymous tip submission.
If you have an issue with this article, or a correction to make, you can contact us at [email protected], submit a formal dispute, or angery react the Facebook post.
Want to get involved? You can write articles, photograph, livestream or do web support. We're also looking for someone to yell "extra!" outside Davey Lodge at 1AM. Apply today!
---