Refocus your ANUSA Ticket Launches Ahead of ANUSA Elections
---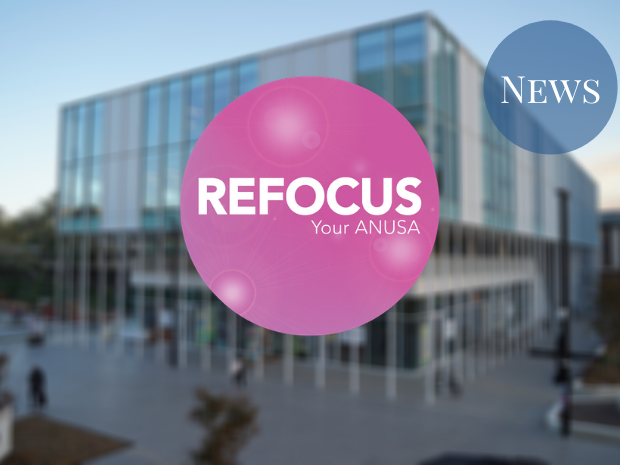 By Hayley Hands
CASS Representative James Eveille has announced the 'Refocus your ANUSA' ticket ahead of this year's ANUSA elections. In a media release, Eveille stated that "refocusing" ANUSA would be "pivotal" in the coming year, due to "certain" cuts to the Association's SSAF budget. The ticket is the third to be announced so far this election season. 
The media release also outlined "five core pillars" for Refocus's campaign. These pillars highlight "student advocacy",  the provision of "essential services" for students, a "vision for the best educational experience in the country", being prepared for "the challenges of the post COVID university sector", and lastly "a willingness to make the hard decisions with you". Additionally, the ticket says they are interested in investigating alternate revenue streams, such as sponsorships and an ANUSA run on-campus business, similar to PARSA Cycles. 
According to the media release, Refocus is made of students with a common goal of ensuring the "longevity" of ANUSA as an institution. Many candidates are also first years, "concerned about the impact of COVID-19" on their education. A spokesperson for the ticket told Observer that candidates were chosen because of their "unique perspective" and active participation in the student community. The EOI process, as utilised by other ANUSA tickets, "fell short" this year in providing a range of candidates for the Refocus ticket.
The ticket is running candidates for three executive positions: President, Treasurer and Education Officer. The ticket spokesperson stated that they are contesting these positions as "the challenges ANUSA will face next year are primarily in these portfolios", citing "attacks on student unionism" as well as the effects of COVID-19 on SSAF and ANUSA's budget for next year. The ticket is also contesting for General Representative, College Representative and NUS Delegate roles. All executive candidates running on the Refocus ticket ran for positions on last year's Labor Right-affiliated Electrify for ANUSA ticket. 
Current CASS Representative James Eveille is running for President, Undergraduate Member of ANU Council, and NUS Delegate. He previously ran for NUS Delegate in 2019 on the Electrify ticket, as well as for General Representative on the 2018 Ignite ANUSA ticket. Eveille stated that "ANUSA needs strong and determined leadership" in response to cuts and uncertainty. Eveille was previously President of the ANU Labor Students' Club, and has been involved with the NUS ACT Branch. 
Current Gen Rep Louis Gordon is running for Treasurer. Gordon was involved with the Kambri Tenancy Working Group as well as unionism in the NUS. Sophie Macdonald is a candidate for Education Officer, with the ticket citing her involvement with "unionism and advocacy" through the NUS National Executive. Macdonald ran unsuccessfully for the positions of General Representative and NUS delegate on last year's Electrify ticket.
Refocus is also running six candidates for General Representative: Marlow Meares, Dorothee Steinbach, Alex Matters, Dri Sinhababu, Bianca Barras-Borzatti and Phillip Kim. The candidates the ticket is running for College Representative positions are Ella Hickey and Tom Gilbert (CBE), Benjamin Capovilla (CASS), Tim Smith (Law) and Meg Bilson (CAP). James Eveille, Sophie Macdonald, Marlow Meares, Alex Matters and Dorothee Steinbach will also be running for NUS Delegate in addition to their other candidacies. 
The ticket spokesperson told Observer that whilst a number of candidates were affiliated with the ANU Labor Students' Club, the ticket was not directly affiliated with any political party.
The spokesperson also stated that the ticket's "full suite of policies" would be announced this week on their Facebook page, with "substantive policy announcements" being made available online as well. 
Contributing reporting provided by Anthony Lotric
Graphics by Tristan Khaw
An earlier version of this article misstated that James Eveille is currently President of the ANU Labor Students Club.
Know something we don't know? Email [email protected] or use our anonymous tip submission.
If you have an issue with this article, or a correction to make, you can contact us at [email protected], submit a formal dispute, or angery react the Facebook post.
Want to get involved? You can write articles, photograph, livestream or do web support. We're also looking for someone to yell "extra!" outside Davey Lodge at 1AM. Apply today!
---