Head to Head: 2021 College Reps
Posted On August 25, 2020
---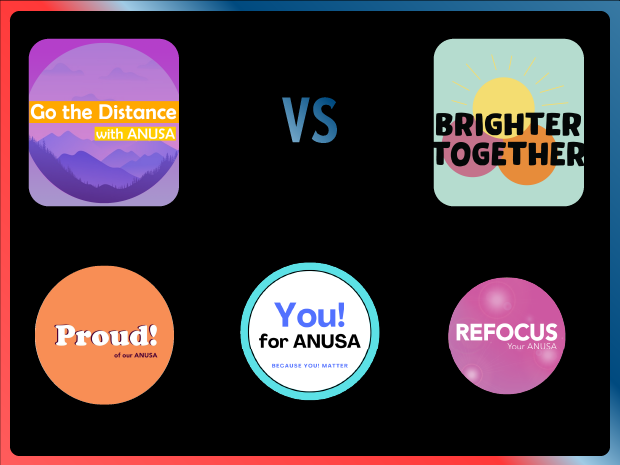 By Declan Milton  
There will be contested elections for College Representative in three out of the six academic colleges this year. CASS and CBE college rep positions are hotly contested, with five and six candidates running respectively. The College of Law is the only other faculty which has contested elections, with three candidates running. CAP, JCOS, and CECS representative positions have all been elected uncontested. 
What Does the College Rep do? 
Each college at ANU is assigned two College Representatives. They are responsible for "analys[ing] academic issues of relevance", addressing issues specific to each college, and responding to student concerns. College reps attend College Representative Council (CRC) meetings throughout the year where they each deliver reports concerning their respective colleges. In addition, they also sit on College Education Committees to discuss issues specific to each college. 
College of Arts and Social Sciences (CASS)
CASS is the largest and one of the most diverse colleges at ANU, with undergrad degrees ranging from the Bachelor of Music to PPE. This year there are 5 candidates running for the two available positions at the college. Brighter Together is the only ticket nominating two candidates, while all other tickets are only fielding one. It is rare in a contested College Rep ANUSA election to see two candidates from the same ticket elected to both available positions.
Running on the Go The Distance ticket are Josh Start and Mia Zhou. Start was the Publicity Officer this year for the Society of Arts and Social Sciences (SASS) – the Discipline Society representing all CASS students. Zhou has also worked on the SASS Executive and the ANU International Relations Society. Being on the same ticket, Start and Zhou are running on similar policy platforms. They both aim to increase the "visibility" and "accessibility" of the role through regular consultations with students, promotion in lectures, and a greater presence on social media. Another priority for these candidates is to enhance the "flexibility" of degree planning by advocating for more summer and winter courses to be offered. 
They also plan to use their position as College Rep to lay a platform to advocate against fee hikes, which are set to heavily impact the humanities. Start intends to "publicly oppose government fee hikes" as well as "lobby the college to take a public stance on fee hikes". Zhou differs from Start in her focus, as she has stated that she will promote "internships, volunteering and career opportunities" through creating a dedicated online page for CASS students. Recognising that international students are unable to apply for internships through the ANIP program to the Australian Government, Zhou aims to expand ANIP by creating "alternatives" for these students. She plans to do this by "working closely with ANIP staff as well as outside organisations". 
On the Brighter Together ticket is current Gen Rep, Aryanne Caminschi. Her policy, which is founded from personal experience as President of the PPE Society, is focused on strengthening "communication channel[s]" between relevant bodies within CASS. Caminschi states that she has found "a direct lack of communication between the CASS reps and the Discipline societies". Recognising that discipline societies are "an important part of the CASS community" she adds that "we need to work together with them to provide academic advocacy and advice to students as effectively as possible". On top of improving communication with the Discipline Societies, Caminschi sees value in establishing a similar method with course reps. She adds that it is her objective to support course reps "beyond their training". On advocacy, Caminschi also aims to continue her "vocal opposition" to the use of Proctorio in CASS. 
Yasmin Kirk from Proud! of Our ANUSA aims to reform the SELT review system by creating a "document outlining how SELT's are used". In addition, she will publicise the currently undisclosed "threshold required" for a course to undergo a review before the mandated five years, and ensure that "mandatory courses are not just struggling through on mediocre satisfaction results". Kirk will also "work with course convenors" to develop a document outlining "how to write effective SELT's", and another with relevant "names and titles of academic staff" so students know who to contact if they want to advocate and "fight for themselves". Lastly, Kirk will make "the CASS Rep position more approachable" by committing to replying to emails "within 72 hours" of them being sent".
Running on the Refocus Your ANUSA ticket is Benjamin Capovilla. As a "newcomer to Canberra", Capovilla is running on a platform of "leadership through listening". He aims to "open up the lines of communication between the university and its students" so that the student body can be "heard and helped". Capvilla will do this through "investigat[ing] all avenues of support"  whether they be "financial, emotional or educational". 
College of Business and Economics (CBE) 
CBE has six candidates running for it's two available College Rep roles in the ANUSA elections this year. Two are running on You!, two on Refocus, and one for both Proud! and Brighter Together. 
Running on the You! ticket are Aarfa Khan and Alex Rigby. They have stated that they are advocating for "better feedback systems" and "better communication". Khan specifically wishes to address the problem of a lack of student representation by course reps, citing the fact that only one course run by CBE has dedicated course reps, Math1113. Rigby, on the same theme, wishes to improve the "variety of services provided" and ensure students who are "nervous about seeking aid" are accommodated for. In addition, he has committed to holding teachers to account, and ensuring that they provide "better communication" with students who have questions concerning course content. Being an international student, Khan is also focused on "improving student engagement with the services already available" so that the challenges faced by this part of the student body are "addressed". 
The Refocus Your ANUSA ticket is running Tom Gilbert and Ella Hickey for both CBE College Rep positions. They are running on a shared policy platform of advocating for course reps for all CBE courses so that it can be the "inclusive and forward-thinking college it desperately needs to be". They will also officially advocate for "no Proctorio in CBE", citing privacy concerns in their policy outline. Aiming to generate a "greater online presence", both candidates want to enhance "support for first year CBE students" by establishing an online CBE dedicated textbook exchange system. 
Riley Smithers is running with Proud! Of Our ANUSA on a three point policy plan: an audit and update of the Programs and Courses section of the ANU website, a platform focused on student feedback and finally, continuity in the handover process. Smithers has identified that "the depth of the content and the assumed knowledge are not always advertised on the course information site", leaving students who don't have the technical or mathematical ability struggling in courses. In addition, he notes that some courses within the CBE lists are either "outdated or display little useful information" such as content, assessments and names of course convenors. In response, Smithers will advocate for an "audit" of CBE courses, ensuring they display accurate and timely information. Like You!, Smithers would like to see non-credit short courses implemented to help students improve their technical abilities. On his policy of student feedback, Smithers will investigate at CBE Education Committee meetings why course reps were discontinued, given they have "undoubtedly proven to be successful vehicles for student advocacy". Assuming course reps cannot be reinstated, he aims to mould the role of CBE College Rep so that it can fulfill a similar role. Noting the "significant disruption" from COVID-19, Smithers is committed to "opening communication channels with both the current and past representatives for consultation on the direction of the college". 
Brighter Together's Jayden Pham is Event Director at the ANU Actuarial Society and a CBE mentor. Like other candidates, he wishes to improve the "feedback systems" within CBE, largely through the "reintroduction of course student reps". Complementing this is what Pham hopes to be an "all year feedback platform", as well as a rebalancing of assessment structure in order for fairer outcomes for students. In particular, he will advocate for a decrease in the reliance on assessments which determine 80% of a courses mark. Pham would like to see greater "international student engagement", and in addition collaborate further with the discipline societies to build a "bigger [CBE] community". 
College of Law
The College of Law is the only other college at ANU to host contested elections this year. There are three candidates running, one each on Brighter Together, Go the Distance and Refocus. 
Tim Smith, who is running with Refocus, states that he "will advocate for greater accessibility and flexibility for all students". Smith admits that the College is regarded as being "inflexible and resistant to student needs". In response, he is advocating for "flexible tutorial allocations… improved online infrastructure and learning resources". Smith is opposed to the fee hikes being imposed on the University sector, but notes that if they are passed, he will advocate for "financial resources to be reinvested in the student experience". Addressing the problem that "the College of Law has on many occasions failed to adequately consult the student body", Smith proposes that there should be greater transparency over what is decided on in College meetings, and "student wide surveys and consultation". 
Running on the Brighter Together ticket is Wamburun Senior Resident, Lily Henke. Recognising the difficulty students encounter at the COL when trying to find accurate degree information, Henke plans to establish an "FAQ Factsheet" with questions proposed by students. In addition, she will establish "presentations during O-week… for first years", and establish communication channels with the academic representatives at residential halls so that degree requirements are "effectively communicated to law students living on campus". Henke also raises the issue of a lack of consultation regarding major changes to the degree structure. She proposes that there be anonymous surveys to provide feedback, "advocate for transparency regarding all future changes" to the Law program and provide greater "intern experiences". Henke also expresses concern about the currently disconnected relationship between college reps and students, where students find that College Reps "aren't able to effectively share information" and College Reps find that students "are often unaware" of their roles. To resolve this, Henke plans on creating a dedicated College Rep Wattle page and expanding the positions social media presence. Lastly, Henke aims to consult with previous College Reps to erase the gap of lost "institutional knowledge" which occurs during the handover process. 
Isabel Marsh is running on the Go the Distance ticket. She was previously a member of the Disputes Committee, and has been an SR and Set4ANU mentor. Her policy platform is founded on making studying law as "accessible as possible". She plans to lobby the college to restructure assessment weighting so that exams/assessments are "below [a] 70% weighting". Given the proliferation of online courses, and student concerns that there is a "discrepancy" in teaching by different tutors in the same course, Marsh will work with the college to ensure a "standardisation of teaching policy" and develop "technology guidelines". Accessibility to Marsh also means ensuring the "visibility" of course reps through promotion of the College Rep roles and responsibilities in lectures, "regular consultation sessions", and using the dedicated facebook group. 
Elected Representatives: 
College of Asia and the Pacific (CAP):
Andre Kwok (Brighter Together). 

Meg Billson (Refocus). 
Joint Colleges of Sciences (JCOS):
Sai Campbell (Brighter Together).

Su-En Hia (Proud!).
College of Engineering and Computer Sciences (CECS):
Sandy Ma (Go the Distance). 

Swatantra Roy (Proud!). 
Update: Voting for the ANUSA Election will now run from 9am, 25 August, until 12pm 28 August.
Know something we don't know? Email [email protected] or use our anonymous tip submission.
If you have an issue with this article, or a correction to make, you can contact us at [email protected], submit a formal dispute, or angery react the Facebook post.
Want to get involved? You can write articles, photograph, livestream or do web support. We're also looking for someone to yell "extra!" outside Davey Lodge at 1AM. Apply today!
---