"Job Cuts are People Cuts": NTEU calls for "Meaningful Consultation"
Posted On October 1, 2020
---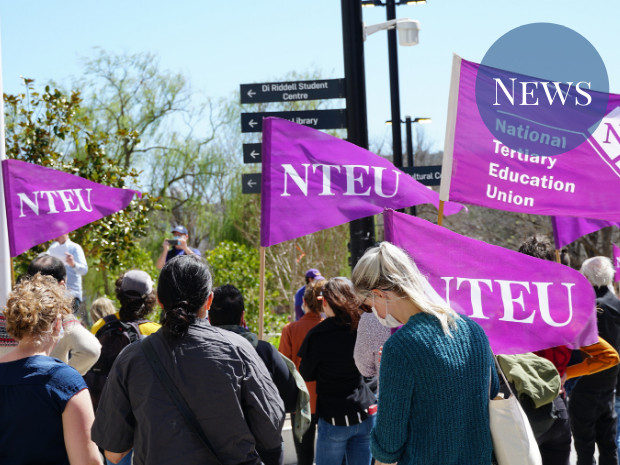 By Madeleine McDonald
On 22 September, the NTEU, alongside ANU students and staff, led a rally against further job cuts at the University. An open letter opposing forced redundancies and calling for improved consultation was delivered to ANU Chancelry. The University has since insisted that the consultation process was robust and transparent. 
The ANU Recovery Plan, which was released on 17 September, stated that a "further reduction of 215 positions" would be necessary to reduce the University's expenditure by $103.5 million in the coming year. According to ANU, this will keep the University financially afloat by providing for "sustainable levels of expenditure". The NTEU has expressed its concern that these measures have been pursued as a "first resort, rather than last resort". 
The rally commenced in Kambri, with a speech from NTEU ACT Division Secretary, Cathy Day. Day called on the ANU to hold open talks with the NTEU, asserting that there should be an "alternative to job cuts".
This was followed by speeches from ANU Library staff, Alisha Nolan and Rachel Karasick, who have farewelled 24 of their colleagues due to "voluntary separations". An additional 10 casual staff have also lost their jobs, while "permanent frontline staff have had their hours reduced". They stated that staff morale is "very low", and that it has been a "challenge to keep the library open" when the remaining staff are away on sick or annual leave. Nolan and Karasick expressed that the job cuts have revealed to them that "the work and service we provide to the University is not valued or appreciated", adding that it is impossible to "run a great uni without a great library". 
ANUSA Vice-President and President-elect, Madhu Janagara, also spoke at the rally, calling on ANU to remember that the University is defined by "it's community – it's staff and students". 
Protestors proceeded to march from Kambri to the Chancelry, with attendees chanting, "Job cuts not today! There has to be a better way" and "What do we do? Stand up, fight back!". The United Workers Union also participated in the procession, in solidarity with the NTEU. 
Beck Pearse, a lecturer at ANU, and NTEU ANU Branch Committee member, addressed protesters outside the Chancelry. She reiterated that the drafting of the Recovery Plan involved "minimal staff consultation," with staff reading the document "knowing they had already lost over 200 jobs". 
Pearse also argued that there was a lack of transparency in the process, noting that although the plan had been justified on the basis of "financial argument", the University did not provide staff with "enough information to make [their] own evaluation of whether this [decision] is reasonable". 
"Where is the data underpinning the Recovery Plan? Can our own experts review it?" Pearse asked. She called on the University to include staff and students in its "long term vision" through "meaningful consultation". 
Speaking to Observer, NTEU ANU Branch President Russell Smith echoed Pearse's call for genuine consultation between ANU and it's community. He said that "once redundancies start happening, there is no stopping them," making a process of "meaningful consultation" important before such decisions are made.
Under clause 68 of the Australian National University Enterprise Agreement 2017-2021, the University is obligated to follow the "managing change process" for decisions that significantly impact staff. This process typically involves informal "preliminary discussions with people likely to be affected", followed by consultation and implementation. During the consultation period, which ran ANU-wide from 16 to 29 September, the Agreement stipulates that ANU is "not allowed to make definite decisions", and that feedback from stakeholders must be "genuinely consider[ed]". At this point, a "release of commentary on feedback from consultation" is expected to take place on 6 October, in accordance with the timeline outlined in the Recovery Plan document. 
The open letter, which was brought to Chancelry as part of the protest, outlines three main issues with the Recovery Plan: poor consultation, lack of supportive data, and minimal explanation as to how the plan aligns with ANU's "long-term objectives". The letter argues that "asking the ANU community to help it [ANU] fire hundreds of University employees" cannot be considered "genuine consultation", and calls on the University to provide "more time, more information and more sincerity". 
The letter critiques the lack of detail provided in the Recovery Plan, arguing that it "does not provide a basis for independent interrogation" of ANU's decisions. It also argued that there has been minimal "commitment to reduce Executive staff numbers and wages in order to reduce expenditure", and asserts that figures have been "cherry picked". To this end, the NTEU calls on the ANU Executive to "release the financial documents and data underpinning the Recovery Plan". 
The final request in the letter urges the provision of evidence that the University has "fully considered the implications for [its] research capacity and academic credibility". The letter expresses concern that the Plan "seems to threaten, rather than facilitate, ANU's role and mission". 
A spokesperson for ANU stated that data supporting the decisions outlined in the Recovery Plan "is in the initial consultation paper" and "openly spells out the financial situation" of the University. In response to concerns regarding genuine consultation, the spokesperson asserted that staff had the opportunity to attend "22 town hall meetings" and to submit "feedback via the ANU Recovery website". He added that "a suite of staff forums" will also be hosted over the next month. 
The spokesperson also outlined a number of non-salary based saving efforts, which were reviewed in the initial consultation period. These include "limiting travel (when this resumes) by maintaining alternative modes of collaboration" and "limiting use of consultants and contractors". 
In a reply from VC Brian Schmidt to the NTEU's assertions, Schmidt stated that "more specific information" will be provided during Stage 2 of the consultation period. Schmidt also said that the University is "undertaking genuine and extensive consultation with the ANU community". 
The next stage of consultation – the release of the University's commentary on feedback received – will commence next week, and the next staff forum is scheduled for 13 October. 
Photography by Madeleine McDonald
Know something we don't know? Email [email protected] or use our anonymous tip submission.
If you have an issue with this article, or a correction to make, you can contact us at [email protected], submit a formal dispute, or angery react the Facebook post.
Want to get involved? You can write articles, photograph, livestream or do web support. We're also looking for someone to yell "extra!" outside Davey Lodge at 1AM. Apply today!
---