ANU Students Report Sharp Decline In Satisfaction
---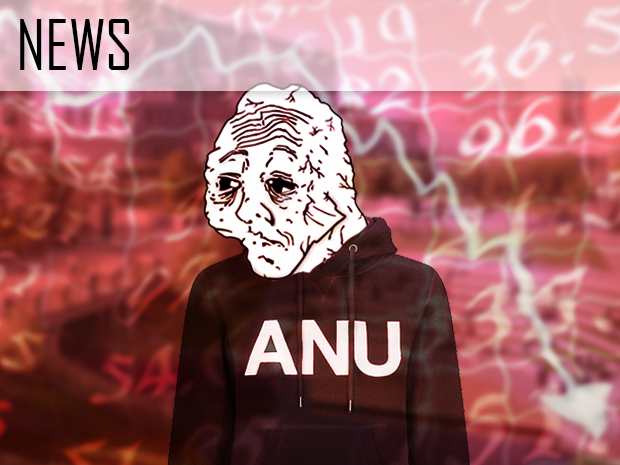 By Nathan Bow
ANU saw its 'quality of entire educational experience' rating drop by 11.7 percent in 2020, according to the latest government-funded Student Experience Survey. This coincided with a similar national trend across the tertiary education sector.
The report by the Quality Indicators for Learning and Teaching (QILT) found that ANU experienced the 10th greatest decline in the 'quality of entire educational experience' among undergraduate students. Other Canberra tertiary education institutions, the Canberra Institute of Technology and the University of Canberra, saw drops of 3.5 percent and 9.3 percent respectively.
Nationally, students reported an average decrease of 10 percent. Of the Group of Eight Universities, six ranked in the top 14 for the largest decreases in student educational experience. Students at the University of Melbourne reported the greatest decrease of 25.3 percent.
The QILT report noted that the sharp declines in student satisfaction across the board were "not entirely surprising". The report credits the decline to "changes in teaching and learning arrangements with greater online delivery of courses" due to COVID-19. These changes were noted as having a "greater impact" on "younger persons and internal students", while international students reported a sharper fall in student ratings than domestic students.
The sharpest declines in ANU's satisfaction rates were associated with Learner Engagement and Learning Resources. Learner Engagement dropped from 59.1 percent in 2019 to 43.2 percent in 2020, while Learning Resources from 82.8 percent to 73 percent. Teaching quality also fell from 82.7 percent to 78.1 percent.
Prior to COVID-19 disruptions to in-person learning, ANU had maintained relatively steady satisfaction rates in regards to overall educational experience.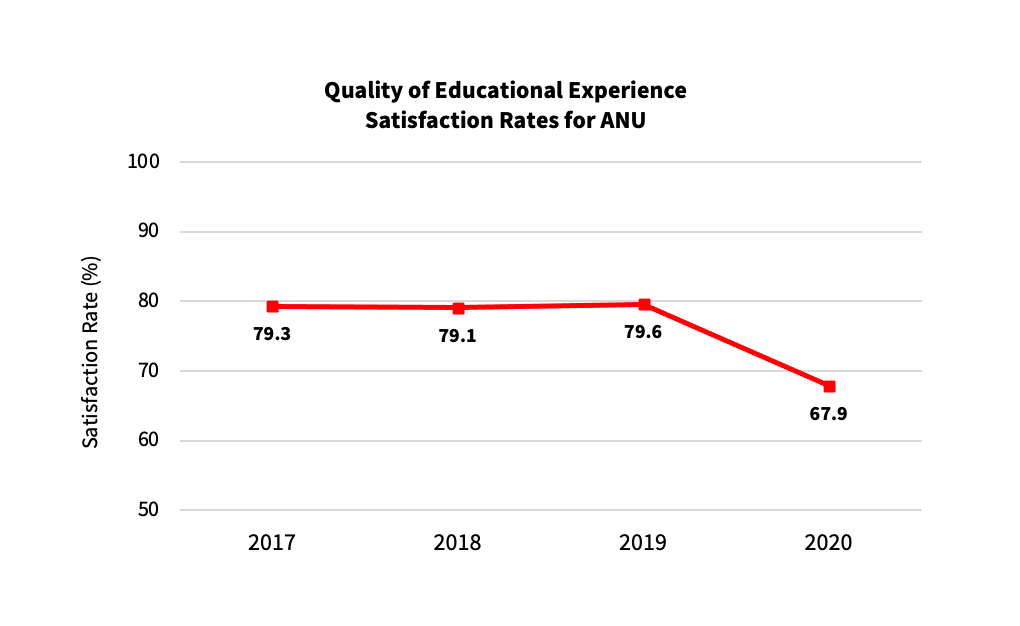 Despite declines in five out of the six assessed categories for 2020, ANU recorded the fifth greatest increase in satisfaction with student support services, from 65.7 percent to 68.6 percent. In response, an ANU spokesperson praised the University's teaching and support staff, and student services who "did everything they could for our students during a very difficult year".
When asked about what is being done to prevent a further reduction in satisfaction rates for 2021, the Spokesperson stated that "ANU will maintain the comprehensive, remote academic and social support programs" established in 2020. The Spokesperson added that the University intends to "learn from these survey results" to ensure that ANU "can continue to improve the student experience in these challenging times".
The ANUSA Vice-President and the ANUSA Education Officer did not respond to requests for comment in time for publication.
The graph included in this article has been edited to extend the range. 
Graphics by Joseph Oh
Know something we don't know? Email [email protected] or use our anonymous tip submission.
If you have an issue with this article, or a correction to make, you can contact us at [email protected], submit a formal dispute, or angery react the Facebook post.
Want to get involved? You can write articles, photograph, livestream or do web support. We're also looking for someone to yell "extra!" outside Davey Lodge at 1AM. Apply today!
---