CRS/CRN Officially Discontinued
---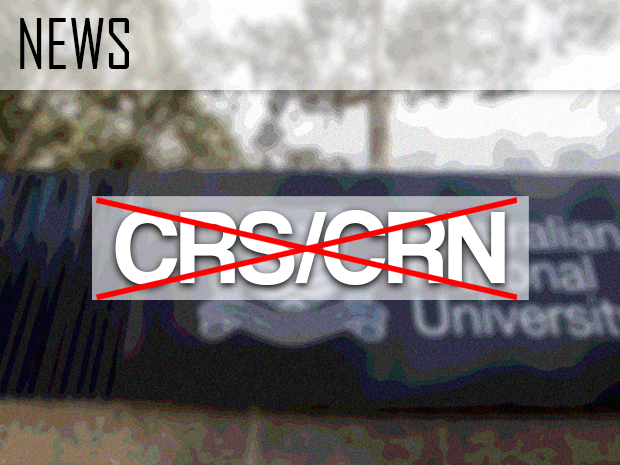 By Alex Ellwood
The CRS/CRN grading system has been officially discontinued this semester. The University told Observer that this is partly due to the absence of a "special dispensation" for a pass/fail grading system from the Tertiary Education Quality and Standards Agency (TEQSA).
TEQSA regulates academic quality across every Australian university and oversees the Higher Education Standards Framework (2015). The HES Framework states that all grades must reflect a student's academic achievements. 
An ANU spokesperson said the university received special dispensation last year to use the CRS/CRN grading system "due to the unprecedented and immediate impact of COVID". They also assured that "all students who received these grades in 2020 will have these grades recognised", however "the University has not received special dispensation to use CRS/CRN grades in 2021."
This official announcement comes shortly after a University spokesperson told Observer that ANU did not consider running the program this semester. The International Students Department (ISD) has spoken out against the program ending, and started a petition to extend it on 18 April. The petition, at the time of publication, has gathered over 1,000 signatures. 
In a comment to Observer, ISD expressed disappointment about the program ending. "It is unarguable that COVID-19 continues to disrupt our education and everything is still far from normal. [CRS/CRN] provided students a choice to not have their academic records flawed due to pandemic related circumstances", they said.
Further, ISD stated that according to a CRS/CRN Feedback form they created earlier this month, "a staggering 94% of students surveyed want CRS/CRN extended. 41% of students surveyed stated that CRS/CRN mitigated circumstances around their disability, physical health and mental health". 
An ANU spokesperson reminded students of other forms of academic consideration that can assist those studying remotely.
"Studying remotely because of the border closures is a legitimate reason to be asking for adjustments such as extended deadlines for assignments," the spokesperson said. 
The Access and Inclusion scheme is also available to all students who have a disability or mental health concerns. 
In a consultation with students on 28 April, Deputy Vice-Chancellor Grady Venville said there is potential to note on affected students' academic transcripts that they were COVID-impacted in 2021. However, the students' end of semester grades will still appear, regardless of their circumstance. 
Venville and the academic board will meet next week to explore alternative considerations for impacted international students. 
ANU estimates between 3,000 and 4,000 international students are still studying remotely, and are unable to return to Canberra. 
Graphics by Joseph Oh
Know something we don't know? Email [email protected] or use our anonymous tip submission.
If you have an issue with this article, or a correction to make, you can contact us at [email protected], submit a formal dispute, or angery react the Facebook post.
Want to get involved? You can write articles, photograph, livestream or do web support. We're also looking for someone to yell "extra!" outside Davey Lodge at 1AM. Apply today!
---