Fire On Campus: Admin Building Incinerated, HAZMAT Assessment Rules Rest of Campus Safe
---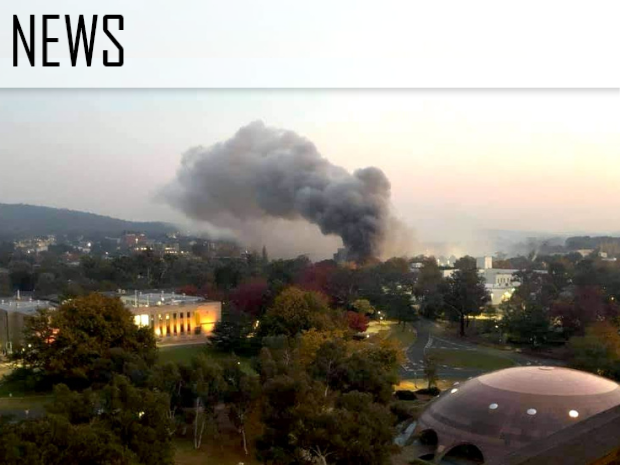 By Grace Danielson
Around 7 am this morning, ACT Fire and Rescue were called to the ANU Acton campus to extinguish a fire in Building 13B. Emergency services had the fire under control by 8 am. A single demountable classroom was incinerated. There were no deaths or injuries. 
Students and staff have since been notified that surrounding buildings and car parks originally closed as a precaution for hazard assessments have now been reopened and can be used as normal. 
An ANU spokesperson told Observer that Building 13B was a demountable, temporary space for finance and research administration. The building was slated to be decommissioned later this year. No student work or records were kept in the building.
Located between the Baldessin Precinct Building and the School of Art and Design, ANU alerted staff and students via email this morning that classes scheduled in the affected area were cancelled for the day. 
The following buildings were closed: Baldessin Precinct Building, Baldessin car park, Melville Hall and Tjabal Centre for Indigenous Higher Education, Centre for Arab and Islamic Studies, School of Art and Design, and Beryl Rawson Building. 
ACT Fire and Rescue and ACT Police have investigated the incident on site. ACT Emergency Services Agency (ESA) completed a full HAZMAT assessment reporting there has been no contamination from smoke. The ESA has also confirmed that no hazardous materials were left in the surrounding area or buildings, confirming they are safe.
ANU says it is providing support for staff who worked in building 13B. From Monday 3 May, affected staff will move to a new space in building 188, China in the World.
The University is encouraging individuals impacted by this morning's events to seek support and have added extra counselling capacity. The Employee Assistance Program can be reached on 1800 808 374 or [email protected]
The featured photograph was taken by an ANU PhD Student from the College of Asia and the Pacific
---