The Final Straw: ANU's International Students Looking Elsewhere
Posted On August 16, 2021
---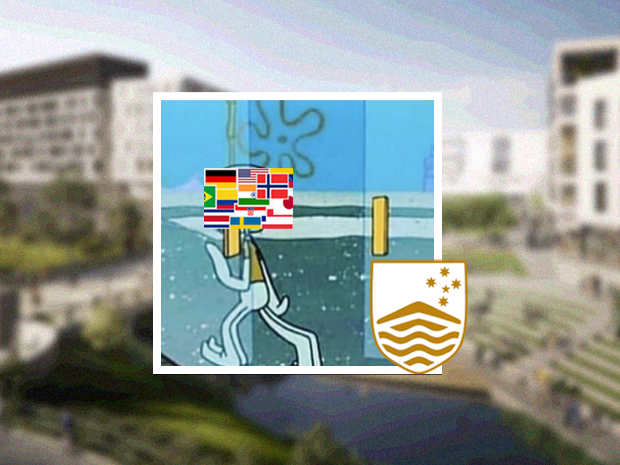 By Tom Kersten
On 30 July, Prime Minister Scott Morrison announced Australia's plan to transition to post vaccination settings.
For many people this was a moment of hope, something to look forward to, something to work towards. However, for International Students it provided little certainty. 
Phase B, which requires 70% of the population to be fully vaccinated, states that "capped entry of student and economic visa holders subject to quarantine arrangements and availability" may be allowed.
It is expected the 70% target will be reached before the end of the year.
Whilst Phase B may seem positive for students stuck abroad, the plan is riddled with uncertainties. Phrases such as 'may include' , 'capped entry' and 'subject to' can be found throughout, raising the burning question: 
How many students would actually be allowed to enter, if allowed at all?
Only the final phase allows for uncapped arrival of international students. This phase will not be reached until at least the middle of next year.
International student Nitya Narasimhan noted that the roadmap did not have a deadline as to when vaccination targets will be reached. 
"It's easier said than done" to vaccinate 80% of the entire population, she stated.
Another student told Observer  "it looks like a hastily put together, low effort roadmap."
"Why are there no estimated dates based on the vaccine supply?" the student questioned.
In an interview with The Guardian, India's High Commissioner to Australia, Manpreet Vohra urged the government to give students more certainty about when they can return to the country, saying students would have something "to look forward to".
A report published by 'International Development Program' (IDP)– an organisation that helps students find education internationally – found 43% of international students attending an Australian university would defer their studies until face-to-face learning resumed. 
Out of the five countries surveyed, Australia had the second highest percentage, higher than Canada (24%), United Kingdom (27%) and the United States of America (42%). Only New Zealand was higher, with 52%.
For those students planning to defer, 66% said this was due to the lack of international exposure they were hoping to experience overseas. 
On the criteria of teaching quality, nearly half of the students (48%) highlighted poor standards as a reason to defer. Australia ranked second highest on this criteria, only behind the United Kingdom (52%).
Out of all the students surveyed (from the five countries), 39% said they were likely to switch education destinations if it meant they could receive face-to-face learning quicker.
For some students at ANU, the lure of face-to-face learning at another institution overseas is strong.
First year student Pavan Idnani, who is currently studying remotely from Thailand, chose to study at ANU as he received a scholarship.
"As an international student receiving a scholarship is not only an achievement, but it truly does help take the financial load off" Idnani said.
Speaking to Observer, Idnani highlighted ANU's number one ranking in Australia and its "exceptional reputation worldwide."
"I knew I was making the right choice."
However, with the uncertainty and lack of clarity surrounding Australia's international borders, Idnani said he was "very disappointed and displeased regarding the current border situation."
"Numerous other countries have already welcomed international students, whereas Australia has not."
Idnani says it's extremely frustrating knowing he is missing out on the full university experience.
"This is why I am considering to transfer to another university in a different country."
Idnani tells Observer that he is seriously considering moving to America, saying they are "operating at 80% face-to-face, and have welcomed international students since the start of the pandemic."
A first year international student who wished to remain anonymous told Observer he had "chosen ANU over some of the best universities in the UK" saying he felt that studying in Australia would be an overall better experience than the United Kingdom.
When asked his thoughts regarding the borders, the student said it was a very emotional subject. 
"On one hand, anger in that we are paying high fees in full and having to study virtually, which is far from ideal…On the other hand, sadness that I was wrong about Australia being welcoming to international students."
Studying online is something that the student says he cannot do for much longer. 
"I don't know how much longer I can bear online learning considering the quality of education that I was promised is not what I am currently being offered."
With sadness, the student tells me he has started looking at universities in the United Kingdom and Canada "where the borders are open and are welcoming students with open arms."
He says this would be heartbreaking "as I've made friends at ANU and starting the whole process all over again at a new university is going to be stressful."
For now, the student is waiting no longer than Semester One next year to see if the borders will open.
"Because if we aren't allowed to come to Australia it only makes sense to go to a country where you will be offered an education worth the fees they are charging us."
Some students have had enough, such as former ANU student Nayantara Ranganatha who was studying remotely from the United States.
Having completed two semesters of university online, Ranganatha decided to leave ANU after Semester 1 this year and search for new education opportunities.
Ranganatha tells me she had hoped Australia would have opened their borders by now but she accepts the situation and says "the Australian border policy also really scares me."
Nayantara glady says "I am now joining the University of Amsterdam". 
She admits that "it is a huge privilege to make this change" however she is "grateful to be able to put this wait and uncertainty behind me."
Ranganatha highlights that the Dutch border situation, which has very little restrictions "gives me more certainty that I won't be separated from my family."
"I was so excited to move to Canberra, but after seeing how international students have been treated during the pandemic, I didn't want to risk waiting for the borders to open only to be stuck in Australia when a new variant erupts."
Studying at the University of Amsterdam will also be significantly cheaper for Nayantara.
 "I will be paying about ⅓ of the tuition I had to pay at the ANU," she said.
She concludes making the choice to move to another University will provide her with more certainty and less stress, "in contrast to the uncertainty, stress and frustration that came with being an international student at the ANU."
Education Minister Alan Tudge recently said "International students are an important part of the Australian community, and more than half a million have stayed here during the pandemic."
"I do acknowledge that it has been a particularly challenging time for many students and their families, both in Australia and overseas, and I thank them for sticking with us during this difficult period."
"We continue to work closely with universities, states and territories on their plans to return international students when conditions allow" Tudge said.
Graphics by Joseph Oh
---