"True Student Unionists" Launch Ticket 'Get Sh!t Done for ANUSA'
Posted On August 17, 2021
---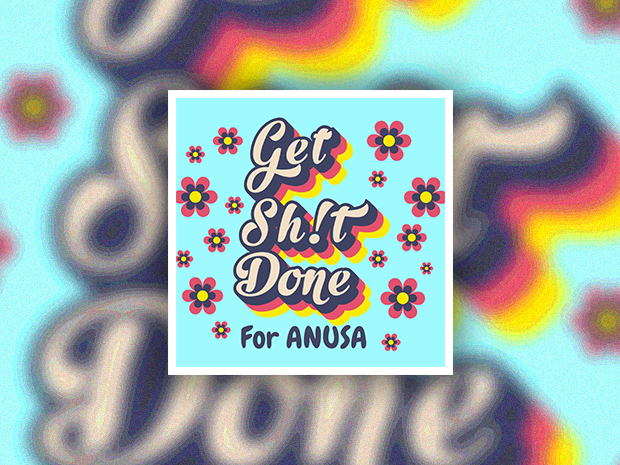 By Nathan Bow
A new ticket has launched under the name "Get Sh!t Done for ANUSA", describing themselves as "true student unionists" that are "ready to create a union that actually does Sh!t". It is the first official ticket to be launched in this year's campaign.
The ticket features the incumbent Disabilities Officer, Sinead Winn, running for Welfare Officer, Elijah Smith for Clubs Officer, and Lucy Skelton for Education Officer. 
A total of five ticket members are also running for National Union of Students (NUS) Delegate, including: Sinead Winn, Lucy Skelton, Azraa Hussain, Sam Shaw, and Sashini Liyanage. All five are affiliated with the National Labor Students (NLS), a labor-left faction of the NUS.
"Get Sh!t Done for ANUSA" criticises ANUSA for promising "ideas of greater consultation, greater activism, and greater results, only to come up short year on year". According to the ticket, ANUSA needs "new, fresh, voices that aren't here to pad their resumes for fancy law firms or consultancy companies".
In the new Welfare Officer portfolio, Sinead Winn "wants to create a student union that works for disabled and working students". She said it is her goal to prioritise the "wants and needs" of "students who work, students who live off-campus, students with disabilities, and first generation students" who feel like ANUSA "doesn't work for them".
Described as an "impassioned activist" by the ticket's Press Release, Lucy Skelton criticised ANUSA for failing "to take a serious approach to organisation on all issues and instead tread[ing] water in a sea of bureaucracy". As Education Officer, Skelton stated that she will "respond to the consistent attacks on higher education" and "act to not only support people and the planet on a campus level but on a federal level". She expressed  that she intends on "organising and empowering students to take the challenge across the lake to parliament".
Vying for the position of the new Clubs Officer, Elijah Smith states that he "will strive to make an easier, clearer and more productive system of clubs at the ANU". 
The ticket also lists a further nine individuals who are running for General Representative positions. 
These include: Azraa Hussain, Sejay Segal, Dorcas Bugeme, Hebe Ren, Izzy Rigda, Kishaya Lye, Sam Shaw, Sashini Liyanage, and Deanna Athanasos. 
Nik Clementi and Sasha Titovs will run for College of Asia and Pacific (CAP) Representative and Joint College of Science (JCOS) Representative, respectively.
Candidates for ANUSA President, Vice-President, General-Secretary, and Treasurer positions have not been put forward by the "Get Sh!t Done for ANUSA" ticket. In a comment to Observer, Sam Shaw responded that "running unqualified candidates for the sake of filling positions would be to the detriment of our union". She continued that putting forward a full ticket "stands against our values as a ticket that wants to get shit done".
Graphics by Joseph Oh
Know something we don't know? Email [email protected] or use our anonymous tip submission.
If you have an issue with this article, or a correction to make, you can contact us at [email protected], submit a formal dispute, or angery react the Facebook post.
Want to get involved? You can write articles, photograph, livestream or do web support. We're also looking for someone to yell "extra!" outside Davey Lodge at 1AM. Apply today!
---