"Burning Money": Stranded Interstate Residents to Continue Paying for Rooms
Posted On August 25, 2021
---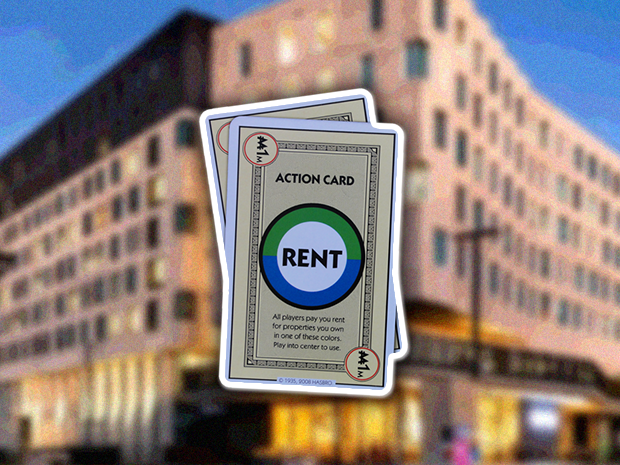 By Darlene Rowlands
There are 600 ANU students currently interstate and unable to return to Canberra. Those among them who usually reside on-campus continue to be financially liable for rooms they cannot return to. As the ACT lockdown damages the possibility of an impending return for interstate students, residents stuck interstate criticise the "disappointing" continuation of residential fees.
Olivia is from a residential college. Residents from her college who are stranded interstate have been informed they are still required to pay full fees. When asked if residents have been informed of the reason for this, she said her college "didn't really offer much information beyond the fact that I have a contractual obligation." Olivia said the obligation to pay residence fees despite her being stuck interstate is "definitely taking a toll" on her family. 
The University's COVID FAQ told stranded residents of the conditions in their Occupancy Agreement. As per the Agreement, residents will continue to be liable for the cost of their rooms if they are unable to use the room due to a public health direction. Students are directed to contact their residence to discuss alternative options or to apply for an emergency accommodation bursary if they are experiencing financial hardship. 
An email sent to a college's residents, and provided to Observer stated that border restrictions preventing residents from returning to Canberra are not classified as valid criteria for terminating the Occupancy Agreement. The valid criteria for termination are listed as significant unforeseen health and/or medical conditions, disciplinary or legal reasons, and unforeseen enrolment status changes. Residents were informed that travelling out of Canberra during a pandemic, and being unable to return is not classified as "unforeseen" under the criteria. 
Abi is from a residential college, and has received frequent emails from the University and her college regarding possible returns prior to the ACT lockdown. When discussing the effect continued college fees have had on her family, Abi explained "I'm very lucky that I'm in a position where my parents can pay for my college fees, but that doesn't mean that burning all this money towards something I can't even use isn't a stress on them".
She expressed that although the University did regularly send information and possible options for returning to Canberra, she felt there was an absence of discussion regarding residential fees in the emails. Abi said the emails "haven't spoken about the rent, and no [discussion of] money has come up". An ANU spokesperson affirmed that ANU continues to be in regular contact with interstate students. 
A student from a UniLodge residence was critical of UniLodge's alleged "radio silence" on the issue of rent for stranded residents. The resident claimed that information on rent has only been "up to individual initiative", with an assumed default to standard fees. They further allege that the lack of communication with students interstate has left residents "fearing eviction should they [raise] the subject". 
The UniLodge resident described how sustained fees from their accommodation are contributing to a precarious financial situation. Having lost their job due to COVID – and being dependent upon personal savings and assistance from family as a result – they assert that UniLodge's policy towards rent has been insufficient. 
"It is not enough for UniLodge to [only] insist that students apply for grants or bursaries as this is simply not feasible [for everyone]", they said. 
The lockdown FAQ released by UniLodge – updated on 17 August – stated that although rent will continue to be charged to accounts, they "do not want to add extra financial stress at this current stage". The FAQ lists options for residents to temporarily remove direct debit, or to create a payment plan with UniLodge for payments missed and long-term charges. It also lists various bursaries offered by the University. 
Students have generally understood that the University is unable to process the return of interstate students until the ACT exits lockdown, but have been disappointed by the policy towards residential fees. Abi commented that although she – and all interstate students – would clearly prefer to return to campus over having their rent waived, the sustained fees from her college is placing further pressure on a difficult situation. The UniLodge resident sees the issues of rent and student returns as "a reflection on ANU [and] ACT Health that there is no plan in place for students to return, and limited to no support offered."
Olivia cited ANU's release of interstate students from their rental contracts during the 2020 COVID outbreak as an example of the University's ability to provide support to students. "Their approach to rent [this year] has been somewhat disappointing…even just some kind of rent reduction would be helpful [now]", she said.
An ANU spokesperson clarified that the University asked domestic students in 2020 to leave their on-campus accommodation "if they were safely able to do so", in order to reduce the total number of residents living on-campus during the initial COVID outbreak. Residents who left at this request were subsequently released from their rental contracts. 
In contrast, ANU developed a COVID safe program for the campus in 2021 in collaboration with ACT Health. Further, "all residents have signed a contract for their residential accommodation having been fully informed of the risk of potential lockdowns and border closures." The spokesperson maintains that "residents were advised by the University to carefully consider their travel arrangements during semester break" in June of this year. 
Abi highlights that she's aware the University is probably "struggling to provide us with certain answers" in an inherently uncertain situation, but she believes that more could have been planned to support students by the second year of COVID. 
In her words, "when they had round one of COVID last year…I just wish they had an idea at this point of how to help us now." 
UniLodge ANU declined to comment.
ANU Interhall Council did not respond in time for publication. 
Graphics by Joseph Oh 
Know something we don't know? Email [email protected] or use our anonymous tip submission.
If you have an issue with this article, or a correction to make, you can contact us at [email protected], submit a formal dispute, or angery react the Facebook post.
Want to get involved? You can write articles, photograph, livestream or do web support. We're also looking for someone to yell "extra!" outside Davey Lodge at 1AM. Apply today!
---