Four Candidates Vie for Inaugural Welfare Officer Position
Posted On August 29, 2021
---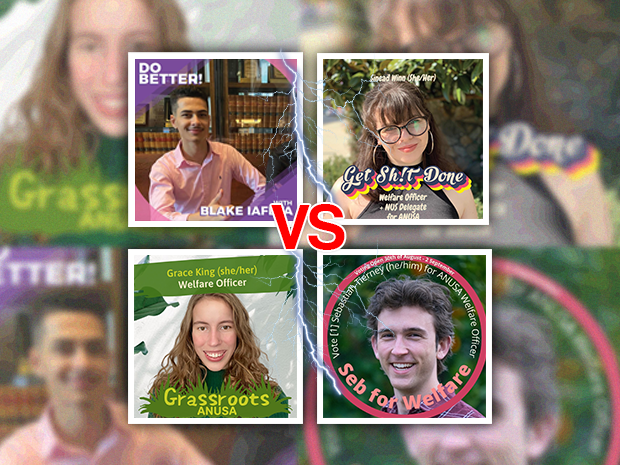 By Darlene Rowlands 
CW: mental health, mentions of eating disorders.
Four candidates will contest the newly created position of ANUSA Welfare Officer this election. They include Sebastian Tierney from 'Seb for Welfare', Sinead Winn from 'Get Sh!t Done for ANUSA', Grace King from 'Grassroots ANUSA', and Blake Iafeta from 'Do Better! with Blake Iafeta'. 
The Job 
The 2022 Welfare Officer will be ANUSA's very first. Although the constitution delegates "education and welfare issues" to the Vice President, it was argued last year that the role has transitioned away from welfare advocacy to focus more closely on educational access issues. Thus, the Welfare Officer position was passed at OGM 4 in 2020. Its role is to advocate on welfare-related issues, and to oversee ANUSA's welfare policy.
The Candidates 
Sebastian Tierney 
Tierney has been the Secretary of Wright Hall's resident committee and a Deputy on the ANUSA Wellbeing Committee. He believes his past experience has equipped him with an understanding of the importance of "supporting everyone affected by institutions and programs". In Tierney's work at Wright Hall in 2020, he worked on the Cultural Action Plan, which addressed challenges faced by the community, and developed clear steps forward for SASH and mental health incidents. 
Tierney dedicates his platform to fighting for improvements to mental health services at ANU. 
Sinead Winn
Winn is the current ANUSA Disabilities Officer, a role through which she believes has proven herself as a student advocate. Winn believes her previous leadership in ANUSA, as well as her experience as a working and first-generation student, equip her for the position. 
Winn is also running for NUS Delegate. 
Grace King 
King is Wamburun Hall's Vice President, ANUSA Deputy Education Officer, and an ANUSA General Representative. King dedicates her platform to advocating for marginalised ANU students, including but not limited to "poor students, working students, first-generation students, disabled students and students with parent or carer responsibilities". 
Blake Iafeta 
Iafeta cites extensive personal experience with marginalisation as the foundation for his candidacy. Iafeta is an ethnic minority, a first-generation university student and a high school dropout from a low-income household, who is additionally disabled and has experienced extreme childhood trauma. 
He believes that his first-hand understanding of ANUSA's current deficiencies in regards to welfare means he can sympathise with students in a similar position, and pledges to advocate for issues directly related to student welfare. 
Iafeta is running for 10 additional positions, including ANUSA President. 
The Policies 
Accessibility of essential items
Winn intends to continue and expand upon the current Student Bites program – a food service available to ANU students – by transforming it into a 24/7 food bank. The Student Bites program currently operates once a week, with a limit of one paper bag of food per student. As the Student Bites program has experienced increased demand in the wake of COVID outbreaks in Canberra, Winn wishes to extend partnerships with external food providers to repurpose food for student usage that would otherwise not be sold. Maintained by the Welfare Officer, the 'ANU Pantry' will provide a running supply of food at a designated venue on campus.
King aims to introduce a mutual aid system at ANU to provide essential goods to marginalised and vulnerable students. Under King's model, students can voluntarily collaborate to provide goods for one another. The program will be operated in collaboration with a dedicated organisational body. King recognised that such a system will be subject to "peaks and troughs of both contribution and need". To mitigate its potential volatility, King will maintain strong , working relationships with student groups in combination with effective advertising campaigns. Goods are to be acquired by student contribution, and will be provided to any interested student all-year round. 
Financial assistance and scholarships 
Tierney hopes to strengthen the ongoing campaign to lower the age of independence for Youth Allowance by establishing a specifically coordinated committee.  Tierney will also focus on campaigning to save the Braddon Centrelink from proposed closure. 
Winn's scholarship policy intends to create a centralised and clear Scholarship Information and Application Portal in collaboration with ANU. Winn cites first-hand difficulty with navigating the current scholarship portal and hopes for a new portal to be clear and well-advertised for eligible students. 
The new portal will "serve to narrow the distance between students who can easily navigate the bureaucracy of tertiary education and those who are unfamiliar with it", she said. Additionally, Winn advocates for RSA and barista courses to be provided free of charge. 
King is pushing to reform current bursary and scholarship practises, by altering application requirements to be less "invasive". By this, King is referring to current procedure, wherein students are required to justify their need for the grant and explain how they will support themselves in the future. She claims questions of this nature have had detrimental effects to the mental health of applicants. She says that the 'reason for grant' section should be altered to ensure that students who are "vulnerable enough" to apply for a grant do not face an "additional barrier". 
King will also look to ensure that the newly proposed ANUSA business is affordable and accessible for all students. A 'night cafe' seems the most likely outcome for the much anticipated business, as it is popular amongst students and remains the vision for Grassroots for ANUSA (King's ticket). She will advocate for a model that will avoid the "inflated pricing of goods in Kambri". This will feature alongside further subsidies for low-SES students to access the cafe through gift cards, vouchers, or free meal tickets. 
Iafeta's financial assistance policy includes the proposal to waive SSAF fees for eligible students, and to develop an eligibility criteria to fulfill this. Iafeta hopes to focus on "alleviating [the] financial burden" some students experience through the opt-out SSAF system. He further advocates for an increased scholarship portfolio at ANU. 
Mental health services
Tierney dedicates much of his platform to the improvement of mental health services at ANU. He views the insufficient number of ANU counsellors as a "particularly damaging failure".  Previous external reviews of ANU Counselling have repeatedly recommended more full-time counselling staff. Consequently, he advocates for increased availability of appointments, and securing counselling for international students stranded overseas. Further, Tierney hopes to establish a BIPOC point of contact in the counselling service to aid hiring more diverse staff, and to introduce community-specific group counselling programs.
Winn proposes a partnership program between ANU Counselling and external mental health services to address the infamous "long wait times and lacklustre funding" in the current counselling service. Whilst Winn states that a self-sufficient ANU campus – including mental health services – is ideal, the partnership program presents a "practical solution to a pervasive problem". 
Winn further proposes the creation of a specialised eating disorder support system through ANU Counselling. Under the system, an anonymous self-reporting tool would be available on the ANUSA website to direct sufferers to practical resources, contacts to eating disorder specialists, and medical referrals for ongoing treatment would be made readily available. 
King and Iafeta have both cited mental health improvement as intersecting with other policies of their platforms. 
Voting for the ANUSA Election will run from 9am, 30 August until 12pm, 2 September.
Know something we don't know? Email [email protected] or use our anonymous tip submission.
If you have an issue with this article, or a correction to make, you can contact us at [email protected], submit a formal dispute, or angery react the Facebook post.
Want to get involved? You can write articles, photograph, livestream or do web support. We're also looking for someone to yell "extra!" outside Davey Lodge at 1AM. Apply today!
---