Report Highlights Issues Faced by ANU Counselling
Posted On September 18, 2021
---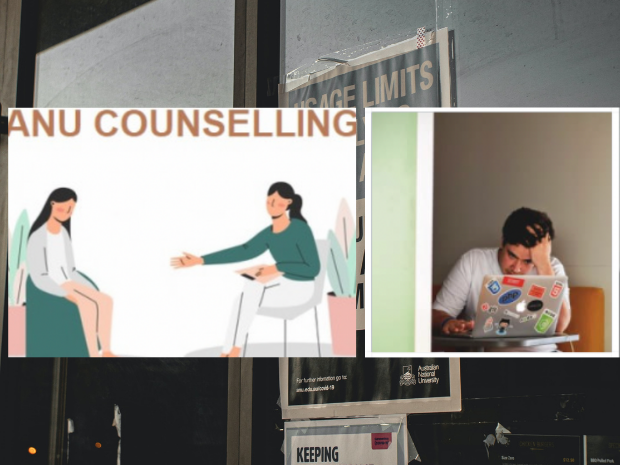 By Tom Kersten
Content Warning: Mental Health
At ANU, domestic students have access to a free counselling service, ANU Counselling. ANUSA General Representative Catherine Yeong recently published a report from a meeting she had with ANU officials, including the acting head of ANU Counselling Jenn Gagnon. The report highlights issues including understaffing, a lack of cultural sensitivity, an inability for students to express specific counselling needs, and a lack of awareness of the service's presence by students.
The lockdowns and restrictions imposed during the COVID-19 pandemic have seen growing awareness of a so-called 'shadow pandemic' for people's mental health, particularly within the younger population. An ANU spokesperson told Observer that "The University understands this is a challenging time for many" and that "ANU takes its duty of care for all members of our community seriously".
Yeong told Observer she wrote the report for two main reasons. Firstly, to ensure the student body had access to the "goings on" at ANUSA and, secondly, to hold herself accountable to the platform on which she was elected. 
"So it acts as both a transparency and accountability measure", she said. 
The report runs through nine main concerns gathered by Yeong, and through student consultation.
One of the biggest concerns raised was ANU Counselling being "overwhelmed and understaffed". 
"[ANU] Counselling has been overwhelmed for many years and has been accused of being understaffed and ill-equipped to deal with the many concerns that pose detriment to student wellbeing", the report reads.
From her meeting with ANU officials, Yeong writes "[ANU] Counselling currently has the complete occupancy for counsellors", meaning they are fully staffed and cannot expand staffing further. 
The report notes this is due to "budget constraints".
Speaking to Observer, Yeong stated they believe that the "lack of funding and their resources" is the biggest issue currently facing ANU Counselling.
Yeong is confident that "increasing funding and effort put into ANU Counselling to support our counselling staff would resolve a lot of issues I raised in the report".
The University would not indicate if it would consider increasing ANU Counselling's budget when asked by Observer. 
A lack of cultural sensitivity is another issue identified by the report. The report states that "[ANU] Counselling is currently filled with majority / only white counsellors who are ill equipped to deal with matters of cultural sensitivity".
Yeong says this acts "as a barrier" for BIPOC students to reach out for support, and that the support offered by ANU Counselling "has become inaccessible to them as a result".
The report also states that this lack of diversity had "been a recognised problem and concern…over the past few years" within ANU Counselling. According to Yeong's report, ANU Counselling has collaborated with the Research School of Psychology "to learn and train under culturally and linguistically diverse mental health experts". Additionally, it states that ANU Counselling has actively attempted to "recruit cross culturally and linguistically", and continues to do so.
A University spokesperson said "The University is committed to equal opportunity in education and employment…and to providing an inclusive and welcoming environment to students and staff of all backgrounds and identities".
The report further highlights that students cannot "state what they seek counselling services for or the level of therapeutic care they desire" when registering for the service.
Yeong writes that appointments are managed through the ANU Counselling administration team, "who are not under the confidentiality rule/principle that counsellors have with students". Therefore, specification of an appointment's purpose may present a risk to students.  
Her report states that this issue may be resolved by "creating a new booking system that caters towards students".
Another significant concern of Yeong's is the lack of awareness of the service by students. The report reads, "not a lot of students are aware of the services on offer, the ANU Counselling website itself, or the resources which ANU Counselling promotes".
Yeong said she has "received permission" to increase awareness of ANU Counselling, including in her mental health podcast, 'Space Cadets'.
Looking back on the report, Yeong told Observer she "really really [hopes]" the University will start taking action on the concerns featured. 
However, she admits that "the fact is that there has been ongoing communication efforts for a while now…to very little avail".
Yeong believes "the more that we get students involved and aware and fighting for these improvements", the more there will be the potential for effective change.
A full copy of the report can be found here.
If this article raised any concerns, help is available:
Lifeline: 13 11 14 
Headspace: 1800 650 890
Beyond Blue: 1300 224 636
ANU Wellbeing & Support: 1300 050 327
ANU Wellbeing & Support (International): +61 488 884 170 (text)
Graphics by Junyoung Chun
Know something we don't know? Email [email protected] or use our anonymous tip submission.
If you have an issue with this article, or a correction to make, you can contact us at [email protected], submit a formal dispute, or angry react the Facebook post.
Want to get involved? You can write articles, photograph, livestream or do web support. We're also looking for someone to yell "extra!" outside Davey Lodge at 1AM. Apply today!
---