High Average Lunch Price in Kambri Despite 2017 Promises
---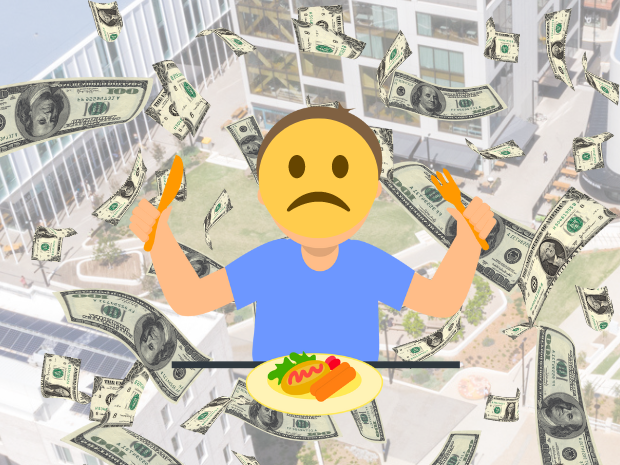 By Will Haldane 
Despite promises in 2017 for the baseline price of a Kambri lunch being $5, an Observer investigation has found that the average price for a full lunch in Kambri is currently closer to $13.
During the re-development of Union Court into Kambri, then Deputy Vice-Chancellor Marnie Hughes–Warrington stated that "most options" for a lunch will be at the "lower end of the price pyramid". She clarified that the options available will be a "full, regular lunch" rather than something that could be considered a snack. Observer notes that $5 in 2017 is equivalent in purchasing power to roughly $6 in 2022 dollars.
Observer investigated the prices of several meal options in Kambri to assess if this baseline has been realized.
Observer defined a 'full lunch' to be a single menu option which exceeds 2000kj, which is below a third of the daily food intake the average adult should have according to healthdirect, a government-funded and operated service. If food options varied in proportions (i.e. small, medium, or large), the smallest option which exceeds the figure was selected. The option in question also had to be nutritionally balanced, excluding options such as donuts or chips.
From 17 stores, Observer sampled 40 options that fit these conditions. The lowest individual option was $5, highest option was $20, with an average of $12.72. The median option was valued at $12, well in excess of the $5 baseline promised before Kambri's opening.
In response to Observer's questions regarding the $5 meal baseline, an ANU spokesperson outlined that "students have access to a range of meal options at multiple price points in Kambri as well as through other outlets across the campus". 
The spokesperson further outlined affordable alternatives available to students. Namely, the ANU Food Cooperative "provides discounted and free food to students as well as access to a food pantry, education on food recovery and cooking on a budget classes". They stated that the Cooperative is "underutilized" by the student body, and are "seeking students to come to them to benefit from reduced costs or free food".
The Food Cooperative serves lunches for $10 on weekdays and $15 on weekends. In discussing affordable food options, the Events and Communications manager for the Co-op told Observer that the "university helps out by giving us a lease below market value" in order to assist with affordability. 
"If the university said we are the affordable option on campus, that's a problem for them [since] we only serve lunch 6 days a week and sometimes dinners" the manager added.
Also outlined by the ANU spokesperson was the weekly sausage sizzles held by ANUSA and PARSA, and other programs like the free groceries at the Brian Kenyon Student Space (BKSS). The aim of these programs by ANUSA and PARSA is to assist students with cost of living generally.
The spokesperson similarly noted that the last five years have seen a "pronounced increase in the cost of living", during which ANU has provided "rental relief" to Kambri vendors to "keep any potential price increase to a minimum".
In the meanwhile, the cheapest places for students to source a nutritionally satisfactory lunch are at the ANU bakery, where Observer found some adequate options for $5.
The ANU spokesperson advised that students facing financial hardship "are able to access support from the University and via their student union". 
Information about ANUSA financial assistance can be found here. 
Information about PARSA financial assistance can be found here. 
Know something we don't know? Email [email protected] or use our anonymous tip submission.
If you have an issue with this article, or a correction to make, you can contact us at [email protected], submit a formal dispute, or angery react the Facebook post.Want to get involved? You can write articles, photograph, livestream or do web support. We're also looking for someone to yell "extra!" outside Davey Lodge at 1AM. Apply today!
---