UniLodge Rooms "Filthy" & Application Process "Frustrating"
---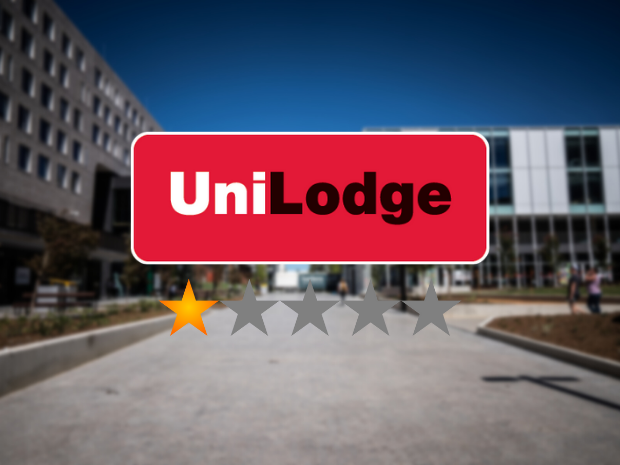 By Mackenzie Watkins
In recent years more and more students have come forward reporting an over-complicated application process and "filthy" apartments upon move-in day.
UniLodge is a major student accommodation service across Australia and New Zealand. They specialise in the professional operation and management of properties and offer accommodation to students either on campus or in close proximity to major educational institutions. UniLodge has more than 70 properties under its management. 
Within ANU UniLodge, there are 4 main accommodation options associated with the university; Warrumbul, Davey, Kinloch Lena Karmel Lodge and Wamburun Hall. 
On 21 June, Liam** posted to ANU Schmidtposting asking for help on their current issues with UniLodge. The post stated that he created an application for accomodation as a continuing student. This application had the status "application complete" up until 22 June. 
Following this, Liam emailed UniLodge back and forth for a month communicating what room they wanted and what was available. Despite this, he reported not receiving an offer from UniLodge during the period many of their friends were.
Liam further alleged that approximately two days after emailing UniLodge, they replied that they would provide him with an offer. 
The offer was never received, which UniLodge alleged was on the basis of ANU withholding proof of his academic offer. During this time, UniLodge asked him about his offer from ANU, which they received proof of in both a 'Confirmation of Enrollment' and 'Letter of Offer'. 
In conversation with Observer, Liam stated he was later granted an offer in a 5 bedroom apartment in Davey Lodge although UniLodge staff are still asking for evidence of his academic offer. 
UniLodge informed Liam that much of this issue was due to a system upgrade.
Another student, Will**, applied to UniLodge through an interhall transfer. UniLodge's reservations team first sent him a conditional offer for Kinloch. Within an hour, UniLodge sent him a different offer for a more expensive room. Will attested to Observer that he could not afford the cost of the second room he was offered. 
After attempting to email UniLodge staff, Will was prompted to instead call them as it was "the only way to get through". He was finally offered an affordable room of his choice in Warrumbul, but found that the application process only continued his troubles. He reported UniLodge's portal to be "completely unusable and confusing". 
Upon paying the acceptance fee for the room, Will ultimately paid the fee twice without receiving any confirmation of an offer. The first time he went to pay, two different amounts he owed were shown on the secure portal. Will tried following it up, but never heard back from UniLodge. 
Despite eventually paying one of the displayed sums, a month passed without confirmation of offer or any correspondence from UniLodge. Will's portal stated that he had not paid the acceptance fee. 
Confused, Will paid the fee again. After nearly another month, he once again contacted UniLodge as the portal continued to display that the acceptance fee had not been paid. 
The UniLodge team confirmed that both payments had gone through, and Will had a confirmed offer despite not receiving any correspondence saying so. He received an email with a confirmed offer of accommodation a day later, but was not told where the two payments went. 
Will has been especially concerned about securing a spot, as he needed to negotiate with his hall to ensure he doesn't "start paying for two rooms".
Reflecting on the experience, Will professed he is "lucky to be able to live on campus", but that "the whole episode and constant waiting without proper replies or explanations made me very very scared about whether I was financially capable of continuing at ANU". 
A University spokesperson told Observer that although "ANU is not aware of these issues being raised", that the application process is being reviewed and "the residential team is looking forward to rolling out the first changes over the next 12 months". 
Also prompting complaints from residents have been the overall cost of UniLodge accommodation and unsatisfactory hygienic conditions upon residents moving in. 
Another student, Sarah**, wrote under Liam's post on Schmidtposting that they "recommend living off-campus", explaining the price of the apartments to be  far higher than what they were willing to pay. 
Sarah stated they stayed at Davey during 2020, and detailed what they remember of the unhygienic conditions upon moving in for their first year. 
"The wall was covered in oil, the bathroom had mould and there were dirty dishes in the sink despite having no one there since November 2019 over the summer break".
By mid-2021, she took a room tour at Kinloch for an unoccupied studio. They were met with a similar situation. "The kitchen range was oily, the bathroom had mud and mould in it." 
Sarah said they just accepted this as an expected thing within ANU UniLodge, as many of their friends have shared experience with the dirty conditions. They noted that the dirty conditions shouldn't be accepted, especially since "you have to pay to have the room 'cleaned' after you leave".
In response to Observer's query whether they had heard about the cleanliness complaints, UniLodge confirmed they are responsible for "providing…residents with a professionally cleaned apartment before the commencement of their lease". They added that tenants receive a Condition Report upon moving in that details the condition of the property. 
"If we are advised by the resident upon check in or within 14 days from check in date that the premises require attention due to not being reasonably clean, we would act without delay", they added, whilst stating that they have not experienced "significant increases in resident notifications" on cleanliness. 
Another student, Imogen, also told Observer that her room was in poor condition when she first moved in, describing spending hours cleaning the kitchen and bathroom on move-in day. "It's pretty ridiculous considering we had to pay for a 'cleaning fee' but the room didn't seem to have been cleaned at all", Imogen said.
Imogen also noted that she and many other friends at UniLodge feel vulnerable in their rooms due to the largely unrestricted access maintenance people had to student residences. She said that since maintenance men "are given a master key card that can open almost any door", she remains "constantly afraid someone will come in while I'm asleep, in the shower, or any other vulnerable situation". 
As to UniLodge's affordability, Sarah also stated "ANU and UniLodge should strive to provide affordable housing", but the "ridiculous" truth is that "you are paying more to live on campus than going off-campus". 
"I just felt like I would much rather pay $200 of rent, utilities, and transport living off-campus than nearly $400 a week to be on campus", Sarah said.
**pseudonym to maintain anonymity
Graphics by Darlene Rowlands 
Know something we don't know? Email [email protected] or use our anonymous tip submission.
If you have an issue with this article, or a correction to make, you can contact us at [email protected], submit a formal dispute, or angry react the Facebook post.
Want to get involved? You can write articles, photograph, livestream or do web support. We're also looking for someone to yell "extra!" outside Davey Lodge at 1AM. Apply today!
---