Head to Head for ANUSA Vice President
Posted On September 19, 2022
---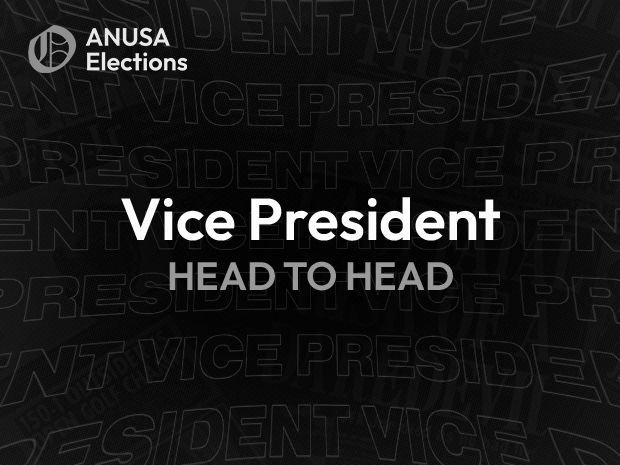 By Ethan Schultz
The Job
The ANUSA Vice-President role is complementary to the Presidency. Like the President, the Vice-President's responsibilities include ensuring the undergraduate student voice is heard throughout the ANU, along with the representation and advocacy of undergraduate students. Additional responsibilities of the Vice-President include coordinating student appeals, and focussing on internal education policies. 
The Candidates 
Grace King 
King is experienced in student politics; she has participated in every ANUSA election since starting at ANU. King currently acts as Welfare Officer in the ANUSA body.  Her vision as Welfare Officer included creating a mutual aid system in ANUSA, and implementing a flexible timetable at every academic college. During the 2020 ANUSA election, King ran as a General Representative for the Proud! of our ANUSA ticket. King has been a student at ANU since 2020. 
Georgette Mouawad 
Mouawad is running for the first time in an ANUSA election; previously she was a president of the College of Law. She references this experience in describing how student voices are ignored for "corporate demands" and an out-of-touch university body. Mouawad stresses the need for leadership in-touch with student experiences. Mouawad has been a student at ANU since 2019. 
Other Candidates 
There are two additional candidates for the Vice Presidency, however, as a result of limited information about either of their policies they can not be included in this 'head to head.' William Bradley Byrnes is running for VP on the Jedi Council for ANUSA ticket. Brooke Lea McKinnell is running for VP on the Voices for ANUSA ticket. 
The Policies 
Grace King
King is running for the role of ANUSA Vice President on the Power in Community ticket. Her policy description on the announcement post described her vision for the ANU. She states that "Students and staff deserve free, quality education, union-won working conditions and access to support and resources". With regards to her vision for the student union, King wishes to "…develop ANUSA's longevity, engagement and activist capacity." She sees this progress as necessary for fighting the "conservative, anti-union and anti-student bureaucracy." 
Georgette Mouawad
Mouawad is running for the role of ANUSA Vice President on the Action for ANUSA ticket. Her policy description on the announcement post focussed on concrete points of improvement. These include ensuring affordable food and drink options for students through vending machines. Mouawad emphasised that these vending machines would contain "hearty meals", like sandwiches and wraps. Her policy position included improving restorative justice for SASH victims, drug testing, on-campus smoking areas, and the unionisation of SRs.  
An earlier version of this article mislabelled the Voices for ANUSA ticket as a representative of SALT, but it has now been amended.
Graphics by Will Novak
---
Know something we don't know? Email [email protected] or use our anonymous tip submission.
If you have an issue with this article, or a correction to make, you can contact us at [email protected], submit a formal dispute, or angery react the Facebook post.
Want to get involved? You can write articles, photograph, livestream or do web support. We're also looking for someone to yell "extra!" outside Davey Lodge at 1AM. Apply today!
---