Promises from ANUSA Past: A Retrospective of Candidates' Campaign Policies
Posted On September 19, 2022
---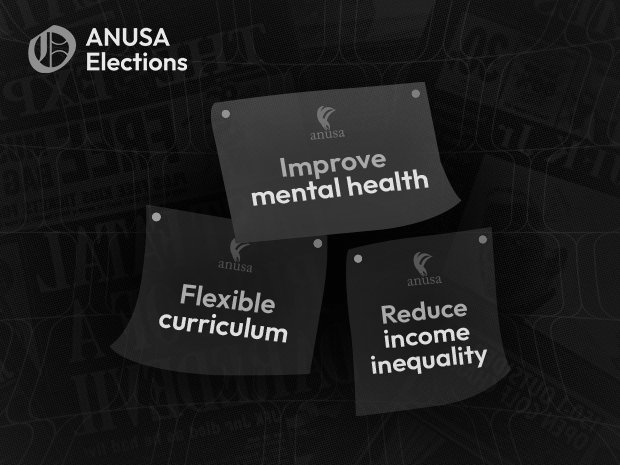 By Ethan Schultz
In light of the coming ANUSA election, Observer recounts the campaign promises made by candidates in recent history. Many promises made during the 2018, 2020, 2021, and 2022 elections echo the same sentiments: improving mental health for staff and students on campus, reducing income inequality, and a more flexible curriculum. 
2018
'Lift! ANUSA' won the election to govern in 2018. They campaigned on a platform focused towards reducing income inequality, and improving mental health standards for the whole ANU community. At the launch of their ticket, they pledged to support the introduction of low SES students; to address the role of financial strain and relocation in student mental health issues; as well as building wellbeing into all undergraduate course curricula.
'Lift! ANUSA' also pursued the more concrete objectives of making a compulsory international student induction at the start of each semester, and mandatory course reps in every college. While there is no compulsory international student induction, mandatory course representatives are currently in place at every college.
2020
'New Leaf for ANUSA' won the election to govern in 2020. Bucking trends in campaign promises, they built their policy platform on bureaucratic reform. President Lachy Day pursued three key policies: institute a five year plan to increase consistency within ANUSA, devolve power away from the president, and increase student consultation. 
Despite winning five out of six executive positions at ANUSA, New Leaf was unable to implement their bureaucratic reforms due to the Covid-19 lockdowns inhibiting their functionality. 
2021
'Brighter Together' won the ANUSA election to govern in 2021. They pursued progress in reforming policies around sexual assault and harassment (SASH) within ANUSA and the ANU; on top of prioritising the mental health of department officers. Brighter Together also pursued implementing a new five year strategic plan.
The intermittent Covid-19 lockdowns during 2021 interrupted Brighter Together from attempts to keep their campaign promises. 
2022
The current ANUSA body, 'Grass Roots', won the election to govern in 2022. Their election promises are numerous and well-documented. Grass Roots ran on a policy platform of environmentalism and social equality. Their campaign promises included: making ANUSA and the ANU fossil free; to maintain ANUSA as an activist organisation; to provide financial support and student welfare; as well as starting and managing a Night Cafe.
The Night Cafe is likely to be finished this year, and ANUSA still provides support to students.
Some election promises from the past four years reflect individual characteristics of the presidents and elected representatives from the time. Many reflect ongoing concerns within the ANU community. Financial insecurity, mental health issues, unsustainable practices, discontinuity between ANUSA bodies, and bureaucratic power-creep have all been central issues in the promises made by students campaigning in elections for almost half a decade. These promises are being made in the current election by both major tickets 'Action for ANUSA' and 'Power in Community.' 
Graphics by Will Novak
An earlier version of this article had Lift! ANUSA listed as the winning ticket for 2019. 
---
Know something we don't know? Email [email protected] or use our anonymous tip submission.
If you have an issue with this article, or a correction to make, you can contact us at [email protected], submit a formal dispute, or angery react the Facebook post.
Want to get involved? You can write articles, photograph, livestream or do web support. We're also looking for someone to yell "extra!" outside Davey Lodge at 1AM. Apply today!
---