Head to Head for ANUSA President
Posted On September 20, 2022
---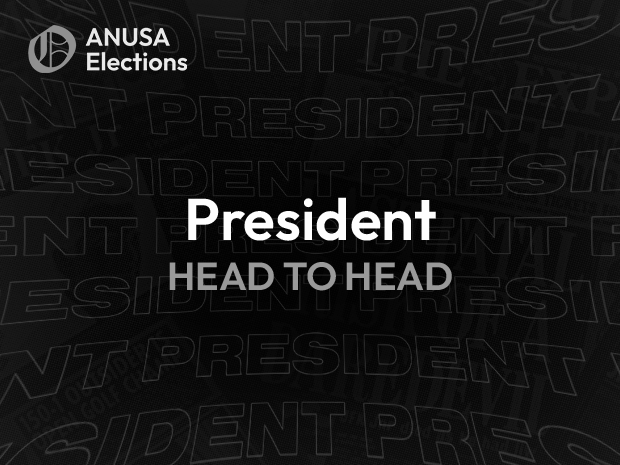 By Hannah Farrow 
CW: Mention of SASH
 Four candidates are running for ANUSA President this year. The candidates are Ben Yates (He/Him) from Power in Community, Azraa Hussain (She/They) from ACTION! for ANUSA, Nick Reich for Climate Action and Gus Coleman for the Jedi Council. 
The Job 
The ANUSA President coordinates student appeals and focuses on internal education matters, such as faculty policies and information services. The President of ANUSA oversees the staff and administrative functions within the union. They are also spokespersons for ANUSA in communication with students and national media. Together with the Vice President, they are involved with representing and advocating for students at ANU, now also including postgraduates. 
The Candidates 
Azraa Hussain
Azraa Hussain is currently a General Representative for ANUSA 2022, and they are tasked with implementing projects that are outside Executive portfolios. They are also tasked with ensuring there are visible improvements to campus life, as well as being a point of contact between the student body and ANUSA. Hussain in 2021 was a part of the Get Sh!t Done ticket for ANUSA, as well as the Women's Department.  Their policies included expanding the Sustainable Clothing Guideline, and calling for an ANU referendum to divest all investment in the fossil fuel industry. 
Ben Yates
Ben Yates is currently the General Secretary for ANUSA, which entails being responsible for the internal administration of ANUSA. This also involves organising the meetings of ANUSA representative councils. Yates has advocated for change for both students and staff members across ANU, which has continued in his Presidential campaign policies. His previous plan included "fighting bureaucracy and the barriers that stop people engaging with ANUSA". He also has been an ANUSA General Representative, Enviro Collective Co-Convenor, and was a part of the 2020 ANUSA Governance Review. 
Nick Reich 
Nick Reich has never previously had a role at the ANUSA elective and is currently involved with Socialist Alternative (SAlt). SAlt has launched their ticket Climate Action for ANUSA for 2022. 
The Policies 
Ben Yates 
Ben Yates is now running for ANUSA President in 2023. He represents a candidate who believes "an independent, leftist, activist vision for the student union is more important than ever", and has discussed his intentions for his presidential campaign on his Facebook. He plans to use his role as President to fight for an "accessible, equitable, safe and democratic university".
Azraa Hussain
Azraa Hussain is also running for President under the ticket of ACTION! For ANUSA. 
Hussain has their policies on Facebook,  and is focused on three main objectives: "we want rights for residents, we are going to fight for funding, and we want to save our social scene". Hussain has committed to increasing student engagement, along with "the primary aim of a representative body such as ANUSA… its ability to engage in advocacy and activism as a union".
Nick Reich 
Nick Reich is running for President under the ticket of Climate Action, stating how "We need more radical activists in the student union and less bureaucrats". Reich has committed to have ANUSA "embody… radical, anti-capitalist politics to fight uni management and fight the government".
"We want to use any positions we win to push ANUSA and the National Union of Student (NUS) to be activist institutions with an orientation to mobilising students to fight for: university divestment from fossil fuels; a reduction in cost of living expenses on campus; a better quality of education alongside better conditions for staff. "
Improvement of Student Academic Experience
Yates is focusing on how ANU is cutting courses and minimising students' options within their degree. Thus promoting the notion that ANU should focus on the well-being of students' degrees. Yates has mentioned focusing on students' academic experience, hoping to raise awareness of how "the university is …cutting courses" and the importance of advocating against those changes. He has discussed the importance of how "staff are gearing up to fight for the meaningful pay rise they have missed for years and we need to be standing shoulder to shoulder with them"
Hussain has also promoted the notion of a Multi-Modal ANU. 
"The reality for myself and many disabled students alike is the nature of accessibility the pandemic provided – for the first time, classes were fully online and as a result made the university a lot easier for us to attend and keep up with". 
Hussain has discussed this will be achieved through "actively engag[ing] with Academic Deans and College Reps to ensure a high-quality standard of online learning".
Nick Reich for Climate Action for ANUSA has also addressed the issue of degree cuts. He is hoping to have " a more confrontational approach with management that is about mobilising students, not just sending emails or sitting in closed meetings."
Reich is hoping to increase the academic student experience as he states that the "quality of education is deteriorating as governments and university administration work together to cut costs and shape our education to suit the needs of Australian industry."
Residential Halls and SASH Response
In Residential Halls on campus, Yates is hoping to prioritise and increase support for student leaders' at Residential Halls as they "bear the pastoral burden year after year". 
Yates believes that the student union at ANU should be aligned with the community to "fight for our collective interests", which will target and assist students on campus. 
Hussain has also promised a "Restorative justice process for SASH". Stating that this will be achieved through "work[ing] with the Vice President and the Women's Officer to begin conversations on not just responses to SASH, but things such as the planning of future residential halls".
Community Engagement
Yates believes the student union "should be driven by the communities it represents in order to fight for our collective interests".


Hussain is also hoping to revitalise the social scene on campus. 
"We want more people to show up and we want more people to have a say because an engaged and dynamic student body is incredibly important to saving student unionism".
Climate Change 
The Climate Action ticket with Reich as president has stated that" the climate crisis is wreaking unprecedented disasters, while the bosses and governments responsible for it continue to expand coal, gas and oil, now with a thick coat of greenwashing"
Voting for the 2022 ANUSA election opens on Monday 26 September and votes will be counted on Thursday 29 September. 
The Jedi Council had not published their manifesto in time for publication.

Graphics by Will Novak
---
Know something we don't know? Email [email protected] or use our anonymous tip submission.
If you have an issue with this article, or a correction to make, you can contact us at [email protected], submit a formal dispute, or angry react the Facebook post.
Want to get involved? You can write articles, photograph, livestream or do web support. We're also looking for someone to yell "extra!" outside Davey Lodge at 1AM. Apply today!
---