SOAD Students "Neglected" by University Response to Limited Studio Access
Posted On October 7, 2022
---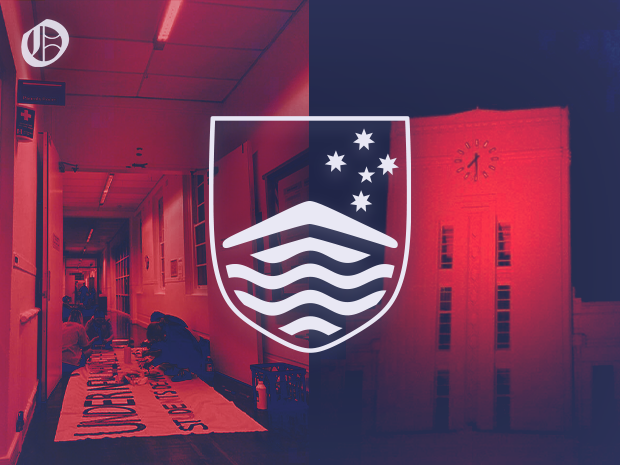 By Eleanor Ellis, Photography by 'No Cuts at ANU'
On Tuesday 4 October, students from the School of Art and Design (SOAD) staged a sit-in demonstration. On the protester's agenda was the limited studio access hours since the beginning of COVID, the quality and availability of materials, as well as the poor maintenance of SOAD facilities.
The sit-in took place in the foyer of the main building of SOAD, which students occupied from 5.30pm until 10pm. The sit-in corresponded with ​​"the weekday hours we're supposed to be able to access the studio," according to ANUSA Education Officer and Visual Arts student Beatrice Tucker.
This was organised after an open letter was penned by SOAD students, directed to a number of staff in SOAD, CASS, and University administration.
As of 6 October the letter has 104 signatures, including 42 students from the current Visual Arts and Design cohort, eight alumni, and 54 other students supporting the students' demands.
The letter stated that studio access was cut from 1200 hours per semester in 2019, to 570 hours in 2020. Since then, the building is locked from 6pm and students do not have access on weekends or during "study vacations".
The letter raised issues regarding "under-supported staff", which has allegedly "forced [older year students] to fill the gaps of knowledge" for younger cohorts. Thus, these students have even less time than their already limited studio hours to complete individual coursework, as they are instead "doing free labour and teaching students, which is not their labour to bear".
One such example is Remi Prica, a Visual Arts student and ANUSA Queer* Department Officer, who claims that they, along with many other students, have had "to take time out of [their] learning and perform free labour, to teach elective students skills and ensure their safety" due to "understaffing and overworking". 
Prica continued, "having less access hours means that time spent on other students is precious studio time" for Prica's own work. They said "it's unfair [for] both students in those positions". 
It has been highlighted that the reduced studio hours may disproportionately affect students who have to work during the restricted weekday hours the studio is currently open. 
Eilis Fitt is one example of a working student who has been affected by the cuts. Fitt cannot go into the studio during access hours due to working most weekdays, which she says has fostered an "isolating experience", since she now doesn't have peers to talk to or share artworks with.
Prica also commented on the effects for low-SES students, saying that on top of the "ridiculous fees" of the actual degrees, "we have to pay additionally for the materials we must use," thus resulting in a "quality gap between the people that can and can't afford to spend extra on their in-class artworks, [which] is reflected in their grades".
They questioned, "Why are low-SES students being punished for being poor?"
The letter continued, "those who study full-time and are in 3rd year now have never had Visual Arts courses with the studio access in which they were originally written for".
These limited hours, the letter claims, means that those studying "are forced to prioritise completion for assessment over skills development and safety, rushing to achieve tasks in the small amount of studio time…spawn[ing] under-confidence" in students.
This sentiment was supported by SOAD student Savannah Wheeler, who said "a lack of access means [she doesn't] have time to experiment with materials". She also said the reduced hours "has made [her] feel rushed and ultimately dissatisfied with the quality of work [she is] creating".
Savannah expressed that the reduced hours made her feel "stifled", having to "constantly…compromise [her] creative process" despite being in a field "that is supposed to be expressive".
An ANU spokesperson responded to claims about reduced studio hours, stating they are "incorrect and simply untrue" and that instead, "what students are calling for is additional hours…to work on assessment items and projects". 
Furthermore, according to Tucker, the SOAD cuts – and perceived apathy in the University's response – "follow over a decade-long trend of cuts to teaching hours, degrees, workshops, staffing, technical support and material investment".
"The roof across the school is literally leaking [from] damage caused by the 2020 hailstorm", Tucker continued. "All evidence leads to neglect [and] negligence towards students at the SOAD…on an unconscionable level".
According to an article from the ANU Library, the hailstorm of January 2020 damaged several buildings on campus, including the Chifley, Law, and Menzies Libraries. By July 2021, the Chifley, Law, and Hancock libraries resumed 24/7 operations.
The ANU spokesperson noted that the University has "recently given students 24/7 access to the Art, Design and Music Library," starting from 19 September 2022.
The letter suggests that the earlier reopening of libraries for students "who need humanities/science resources all the time" supports their claim that these students have been "prioritised in this pursuit over students at SOAD". 
They also pointed to the "buddy system", recently implemented by the Research School of Physics and Engineering (RSPhys), as another example of the University showing greater "understand[ing] that other students…require far more hours" and "flexibility in [those] hours". This system allows students to access laboratories and workshops after-hours with approval from their supervisors and WHS Physics.
Tucker claims other universities and art schools, including the National Art School and Southern Cross University, have managed to increase access hours by using similar "buddy booking systems". Other methods include "spreading students out" across the facilities so they can "continue studio work through harsher COVID restrictions".
Furthermore, SOAD students claim they were informed by school administration that "after-hours studio access would resume once… the library became open 24 hours," but are still "waiting for [this] to be approved by the Dean of CASS".
The ANU spokesperson acknowledged that the building requires upgrades and the school "has worked hard to ensure that after hours access…meets the University's strict security and workplace safety measures".
They stated these improvements, which "take time and cannot be rushed," are "the main reason that after hours access is not currently available". Furthermore, they claim "the University has no doubt [students] would agree that the safety and wellbeing of our community is always worth investing in and getting right".
Visual Arts and Design course representatives met with the Head of School, Rebekah Davis, on 20 September. SOAD representatives claim they received a "vague response from [Davis] with… no concrete timeline for implementing after hours access, or explanation as to why this process will continue to take so long". 
Regarding this consultation, the ANU spokesperson said staff have "taken on board their feedback and requests" and claim "access up to 10pm on weekdays is imminent, and an announcement on this will be shared with students when this access is in place".
They further stated they "understand and appreciate students' frustration," while praising staff for "work[ing] tirelessly and do[ing] an excellent job in seeing how they can provide students with after hours access".
The letter called for an "end [to] the rushed and poor quality coursework [they] take part in," stating an intention to "escalate to protest action" if expanded access to studios was not expressly prioritised by 30 September.
SOAD representatives claim the "meeting [with Davis] resulted in nothing" and consequently organised the 4 October sit-in protest.
Approximately 50 students, including broader support from outside the SOAD community, gathered in solidarity at 5.30pm Tuesday. The evening consisted of socialising, along with creating and displaying individual and collective artworks until 10pm – the time they were previously permitted to stay in studios.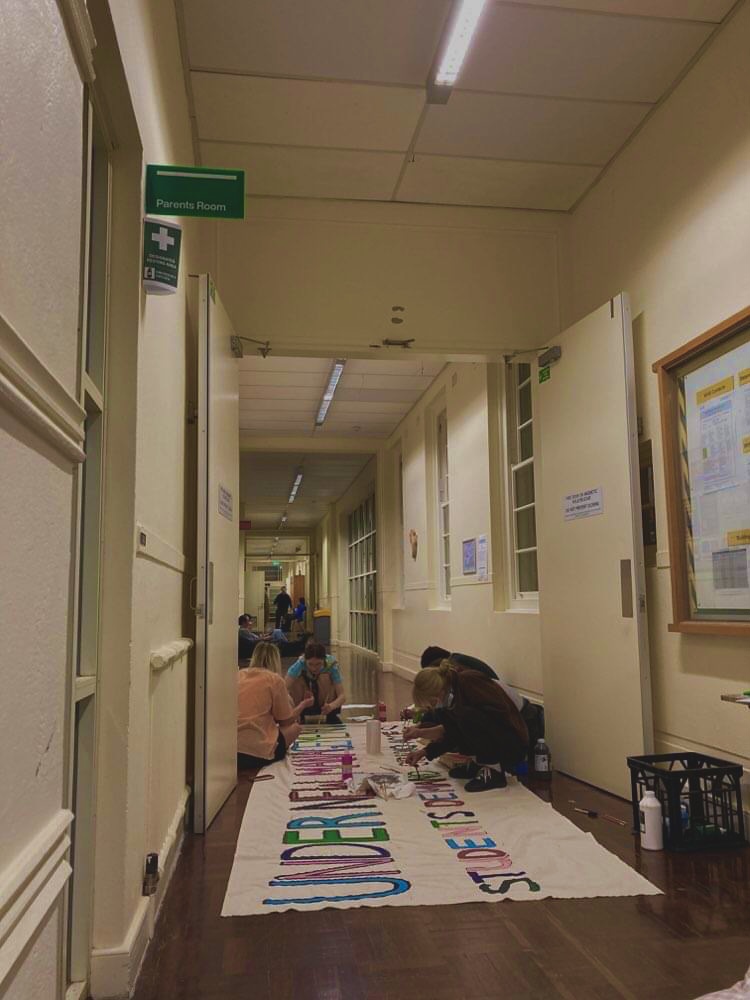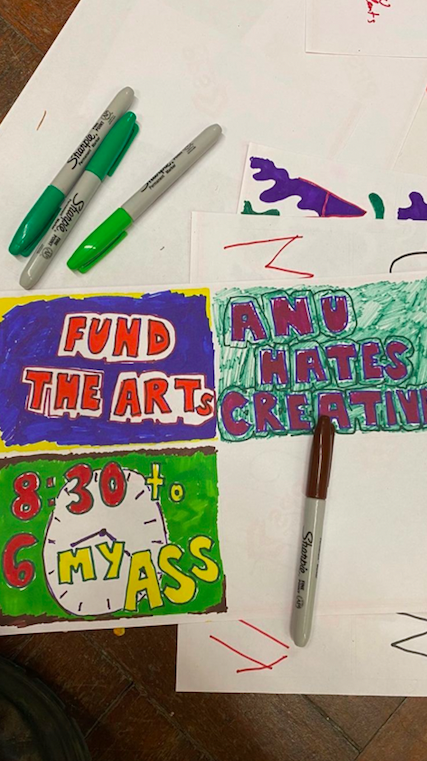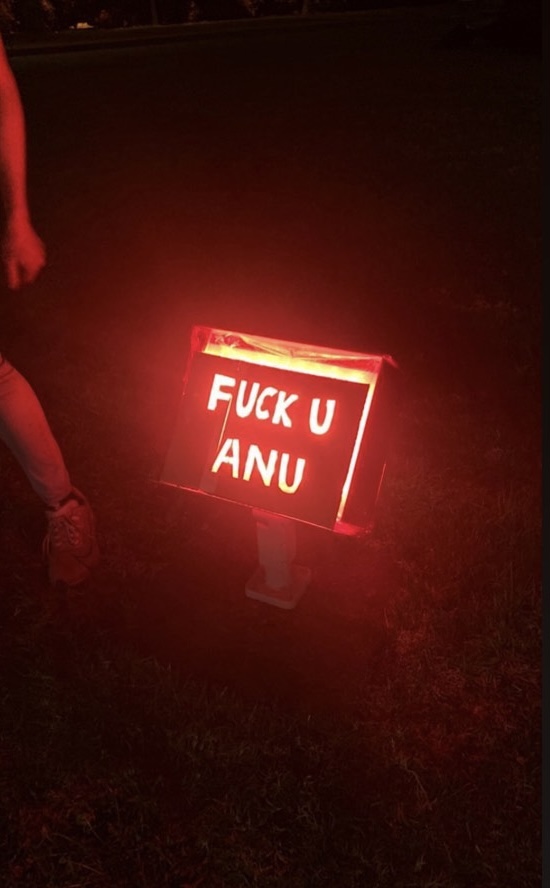 Of particular interest was one graffiti message that read:  "Erase our history? We'll craft another". 
According to Tucker, "the SOAD was cleared of years and years of collaborative wall graffiti" approximately two weeks ago, which has "washed [the school] of years and years of art, of community, and of history".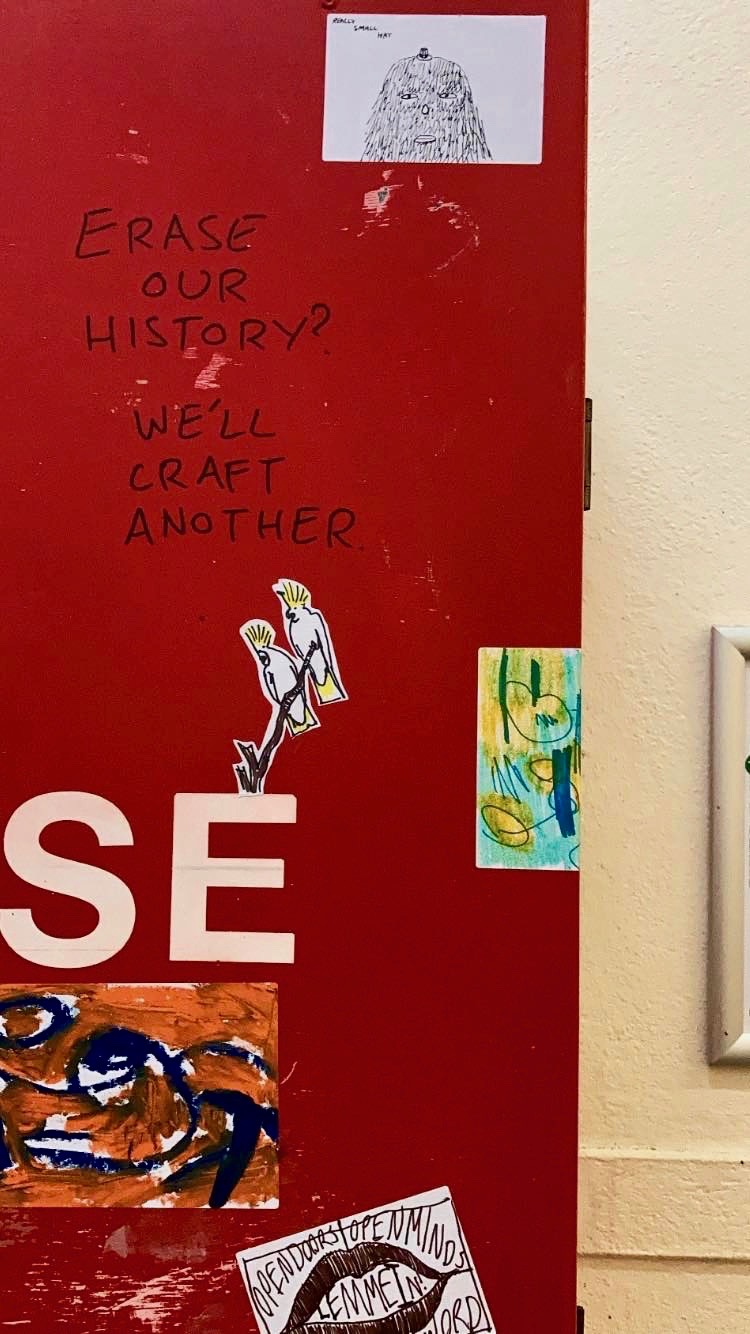 Recently elected ANUSA President for 2023 Ben Yates, was present at the sit-in. Yates commented on the "motivating feeling of solidarity" and told Observer  "it was a fantastic experience, with students standing together and showing that students and staff – not management – are the source of value in the university".
The open letter can be found and signed here. 
Students can contact the following organisations for further information:
ANUSA: [email protected]
Education Committee: [email protected]
CASS Representatives: [email protected]
Queer* Department: [email protected]
'No Cuts at ANU': Facebook or Instagram 
Graphics by Will Novak
---
Know something we don't know? Email [email protected] or use our anonymous tip submission.
If you have an issue with this article, or a correction to make, you can contact us at [email protected], submit a formal dispute, or angery react the Facebook post.
Want to get involved? You can write articles, photograph, livestream or do web support. We're also looking for someone to yell "extra!" outside Davey Lodge at 1AM. Apply today!
---