ANU Students Stand in Solidarity with NTEU at Recent Protest Actions
Posted On November 16, 2022
---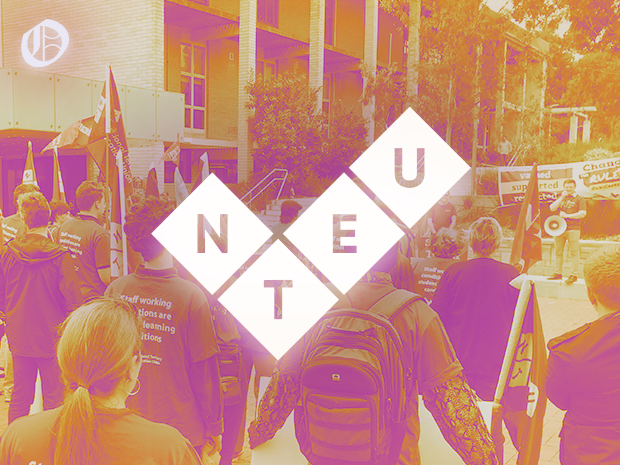 By Eleanor Ellis
The National Tertiary Education Union (NTEU) recently organised two demonstrations, fighting for higher wages and improved working conditions, with ANU students attending both protests in support of ANU and UC staff.
The ANU Visibility Action took place on Tuesday 18 October, and the University of Canberra (UC) strike occurred the following week on Wednesday 26 October.The Visibility Action began with approximately 50 NTEU members and ANU students meeting at 7.30am, before dividing into smaller groups and heading to different entrances across campus. Participants displayed signs stating the various demands, handed out flyers with instructions on joining the NTEU, and spoke with staff and students as they entered the university.
The UC strike began with a rally, drawing the attention of approximately 150 people, comprised of 100 NTEU members, 20 members of other unions, and 30 students, according to ANU student Skye Predavec.
At the ANU action, ANUSA President Christian Flynn stated the primary issue campaigned for was an immediate 5% pay rise for all ANU staff.
NTEU ACT Division Secretary, Dr Lachlan Clohesy, said the NTEU is calling for this pay rise "on the basis of a cost of living crisis. Our members are feeling cost of living pressures every time they go to the supermarket, the petrol station, or pay their rent or mortgage".
Clohesy claims the 5% pay rise is separate to the bargaining claims and "does not require bargaining to be completed, or even to have started. ANU can pay staff an administrative pay increase tomorrow, if they choose".
According to the ANU Annual Report, ​​the "University's Operating Result…[reported] a surplus of $236.7 million" in 2021. 
"It is clear the ANU can afford to value, support and respect ANU staff," Clohesy continued.
The Report also states that approximately $255.6 million was allocated to both academic and non-academic salaries, a decrease from the $295 million allocated to each subdivision in 2020.
The demands of the UC strike were similarly focused on wage increases in line with inflation, as UC management is allegedly attempting to cap wage rises at 3.5% annually.
Other issues campaigned for at the ANU action included "fair salaries, healthy workloads, better job security, and flexible work," according to Clohesy. 
"It's clear…ANU staff feel that management needs to do more to value, support, and respect their many contributions to the university".
An ANU spokesperson stated that "ANU has some of the best working conditions in Australian higher education," including "competitive salaries, generous leave entitlements, as well as employment policies that target underrepresented groups in the higher education sector".
They continued that "these types of [bargaining] discussions can take time, but the University has no doubt our staff and students would agree that working conditions are worth investing the time in and getting right".
ANUSA Education Officer Beatrice Tucker told Observer that ANU staff members they spoke to "were in very strong support" of the action for pay rise, "with many discussing they want to take further action if their demands aren't met".
The ANU spokesperson also claims that the University has "entered into preliminary discussions with the NTEU" and other unions and self-representing employees, and "have engaged with many of our staff over a number of different forums, and received a wide range of feedback, suggestions and ideas for the new Agreement". 
Regarding the impact the action for wage increases may have on students, Tucker stated "staff teaching conditions are student learning conditions…supporting staff in their demands is in student interests, especially since the ANU isn't supporting quality education as it claims to be".
ANU student Nick Reich responded similarly, adding "if staff members are burnt out, can barely pay their rent, and feel no joy in their work… the university suffers. Staff make the university run. They should have a say in how the university is run, and they should be paid much more than they are rather than all the money that goes to top executive salaries".
Reich recommends any students wanting to show support to "attend any strikes or rallies that happen in the future at UC and ANU, and bring other people along…It's so important for any student to show concrete solidarity with staff who are fighting against university management in the interests of all staff and students".
The full log of NTEU claims can be read here.
Graphics by Will Novak
Photography by Nick Reich and NTEU
---
Know something we don't know? Email [email protected] or use our anonymous tip submission.
If you have an issue with this article, or a correction to make, you can contact us at [email protected], submit a formal dispute, or angery react the Facebook post.
Want to get involved? You can write articles, photograph, livestream or do web support. We're also looking for someone to yell "extra!" outside Davey Lodge at 1AM. Apply today!
---