Lockout Fee Hike "Ableist and Dangerous"
---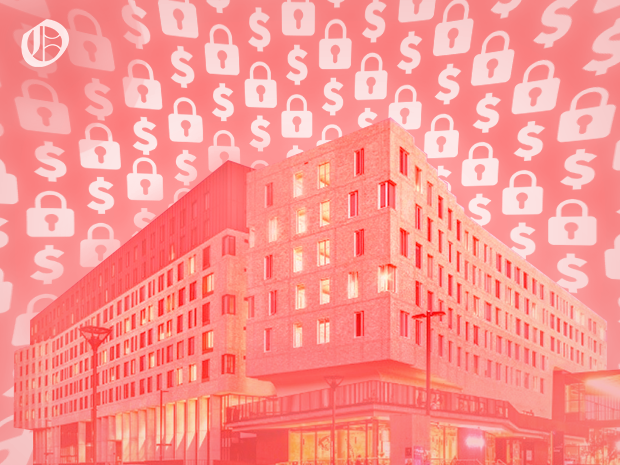 By Eleanor Ellis
Content Warning: This article contains mentions of ableism, sexual assault, and institutional betrayal.
Residences recently informed students Lockout Fees for on-campus accommodation will increase from $15 to $100, creating significant backlash from students and ANUSA. ANU informed students on 27 February the fee schedule has been updated in response and lowered fees for the first four lockouts. The $100 fee will be applicable for any following lockouts.
Student concerns include the "unnecessary stress and financial strain" this puts on students, particularly low-socioeconomic status (SES) students and those with a disability. ANUSA claims it will and "sabotages the… essential pastoral relationship and trust" with Senior Residents (SRs)". 
ANUSA created a petition on 21 February calling on the university to "reverse the lockout fee hike now" to last year's $15 fee.
The petition has [832] out of 1000 signatures at the time of publication.
'Lockout fees' refer to the fine students must pay when they get locked out after reception hours and must contact their SR to let them in. This is not the same as ordering and paying for a new key card. 
An ANU spokesperson told Observer they "welcomed feedback from residents" and "consider[ed]… this feedback" in their decision. 
The Spokesperson informed Observer an updated fee schedule will commence from 31 March. and "only apply to out of hours lockouts." 
"Residents will not incur a cost for the first and second lockout. The third and fourth lockouts will cost $30 on each occasion. The fifth and any consequent lockout will cost $100 on each occasion.
The earlier schedule had an initial $50 lockout fee and all $100 fee for all subsequent lockouts.
They also noted a number of exemptions for students, including those in "an emergency, significant illness" or misplaced key "during a building evacuation".
The policy has also been renamed from "Room Lock Out Fee" to 'Out of Business Hours Lockout Fee'.
ANUSA President Ben Yates told Observer that ANU "justified the increase" in the earlier schedule to be "consistent with fees to call a locksmith" and that it  "supposedly implemented to reduce SR workloads".
"If the University wants to work on SR working conditions, they need to start by actually consulting SRs. That did not occur here as far as I know," he continued.
The increase applies to all Colleges and UniLodge residences, except Burgmann and Johns.
 ANUSA is concerned the fee hike will "encourage students to 'card' doors, sleep in others' rooms or sleep in common areas. 
"When lockouts occur at night, students are uniquely vulnerable".
ANUSA Women's Officer Phoebe Denham said "the increased lockout fee shows a disregard for the sexual violence and student safety issues that we have on our campus," with many lockouts occurring after a night out drinking. 
"Imagine how many drunk students will end up vulnerable, locked out of their rooms, because they can't afford the fee…especially considering [ANU's] history of high rates of sexual assault," one student commented a Facebook post from Harry Wu on ANU Schmidtposting. 
The fee puts students "at greater risk of further trauma" or potentially "being forced to disclose their experiences to have the fee waived" under certain conditions.
Allegedly, the Residential Experience Division stated that "accommodations and exceptions can be made where there are mitigating circumstances" thus "putting the onus of disclosure onto residents."
However, Yates claims ANUSA has not seen "[any] evidence that [ANU] has taken​​ steps to assess the student safety risks created by the fee hike."
The petition claims the fee, combined with the "skyrocketing" accommodation costs is "increasingly hostile to low-SES students".
If students are unable to afford the increased fee, the alternative options pose safety risks and put students in potentially dangerous situations, ANUSA claims. 
"When will institutions learn that making something more difficult, expensive, or banning it doesn't stop [it] from happening?" another student commented on Facebook.
"People don't choose to get locked out," Wu emphasised in his post.
With rising costs of living and accommodation, ANU is "pricing many students out of on campus accommodation, and potentially University altogether," one student claims. 
This year, rent at three colleges reached or surpassed $500 for the first time. Of those three – Bruce, Burgmann and  Johns – only Bruce will be impacted by the increase in lockout fees.
ANUSA Disabilities Co-Officers Maddi McCarthy and Mira Robsons also agreed that  "increasing the lockout fee will disproportionately affect disabled students."
Symptoms "such as brain fog" and "forgetfulness" are "common among multiple disabilities" and have become "significantly more frequent" due to "the increasing prevalence of long-COVID," they claim.
Yates discussed how many SRs have contacted him with "concern[s] for how this changes their role" to " enforce financial punishment." By enforcing the lockout fee, SRs worry students may "fear or resent them, rather than trust them." 
They have allegedly been "threatened with losing their SR scholarships" if they choose to not enforce the lockout fee. The stress of either paying the fee or searching for alternatives will "undermine the relationship of trust," Yates said in a post from 19 January.
A comment underneath Wu's post claimed that it will "impede the efficacy and genuineness of pastoral care relationships," and this "foundation of trust" will be "eroded".
"If the university cares so much about our SRs, maybe [they] should train more of them instead," Wu offered in his original post.
Another commenter provided legal advice regarding the Residential Tenancies ACT 1997 and the ACT Human Rights Commission, who have "jurisdiction to oversee occupancy disputes that arise in universities".
They continued, saying "if every student…[took] the complaint to the ACT Human Rights Commission…maybe the university may consider changing it". The ACT Human Rights Commission is free to access.
Observer also spoke with students from other universities about the costs of living on campus. 
A student who lived on campus during her first year at Melbourne University said her college used physical keys, instead of a swipe card system. The receptionist "had a spare key for everyone's door," which students could borrow to look for their own keys. As long as they returned "the spare [key]," this was "free of charge".
She said they only charged residents "to make [them] a new one" if they lost theirs, "but [she] thinks it was only like $10-20".  Similarly, an ex-resident of one of Sydney University's colleges said she was only charged a fee "if [they] needed a new one…which was maybe $60-80″.
Another student from the University of Adelaide who has lived on campus for four years said "[he] can go in for free. [He] just has to message [his] RA and they let people in". 
The ANU spokesperson stated  "Any other demonstrated extenuating circumstances, which may reasonably impair a resident's ability to retain possession of their room key and approved by the Head of Residence, will also be considered".
Support Resources & Contacts:
ANUSA: [email protected]
ANUSA Disabilities Association: [email protected]
ANUSA Women's Officer: [email protected]
ANUSA Lawyer: [email protected]
ANU 24/7 Wellbeing & Support: 24/7 1300 050 327 or 0488 884 170
ANU Security: 02 6125 5549
ANU Counselling 02 6125 2442
Residential Experience Division: 02 6125 1100 or [email protected]
ANU Interhall Council: [email protected]
ACT Human Rights Commission: 02 6205 2222 or [email protected]
Graphics by Will Novak
Know something we don't know? Email [email protected] or use our anonymous tip submission.
If you have an issue with this article, or a correction to make, you can contact us at [email protected], submit a formal dispute, or angery react the Facebook post.
Want to get involved? You can write articles, photograph, livestream or do web support. We're also looking for someone to yell "extra!" outside Davey Lodge at 1AM. Apply today!
---