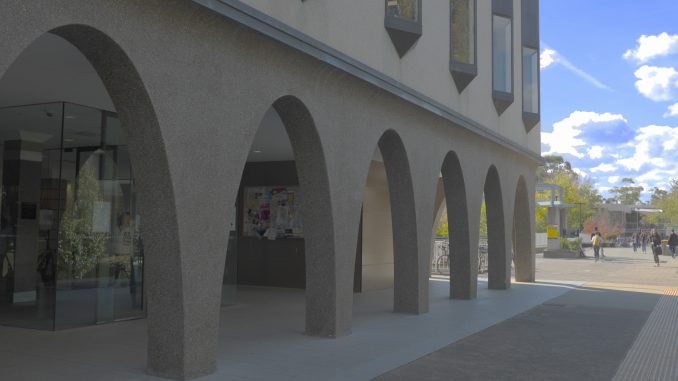 ANU wants to extend working hours for library staff, a change which would reduce penalty rates. The change has provoked opposition from library staff and the National Tertiary Education Union (NTEU).
Negotiations for a new Enterprise Agreement at ANU started on 17 February, beginning the bargaining process between the university and the NTEU. It was at this meeting that the ANU presented the "Without Prejudice" ANU Log of Claims.
This document outlined plans to increase normal working hours for library staff. Standard hours, currently8:00am – 6:00pm, would be extended to 8:00am – 10:00pm, "in response to [the] demand for longer library operating hours." Library staff would therefore receive loading or penalty rates only after 10:00pm, a change of four hours. A statement from the ANU further explained the change: "The University is seeking improved flexibility in libraries, IT service and helpdesks, and other areas of the University to ensure improved and expanded services to both students and staff." In a formal written response to this change, the NTEU stated that it would "require detailed information on the need for these changes and will consult widely with our members around these proposals."
The Library Pod, an active group of Union members in the library, are also campaigning against this proposal. The Pod have distributed posters across ANU which state: "ANU Library Staff Pay Conditions Under Threat … NTEU says 'NO WAY!'" While these posters have been distributed around campus, the deputy head librarian has resisted the campaign, requesting the removal of those placed in Menzies library.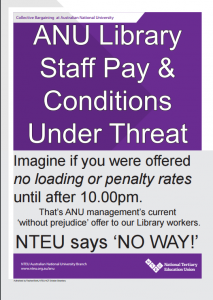 This poster has been plastered around campus
The overtime rate for full time library workers is currently 150% for the first 3 hours, 200% thereafter from Monday to Saturday, and 200% for Sundays. From Monday to Friday, every library branch and its information desk at the ANU opens outside the current span of normal working hours. The Library Pod has calculated that these changes could reduce the wages of some of the lowest paid Library staff by $2000 per annum each, on average.
A member of the NTEU Bargaining team, Matthew King, stated that "the proposed changes could have a particular impact upon staff with family or carer responsibilities". He further described potential difficulties with daycare hours and safety concerns regarding transport after 10:00pm. King suggested that workload implications could arise if the current library staff who work before 6pm are asked to staff desks after hours.
ANU Library staff and management have not responded to Observer's request for comment at time of publication.