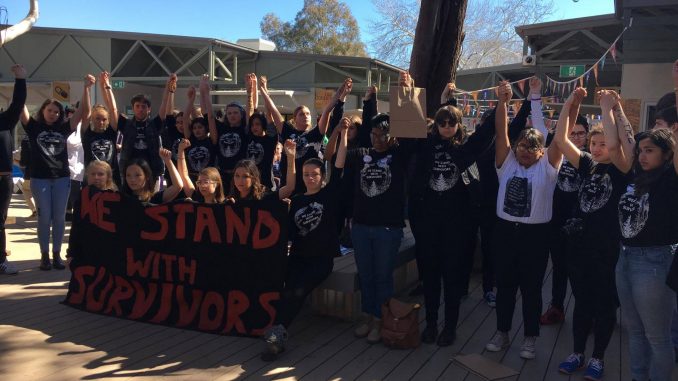 Content Warning: This article contains discussion of sexual assault and sexual harassment.
Students have used Open Day to speak out against perceived shortcomings in ANU's review into its sexual assault policies and response to the recent AHRC report into sexual assault on campus. Commissioned in response to the report, the independent review will not consult with any survivors of sexual assault, instead focusing on "key stakeholders".
In a move that has been met with strong criticism from student representatives and sexual assault advocates, the report done by the hired consultancy firm will "not … actively seek to speak with survivors of sexual assault about their experiences", according to an information sheet. In his response speech to the report, ANU Vice-Chancellor Brian Schmidt pledged to "engage with staff, students, and survivors", and consultation was one of the 15 key recommendations made by ANUSA and PARSA in response to the survey.
Students protested this move at Saturday's Open Day. Led by the Women's Department, they spread their message to current and prospective students. Students participated in a 'speak out', where they criticised ANU's response to the AHRC report as "hollow words", and said that while not trying to discourage anyone from coming to the University, it "can do better". They also held a stall where visitors had photographs taken with messages such as "everyone deserves to feel safe" and "words are not enough". Deputy Women's Officer Freya Willis told Observer, "Sometimes [ANU] approach[es] sexual violence as a PR issue."
An ANU spokesperson said the terms of reference were developed with the assistance of "a range of student leaders" and that to get the report completed quickly only "key stakeholders", including ANUSA representatives and student advocates, would be consulted. Instead, the report will look at existing documents to provide advice on strengthening the university's response to sexual assault, sexual harassment and bullying, with release scheduled for September 2017.
ANUSA Women's officer Holly Zhang replied in a statement to The Canberra Times that swift action does not mean sub-par, and "lived experience is required to inform strategic direction from the top as well as feedback to adjust policies". End Rape on Campus Australia ambassador Nina Funnel said, "It's really disappointing survivors are again being left out of the conversation when you'd hope they'd be viewed as a key stakeholder demographic."
At the 'First Report Back' event in Week 4, Pro-Vice Chancellor (Student Experience) Richard Baker said that Vice Chancellor Brian Schmidt thought that getting the report finished quickly would be the preferred option for students. He invited students to share their concerns about the Terms of Reference. Codie Bell, founder of Restorative ANU, rejected this, saying, "It's not our responsibility to hold your hand and tell you what to put in the terms of reference."
The review follows the release of a report by the Australian Human Rights Commission into sexual assault on campus, which revealed that at least 116 ANU students were sexually assaulted 2016. 62% of those incidents occurred in a residential college or university facility.
The current terms of reference for the review include:
How policies and procedures to support students who are making allegations of sexual assault
Ways to strengthen internal investigation and resolution mechanisms
Review into codes of practice and conduct for research and teaching
Considering the existing support for survivors and whistle-blowers
Deficiencies in how the University now handles matters and suggesting alternatives
Observer can confirm that four items were dropped from the originally negotiated terms. These concerned the triggers, process and timing of investigations, and restorative justice.
ANU still plans to implement all 9 recommendations made in the AHRC report, as well as implement a campus wide steering group which will include "students, professional and academic staff, senior leadership, residential college representatives and experts".
Valerie Ng and Jason Pover contributed to this report
If you have been sexually assaulted, or affected by a sexual assault, support is available:
Canberra Rape Crisis Centre: (02) 6247 2525 (7am-11pm)
1800 RESPECT (24/7)
ANU Counselling: 02 6125 2442 (9am-5pm, Mon-Fri)