"Trying to Get More Out of Less": Arabic Program Staff Cuts Condemned by Students
Posted On October 28, 2020
---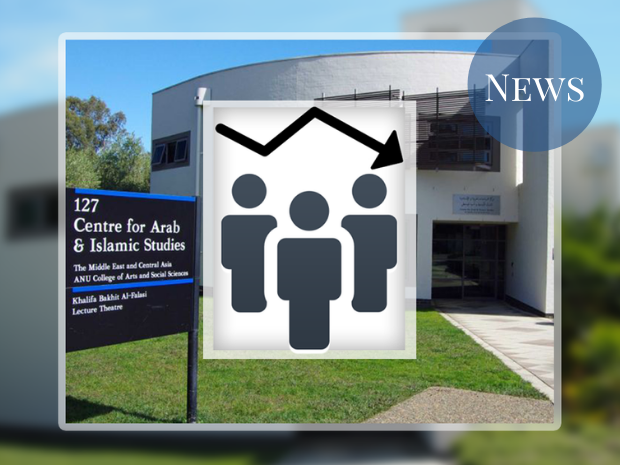 By Sam Wright
On 15 October, ANU announced its 'Change Management Plan' for the College of Arts and Social Sciences (CASS). The Plan outlined cuts to several areas within CASS, with the most significant changes to be made within the College of Arabic and Islamic Studies (CAIS). 
CAIS will undergo a change in its academic profile, resulting in the disestablishment of three positions and the creation of one new position. The three disestablished positions are two B level academic positions and a C level position, which will be replaced by one B level position. The B level position is senior to a C level position, and in this case is expected to cover the work left by the removal of the two C level positions.
Many students learned of the cuts through a post on Schmidtposting which incorrectly claimed that the entire program would be axed. 
Observer spoke with several students who are a part of the Arabic program within CAIS, who described it as "by far the best run program" they'd ever been in, and the staff who ran it as "the most dedicated and passionate teachers at ANU". The students saw Arabic as "such a small part of the uni that does so much", arguing that it would be a "mistake to compare Arabic to any other discipline at ANU".

Students have expressed dismay at the news of cuts to the Arabic program.
Bridie Milthorpe, a second year ANU student who is currently working on an Arabic major, described the cuts as "really concerning". Milthorpe told Observer that she feels like the University is "trying to drive [student] voices out" of the process. 
The former president of the Middle Eastern Culture Society (MECS), Maximilian F. Lechner-Scott, also expressed his frustration at the announced cuts to Observer. Lechner-Scott described the CAIS section of the CASS Management Change Document as "by far the most direct and aggressive attack in the document".  He expressed that "all of the cuts seem very, very personal" to him, and stated that a lot of the staff members who have been cut feel "victimised". Lechner-Scott concluded by asserting that the cuts create a situation where the University is "trying to get more out of less". 
The CASS Management Change Document outlines that, since 2017, enrolments in CAIS have dropped from 365 to 250, and that "forecasting predicts further student decline each year until 2023". However, Lechner-Scott says that it is only 2019 and 2020 that have seen a decline in numbers, and that "German has had a bigger decrease in numbers than Arabic". Lechner-Scott highlighted the importance CAIS by noting that "Arabic is the third biggest language in Australia" behind English and Mandarin, and that ANU has "one of the highest quality Arabic programs in the world". 
Milthorpe stated that her Arabic teachers "felt like they couldn't tell students" about the proposed cuts "because they didn't want it to impact our learning". Another Arabic student, who wishes to remain anonymous, echoed Milthorpe's point, saying that their teachers "didn't want to worry us during our exam period". The same Arabic student underlined the fact that one of her teachers, Leila Kouatly, simultaneously functions as a lecturer, conversation teacher and reading teacher. Kouatly conducts two lectures, four conversation classes and seven reading classes a week, as well as further classes for those who struggle with anxiety. The Arabic student also pointed out that Kouatly does all these classes and yet "she has to fight for an actual job". 
Second year PPE and Arts student Josh Viljoen is studying Arabic as a minor and has sacrificed electives to do more Arabic courses. Viljoen stated that "CAIS was established as the premier faculty in the nation to study Arabic at a public university", and that the studying of a language used to be mandatory in some degrees, such as International Relations, but since this requirement was removed, there have been fewer enrolments. "They've taken a facility and hit it several times" Viljoen said, "each year we progress with the same students… we are so tight and so close knit". Viljoen told Observer that he has not had this learning experience anywhere else at ANU.

Milthorpe and Viljoen both expressed concern about the impact that unrelated cuts have had over the progression of their degree programs. Milthorpe says that this is not the first issue she has experienced with a languages course, noting she was unable to finish her Spanish minor because her Spanish translation course was cancelled without any official notification. Viljoen expresses similar concerns, stating that the changes are "so impactful on my degree and the quality of my degree and [the University is] ready to jeopardize that". 
When Observer contacted ANU, an ANU Spokesperson asserted that ANU is "committed to teaching Arabic", stating that the proposed changes would "ensure the ongoing viability of this important program in the face of major economic challenges and declining student enrolments."

When asked about the fact that ANU's German program has seen a more significant decline in student enrollments, the Spokesperson stated that "enrolments in German had marginally decreased between 2019 and 2020", but that this decrease in enrolments would "have a smaller impact on the financial viability" of German compared to Arabic.
The Spokesperson concluded that Arabic had been "identified as financially unsustainable given the number of staff relative to the number of students".

Despite the announcement of the cuts, Lechner-Scott is adamant that "this is not over", assuring students that the consultation period for the CASS Change Management Plan has not ended. Lechner-Scott stated that he is working closely with current Middle Eastern Culture Society President Kareem Akila on a campaign against the cuts to CAIS, and encourages students to submit feedback on the ANU Recovery website.
A petition has been set up by Arabic students calling for ANU to be transparent about the financial viability of the program, explain "how one lecturer… will have the capability and time to effectively teach the entire program that currently requires three lecturers", and to justify its decision to cut these two lecturers. The petition had accrued over 780 signatures at the time this article was published.
The consultation period for the cuts to CAIS ends on the 29 October, giving students until this date to express any concerns to the University. 
Graphics by Joseph Oh
---