Students Express Frustration and Disappointment with Market Day
Posted On February 27, 2021
---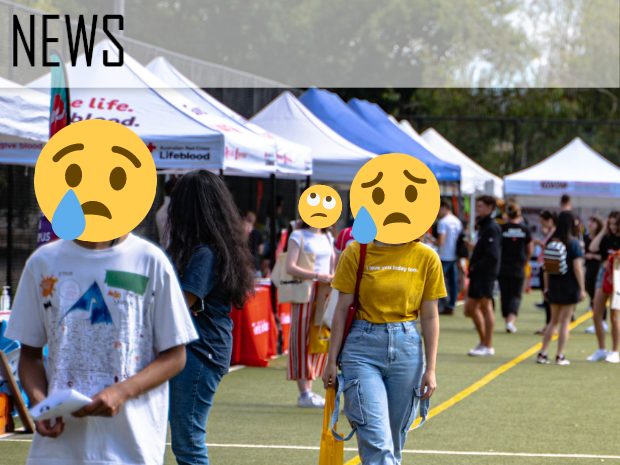 By Eleanor Ellis and James Day
Students have raised a number of concerns about this year's Market Day and expressed disappointment about ANUSA's communication and organisation.
Although the event was free, a post made on Schmidtposting by first year student Isabella Gockel expressed frustration that she was only notified of ticket registration more than a day after they had opened. Gockel claims that by the time she received the email, all the tickets were sold out. Over 80 students commented on the post, many of whom were unable to attend because they were unaware tickets were required.
Market Day takes place every year during O-Week and Bush Week and is one of the biggest events held on campus. Approximately 200 ANUSA clubs and departments, as well as external stakeholders and businesses, use the event to promote themselves to ANU students and attract new members. 
Due to COVID-19 restrictions, ACT Health capped the number of attendees for this year's Market Day at 2000 people. This is less than half the number of students the event is usually expected to attract. 
ANUSA President Madhumitha Janagaraja clarified that despite negotiating attempts, ANUSA was "unable to gain approval" to remove the 2000 cap on attendees for Market Day. Janagaraja emphasised that any breach of the ACT Health restrictions would have resulted in "a $40,000+ fine".  
 Complaints about the organisation of Market Day were not limited to students who were unable to attend. Several other comments on Schmidtposting criticised the session times for being too short. One comment from an attendee claimed that "by the time everyone who had booked entered, session time had been lost". Another commenter noted that the long lines and slow entry process meant they could only use 30 minutes of their 50-minute session. The student claimed that this was "definitely not enough time to get around the whole thing if you actually stopped and talked to people at the stalls".
ANUSA Treasurer and COVID-19 marshal for Market Day Siang Jin Law told Observer that these issues arose due to "never having any experience in doing something like this on this scale with this many restrictions".
Some students who were unable to attend Market Day have also criticised the perceived lack of information available on the ANUSA website. Several comments called the page outdated, as most clubs' information is not detailed.
As a first year student, Gockel noted that she feels like she has "missed out on something huge". Gockel said she'd been "told by so many people that Market Day is one of the most significant events in the university calendar".

The Clubs Council Executive have since created a document listing the names and information of all the clubs and societies at the University. 
 In addition to concerns about students' experiences during Market Day, some have criticised ANUSA's treatment of private companies at the event. While clubs and societies were restricted to one attendant per stall, a number of the stalls belonging to private companies had two attendants. 
 Clubs Council Executive Chair Josh Yeend has criticised this occurrence, claiming it reflects "a broader issue in the way that ANUSA approach their events". Yeend believes that "for-profit businesses, hamfisted sponsorships, and university interference" have been permitted to take "centre-stage" at university events like Market Day.
In a comment to Observer, Jagger clarified that some private companies had purchased two stalls at the event and were therefore permitted two attendants. Defence Recruiting, who only purchased one stall, were also permitted two stallholders. Jagger said this decision was made "as income from external stallholders assists with cost recovery of the event".
Janagaraja apologised to students affected by Market Day's issues through comments on Schmidtposting. Janagaraja notes that while ANUSA does "not have the financial capacity" to run Market Day over several days, the Association will "figure out" how to "continue to improve how smoothly things are going".
Graphics by Rebecca Zhong
---