ANU COVID Live Blog: 17 August
Posted On August 17, 2021
---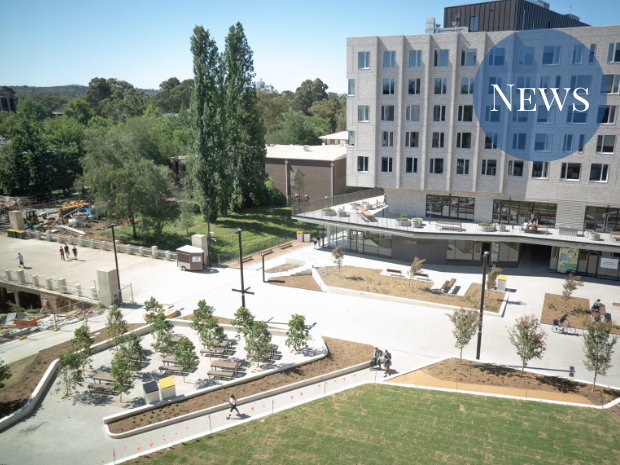 20.09
The petition for a teaching break has now reached over 4000 signatures.
15.22
An ANU spokesperson has stated that they're currently providing Wamburun, Fenner and Toad halls with breakfast, snacks, fruit, and dinner. Residents in these halls are able to access kitchen facilities for lunch at designated times. Students self-isolating in studio apartments are able to order contactless deliveries. Acknowledging the delays in the delivery of essential food and personal hygiene items, the University can deliver pantry packs to students waiting on deliveries. These packs are provided at no additional cost. Any resident that may be experiencing these delays and requires an additional pantry pack of food and other personal essentials is encouraged to contact [email protected].
12.12
The ACT recorded an additional 22 cases overnight.
19.51
The petition for a teaching break now has over 2000 signatures
18.19
On the petition calling for a teaching break.
The petition – having launched over an hour ago – has now reached 860 signatures.
17.27
Petition Launches Calling for a Teaching Break 
A petition has launched approx 15 mins ago calling on ANU to have teaching break, like other universities across Canberra.
A teaching break occurred in semester one 2020, in response to the initial outbreak of COVID. The reason then was so the university could appropriately prepare themselves for online learning.
Now, however, students say a teaching break "is about student wellbeing, and fairness in light of understandably large amounts of academic disruptions".
The University has reportedly rejected the idea of a teaching break. The petition (at the time of writing) has garnered 34 signatures.
The link to the petition can be found here.
16.55
ABC Canberra reported recently that the EPIC testing centre has shut for today due to high demand.
The closest centre to ANU is O'Conner (Capital Pathology). Opens at 8am-4pm. Alternatively the centre at Woden is open until 7pm tonight.
Click here for the location and hours of other testing sites.
16.49
An important point to stress as well with the recent upgrade to red level is there are NO confirmed cases of COVID-19 on campus.
16.36
For those currently in quarantine at res halls here's a link to support services offered by ANU.
16.31
ANU Alert Level Upgraded to RED – Extreme Risk
Deputy Vice-Chancellor Ian Anderson, in an email to all ANU students, announced campus has been upgraded to an extreme risk level. This comes after continued community transmission in the ACT, and the emergence of close contacts residing in ANU's residential halls.
Anderson stressed that the university is "not aware of any cases affecting our campus". Most rules and restrictions associated with 'extreme risk' have already been taking place. Rather, it aims to caution students on the necessity of their actions.
15.24
ALL Res Halls Subject to Enhanced Stay at Home Orders
From today every residential hall at ANU will be subject to enhanced stay at home orders in order to "remove the uncertainty of rules in residences changing back and forward", said Deputy Vice-Chancellor Ian Anderson.
These measures will remain in place until Friday, with ANU conducting a reassessment then.
Each res hall will have slightly different rules and procedures, dependant on the facilities available. However, all residences will move into pods so they are able to share kitchen and bathroom facilities, as well as exercise with a chosen resident.
14.03
ANUSA is trying to call a special general meeting so the association is able to move money into its financial assistance program.
President Madhu Janagaraja said the current pool is running low, and the association is waiting for a "top-up" from the university. Students are still encouraged to apply for grants from ANUSA.
13.09
Just a reminder for students who are looking to get vaccinated.
University Pharmacy on campus is offering Astra-Zeneca.
Garema Place Surgery has plenty of appointments for Astra-Zeneca open.
Note: The National Health Co-op will NOT vaccinate under 60's with Astra-Zeneca.
12.44
The initial Fiction cluster has now grown to 6 (not including secondary contacts).
12.28
Bit of confusion going around in regards to the 'intimate partner' rule – as noted by ACT Health. Halls across ANU have been told they are NOT allowed to see their partners, even if they live in the same building.
Residents can only follow the terms of their enhanced stay at home orders, which typically involves only being allowed to see one other resident for one-hour exercise. The chosen resident has to be from the same wing.
12.02
Residential Halls that are currently under "Enhanced-Stay-at-Home-Orders", such as Fenner Hall, are unable to leave the building for vaccinations. The new orders do allow residents outside for an hour a day for exercise purposes.
11.46
UPDATED COVID CASES 
17 cases recorded overnight.
11.34
The terms of the lockdown at Wright means residents cannot leave the building for essential work, exercise, shopping etc. Residents cannot leave their rooms either with food being delivered to rooms.
The hall will be awaiting negative test results of the newly identified close contacts.
11.28
Morning everyone. To start off the day Observer understands two close contacts have been identified at Wright Hall, sending the hall into another quarantine/lockdown.
As such, all residents at the hall are considered second-order contacts. We also understand some residents have been transferred to Bruce Hall's Packard Wing to conduct their mandatory self-isolation.
11.28
Updated List of Close Contact Exposure Sites
Nicholls
Gold Creek Senior Campus Gym
26 Kelleway Ave, Nicholls
9 Aug 2021
5:00pm
9.30pm
New
Amaroo
Priceline Pharmacy Amaroo
Shop/ 6 Pioneer Street
12 Aug 2021
5:00pm
6.45pm
New
Gungahlin
Commonwealth bank Gungahlin
Shop 23-25 Gungahlin Mall, 33 Hibberson St
12 Aug 2021
9.30am
10:00am
New
Mawson
Club Lime Mawson
Mawson Southlands Shopping Centre, Level 1, Mawson Dr, Mawson
9 Aug 2021
4.30pm
6.30pm
New
Kingston
Subsdance Dance Studio
1/27-29 Eyre St, Kingston
10 Aug 2021
6:00pm
8:00pm
New
Bruce
CIT Bruce Campus: Individuals who attended Building H only
35 Vowels Cres, Bruce
10 Aug 2021
8.45am
4.30pm
New
Bruce
CIT Bruce Campus:
Psych Accredited Class,
Room G102
35 Vowels Cres, Bruce
10 Aug 2021
6:00pm
8:00pm
New
Bruce
CIT Bruce Campus: Individuals who attended Building H only
35 Vowels Cres, Bruce
11 Aug 2021
12.30pm
4.40pm
New
Reid
CIT Reid Campus:
Entire Campus
37 Constitution Ave, Reid
11 Aug 2021
8.45am
3:00pm
New
Reid
CIT Reid Campus:
Entire Campus
37 Constitution Ave, Reid
12 Aug 2021
9:00am
2.30pm
New
Gungahlin
Club Lime Gungahlin
Level 1, Gungahlin Square, 43 Hibberson St, Gungahlin
11 Aug 2021
5:00am
6.30am
New
Braddon
The Civic Pub
8 Lonsdale Street
11 Aug 2021
5:00pm
8.30pm
New
Mitchell
Melt
109 Flemington Road
12 Aug 2021
7.30am
8:00am
New
Mitchell
Lawrence & Hanson Mitchell
2/67-71  Vicars Street
12 Aug 2021
7.30am
8:00am
New
Mitchell
Lawrence & Hanson Mitchell
2/67-71  Vicars Street
12 Aug 2021
12.40pm
1:00pm
New
Franklin
Franklin General Practice
54 Nullarbor Avenue
12 Aug 2021
2.15pm
3.15pm
New
Braddon
The Civic Pub
8 Lonsdale Street
9 Aug 2021
3.45pm
9.45pm
New
Braddon
Assembly
11 Lonsdale Street
10 Aug 2021
7.30pm
10.15pm
New
Kingston
Gelato Messina Kingston
38 Eyre St, Kingston
11 Aug 2021
8:00pm
8.40pm
New
Griffith
Power Kart Raceway
125 Canberra Ave, Griffith
11 Aug 2021
7.15pm
8.30pm
New
Barton
F45 Training
10 National Circuit, Barton
10 Aug 2021
5:00am
8:00am
New
Barton
F45 Training
10 National Circuit, Barton
11 Aug 2021
5:00am
8:00am
New
Barton
F45 Training
10 National Circuit, Barton
12 Aug 2021
5:00am
8:00am
New
City
Guzman y Gomez
Shop EG07-07B Bunda St, Canberra
10 Aug 2021
5.45pm
6.45pm
New
Belconnen
Belconnen Hungry Jacks
108 Emu Bank, Road, Belconnen
13 Aug 2021
3.45pm
11.30pm
New
Belconnen
Belconnen Hungry Jacks
108 Emu Bank, Road, Belconnen
14 Aug 2021
8:00am
3.15pm
New
Bruce
CISAC-Club Lime
100 Eastern Valley Way
09 Aug 2021
7:00pm
9:00pm
Updated List of Casual Contact Exposure Sites
Amaroo
Coles Amaroo, Horse Park Drive
13 Aug 2021
11:30am
1pm
New
Amaroo
Liquorland Amaroo, Horse Park Drive
13 Aug 2021
12pm
12.30pm
New
Casey
7 eleven Casey, petrol station, 10 Kingsland Parade
14 Aug 2021
7.30am
8.15am
New
Fyshwick
Ampol fuel, 149 Canberra Avenue, Fyshwick
11 Aug 2021
1:10pm
1.30pm
New
Majura Park
Bunnings Warehouse Canberra Airport, 971 Majura Rd, Majura Park
9 Aug 2021
9:00am
10.30am
New
Belconnen
Basketball ACT, Basketball & Sports Centre, 42 Oatley Ct, Belconnen
10 Aug 2021
12:00pm
3:00pm
New
Weston
Woolworths Weston Creek, Cooleman Court Shopping Centre, Brierly St, Weston
13 Aug 2021
6.20pm
7:00pm
New
Weston
ALDI Weston Creek, Cooleman Court Shopping Centre, Brierly St, Weston
13 Aug 2021
6:00pm
6.30pm
New
Belconnen
Basketball ACT, Basketball & Sports Centre, 42 Oatley Ct, Belconnen
11 Aug 2021
6.40am
9:00pm
New
Gungahlin
Big W, Gozzard St, Gungahlin
12 Aug 2021
2.40pm
3:00pm
New
Gungahlin
St George Bank, 30 Hibberson St, Gungahlin
12 Aug 2021
2.40pm
3.10pm
New
Gungahlin
Commonwealth Bank, 33 Hibberson St Shops 23, 25 Gungahlin Mall, Gungahlin
12 Aug 2021
3:00pm
3.20pm
New
Gungahlin
Service Australia, 30 Hibberson Street, Gungahlin
12 Aug 2021
3.10pm
3.30pm
New
Gungahlin
Vodafone, 18 Hibberson St, Gungahlin
12 Aug 2021
3.20pm
3.45pm
New
Gungahlin
Reject Shop, Gungahlin Village, Corner Hibberson Street & Gungahlin Place Shop 2, 46 Hibberson St, Gungahlin
12 Aug 2021
3.45pm
4.10pm
New
Gungahlin
Mr Sushi, Gungahlin
12 Aug 2021
4:00pm
4.15pm
New
Dickson
Woolworths Dickson, 1 Dickson Place
11 Aug 2021
3:00pm
3.30pm
New
Braddon
Crust Pizza, 28 Mort Street
13 Aug 2021
5.30pm
5.45pm
New
Civic
Coles Canberra Civic, Bunda Street & Petrie Street
13 Aug 2021
6.55pm
7.30pm
New
Symonston
Mugga Lane Resource Management Centre, Mugga Lane
9 Aug 2021
10:00am
10.30am
New
Braddon
Officeworks Braddon, 30 Mort Street
9 Aug 2021
3.15pm
4:00pm
New
Fyshwick
Seears Workwear, 60 Barrier Street
10 Aug 2021
4:00pm
4.15pm
New
Braddon
First Choice Liquor, 48 Mort Street
10 Aug 2021
4.25pm
4.45pm
New
Melba
Cafe Mame, 2/4-6 Melba Ct
11 Aug 2021
8.50am
9.15am
New
Melba
IGA Melba, 1/4-6 Melba Ct
11 Aug 2021
8.50am
9.15am
New
Braddon
Beyond Pharmacy, 4/18     Lonsdale Street
12 Aug 2021
3.45pm
4:00pm
New
Braddon
7-Eleven Braddon, 20 Mort Street
12 Aug 2021
3.45pm
4:00pm
New
Phillip
Elite Supplements, 13 Keltie St, Phillip
11 Aug 2021
11.15am
12.15pm
New
Phillip
Rebel Sport, SHOP LM2 Keltie St, Phillip
11 Aug 2021
11.15am
12.15pm
New
Belconnen
Westfield Aldi, Benjamin Way, Belconnen
13 Aug 2021
8.45am
9.20am
New
Belconnen
Westfield Woolworths, Benjamin Way, Belconnen
13 Aug 2021
9.05am
9.45am
New
Belconnen
Westfield Coles, Benjamin Way, Belconnen
13 Aug 2021
9.35am
10:00am
New
Belconnen
Westfield Post Office, Benjamin Way, Belconnen
13 Aug 2021
9.50am
10.15am
New
Majura Park
Costco, 39-41 Mustang Ave, Majura Park
13 Aug 2021
12:00pm
1:00pm
New
Belconnen
Coles at Belconnen Westfield, Benjamin Way, Belconnen
14 Aug 2021
9.20am
10:00am
New
Belconnen
Westfield Woolworths, Benjamin Way, Belconnen
13 Aug 2021
1.45pm
2.10pm
New
Belconnen
Westfield Aldi, Benjamin Way, Belconnen
13 Aug 2021
2:00pm
2.25pm
New
Belconnen
Westfield Coles, Benjamin Way, Belconnen
13 Aug 2021
2.15pm
2.45pm
New
Belconnen
Westfield Elite Supplements, Benjamin Way, Belconnen
13 Aug 2021
2.30pm
2.45pm
Change to existing site: extension of time
Tuggeranong
Southern Cross basketball stadium, 7 Pitman Street, Greenway
11 Aug 2021
8.30pm
10:00pm
New
City

Canberra Centre Subway & Food Court
Canberra Centre, 148 Bunda Street

09 Aug 2021
10:30am
12:00pm
Updated list of Monitor for Symptoms Exposure Sites
Tuggeranong
Bunnings Tuggeranong, Anketell St, Greenway
11/08/2021

10.15am

10.50am

New
Holder
Weston Creek Food Works, FoodWorks, 3, 40 Holder Pl, Holder
13/08/2021

5:00pm

5.10pm

New
Holt
Woolworths Kippax, 48 Hardwick Cres, Holt
10/08/2021

11:00am

11.15am

New
Holt
ALDI Kippax, 50-60 Hardwick Crescent, Kippax Pl, Holt
12/8/2021

1.20pm

2:00pm

New
Hawker
Hawker Drive In Bottle Shop, Belconnen Way &, Springvale Dr, Hawker
13/08/2021

4.45pm

5:00pm

New
Bruce
CIT Bruce Campus:
Entire Campus (refer to Close Contacts above if attended Building H), 35 Vowels Cres, Bruce
10/8/2021

8.45am

4.30pm

New
Bruce
CIT Bruce Campus:
Entire Campus (refer to Close Contacts above if attended Building H), 35 Vowels Cres, Bruce
11/8/2021

12.30pm

10.30pm

New
Weston
Woolworths Weston Creek, Cooleman Court Shopping Centre, Brierly St, Weston
13/08/2021

6.20pm

7:00pm

New
Braddon
7-Eleven Braddon, 20 Mort Street
11/08/2021

5:00pm

5.15pm

New
Belconnen
Westfield Belconnen, Benjamin Way, Belconnen
13/08/2021

8.45am

10.15am

New
Belconnen
Westfield Belconnen, Benjamin Way, Belconnen
13/08/2021

1.30pm

2.50pm

New
City

Canberra Centre, 148 Bunda Street

09/08/2021
10:30am
12:00pm
---