'Truth to Power' Panel discusses leadership and dreams on International Women's Day 2022
---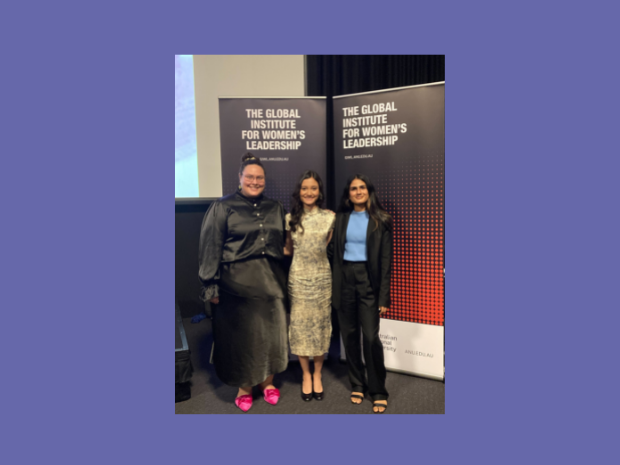 By Eleanor Ellis
Content Warning: Sexual assault, sexual harassment, gender inequality, sexism, racism, violence against people of colour, Aboriginal deaths in custody
ANU's Global Institution for Women's Leadership held the 'Truth to Power: How Young Leaders are Reshaping Australia' for International Women's Day today, 8 March , at the Kambri Cinema.
The panel was chaired by Dr Elise Stephenson, with Yasmin Poole, Latoya Rule, and Varsha Yajman as guest speakers.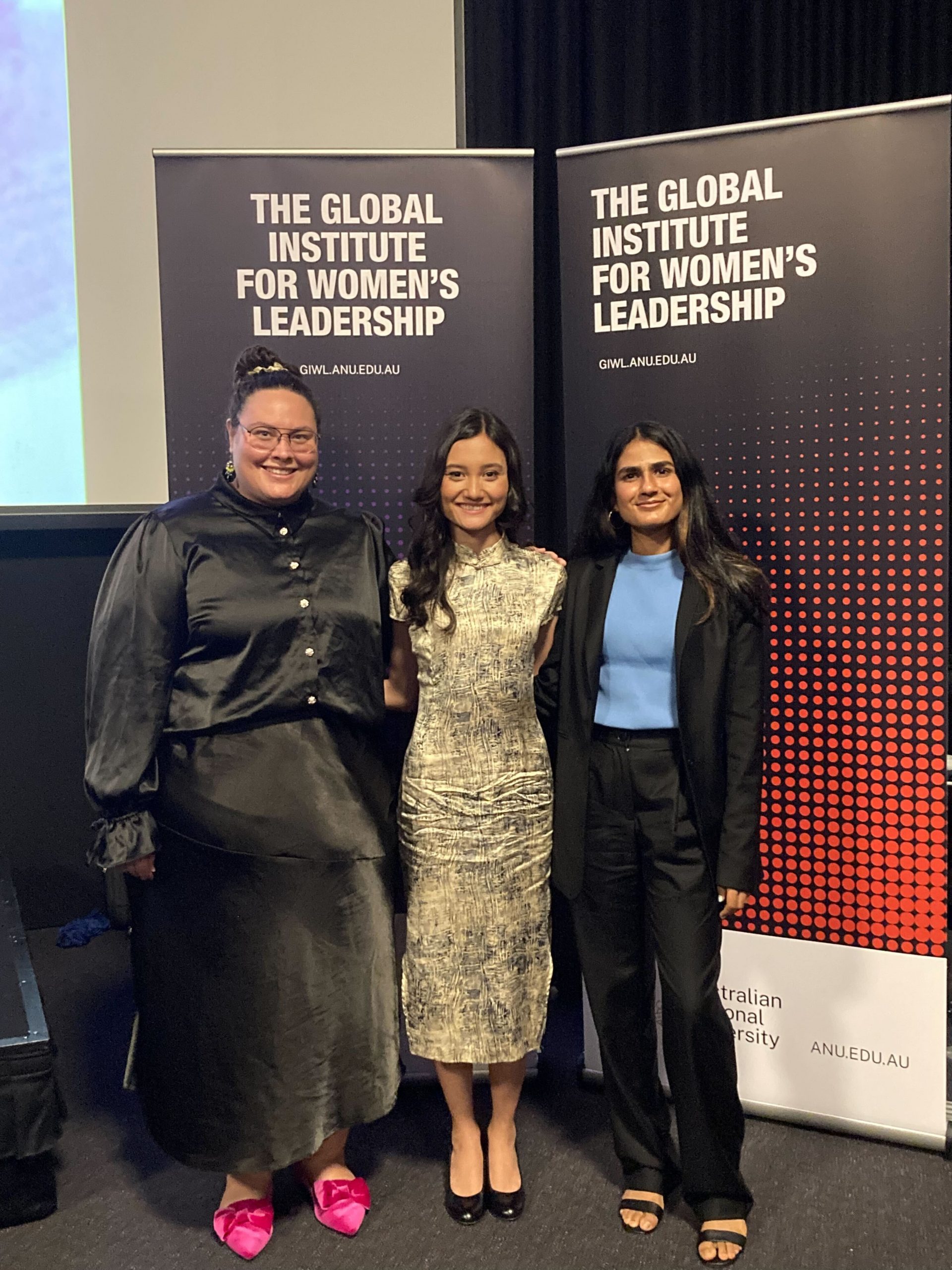 (Left to right: Latoya Rule, Yasmin Poole, Varsha Yajman)
Dr Stephenson is a researcher, strategist and entrepreneur, as well as a Research Fellow at the Global Institute for Women's Leadership. 
Poole is currently Plan International's National Ambassador and an advocate for girls' rights to be recognised around the world. She has been named as one of Australia's 100 Most Influential Women by the Australian Financial Review. In 2019, Poole was the youngest member of the Top 40 Under 40 Most Influential Asian Australians and Top 25 Young Women to Watch in International Relations.
Latoya Rule is an Aboriginaland Māori, Takatāpui, queer person residing on stolen Gadigal land (Sydney). Their research raises the voices of Aboriginal women leading the movement to stop Aboriginal deaths in custody.
Varsha Yajman, the youngest member on the panel, is a 19-year old speaker, podcaster, and advocate for climate justice and mental health awareness.
The event began with Aunty Matilda, who has been a campaigner for Aboriginal and Torres Strait Islander peoples' rights for decades.
"I was born with racism, I have lived with racism, and I will die with it", she said.
"We're women. We can shape the future. We can do these things. " 
Dr Stephenson began by asking the panel about leadership.
"True leadership cuts through the jargon, and gets to the truth", Yasmin Poole responded.
Varsha Yajman talked of the need for honesty and integrity in good leaders. 
"Leadership is about vulnerability. There is no accountability or transparency in the government…. People aren't being heard… We need real leaders, who will listen, and have open conversations," she said.
Dr Stephenson next asked the panel what motivated them into leadership positions.
Varsha Yajman spoke of her motivation to make a difference in the world. 
"When I first started, I didn't even really know what I was doing. The first step is learning – learning why you want to make that change. Find a community, find anything that fills your soul and makes you feel like you're with likeminded people."
Latoya Rule spoke about Aboriginal deaths in custody. They revealed her own brother, Wayne Fella Morrison, died in custody at the young age of 29, in 2016 when officers forced a spit hood over his head and cuffed his wrists and ankles. They said that mobilising young people keeps her moving forward, supporting diverse women (including women of colour and trans women). 
Dr Stephensonise asked the panelists for their advice to give to young women who want to get more involved in leadership and advocacy. 
Yasmin Poole responded, "Everything around us is political. You will be more empowered about what you are passionate about, what resonates with you. You have the power and capacity to make those changes. I made myself feel seen because I spoke out. I recommend finding something you're interested in and passionate about and find those communities to connect to."
Dr Stephenson's final question to the panel was what their dream for one year from now would be.
Varsha Yajman said, "I don't want to have to keep fighting for a place for women of colour, for diversity to be normalized, and more intersectional representation."
Yasmin Poole said, "Greater political representation. Beyond just saying 'women should be in the room', but diverse women in the room. Demanding representation for all of us."
Finally, Latoya Rule said, "The decolonial decay of so many institutions. Full panels of people of colour and trans women speaking at future events like this". She also requested supporters to sign the petition "#BanSpitHoods. Stop Black Deaths in Custody."
Yasmin Poole next spoke about the future of female leaders, saying she is inspired by the younger generations and encouraged them to continue to push on despite the many barriers. She said she hopes decision makers make more space for young voices.
Dr Stephenson asked, "And if they don't?". Yasmin replied, "To those leaders, I say watch out."
Yasmin Poole is one of 12 women featured in a statement and video advocating for the "safety, respect, [and] equity" of women in Australia this month. The statement and video also featured the 2021 Australian of the Year, Grace Tame, and the catalyst for an investigation into the workplace culture of federal parliament in 2021, Brittany Higgins. 
"Every woman in Australia deserves access to a safe place to work, a safe place to live, fair and equal pay, quality free early learning & care, and a justice system that works for survivors", the website containing their statement reads. The website outlines a series of recommendations to serve these goals. 
In the accompanying video, the message calling for an end to the disrespect, harassment, sexism, and racism experienced by women is echoed. The video ends with words from Grace Tame. 
She said, "We want an end to the darkness. We will not be silent. Let's make some noise, Australia".
The ANU Women's Department also posted to social media for International Women's Day. They urged people to not "let their feminism start and end on International Women's Day." 
ANU Women's Department
The ANU Women's Department and Women's Officer Avan Daruwalla posted to Instagram and Facebook regarding International Women's Day.
The Instagram post read:
"We need to critically think about whether our feminism (on International Women's Day, and more widely) is inclusive of all women and non-binary people"

"How Can I thoughtfully engage with International Women's Day?"

 Take time to reseach the history of IWD and feminist criticms of its curront form

 Recognise the hugely disproportionate impact of colonial and patriarchal power and violence on Indigenous Women

 Consider the extent to which your feminism is intersectional

Think about how you can include trans women and non-binary women in your feminism

Attend an event that you find genuinely thought-provoking or empowering

Enange with content produced bby feminists who look and sound diffrenet to you

Participate in community care! find wellbeing through support of and from those you care about

understand that today might be  a heavy day for you or those around you. Be gentle with yourself.
The caption read: "Don't let your feminism start and end on International Women's Day. We can't wait for a more inclusive, intersectional, and thoughtful future for International Women's Day and feminisms more broadly."
Support is available:
Canberra Rape Crisis Center 02 6247 2525 (7am–11pm) or 131 444 (after hours)
1800 RESPECT 1800 737 732
Domestic Violence Crisis Service
Lifeline 13 11 14
ANU Counseling [email protected]
ANU Student Wellbeing  [email protected]
 ANUSA Women's Officer [email protected]
---