"Tired of Being Interrogated": The Jewish Experience on Campus Amidst Israel-Palestine Debate
---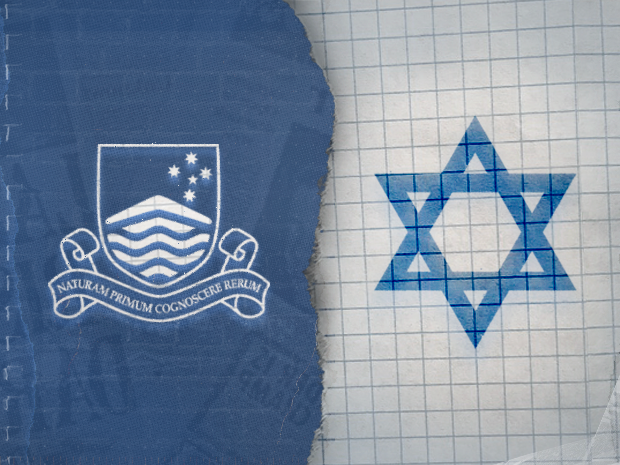 CW: Antisemitism, Anxiety
By Ryan Bourke, graphic by Will Novak.
On 18 May, ANUSA's Student Representative Council (SRC) passed a motion condemning the Israeli government and its supporters. The ANU motion followed a similar one passed by the University of Melbourne Students' Union (UMSU) in April that called for UniMelb to boycott Israeli institutions and companies. That motion also called for a boycott of "Israeli institutions, researchers and academics that support the Israeli oppression of Palestinians".
Jewish students at ANU described the motion as failing to "explicitly differentiate" the actions of the Israeli government from the Jewish and Israeli-Australian community at large, which they say could have been avoided if they were consulted beforehand. 
A similar Israel-Palestine motion was also passed at ANU in May 2021, which was also alleged to have passed without properly consulting the University's Jewish community. 
This year's motion prompted Jewish students to share several stories detailing their negative experiences on campus following the passage of the 2021 motion. Concerns surrounding the wellbeing of Jewish students in the wake of the motions were echoed by the ANU Jewish Students Society (ANUJSS). 
Observer spoke to Jewish students about how last year's Israel-Palestine debate impacted their experience on campus. 
When the UMSU motion passed in April, its calls to boycott Israeli institutions were aligned with the global Boycott, Divest, Sanction (BDS) movement. 
In the following days, UniMelb and its Jewish students society condemned the motion as antisemitic.
Despite ANUSA's motion of support passing in May, UMSU rescinded their original motion a week later, on 25 May. 
The ANUSA motion included that they should denounce "false accusations of antisemitism in order to justify Israel's apartheid regime", alongside a measure to publish similar statements of support on ANUSA's Facebook page. 
Welfare Officer Grace King told the SRC attendees that the motion would clarify that "ANUSA stands on the side of the students from the University of Melbourne Student Union". King added that "Israel is an internationally recognised apartheid, settler-colonial state engaging in the ethnic cleansing of Palestinians." 
A separate attendee agreed, adding that ANUSA should support the UMSU motion because "their BIPOC department and student union is facing continuous attacks from the Liberal Party and the [University] administration." 
Conversely, ANUJSS President, Adam Tadmore warned attendees that the motion's language could prove anti-semitic, requesting that the SRC shelf it pending "proper consultation of Jewish students." 
"Like last year's ANUSA statement, the current motion fails to explicitly differentiate the actions of the Israeli government from the Jewish and Israeli-Australian community at large", one student stated. They continued that the failure to do so has led to the "conflation" of these groups in the past, "incit[ing] antisemitism". 
The 2021 ANUSA statement said it was "in solidarity with the Palestinian people against Israel's ethnic cleansing and apartheid", and demanding that "ANU immediately severs ties with arms manufacturers providing support to Israel and the IDF". 
"ANUSA acknowledges that Israel's actions against the Palestinian people constitute crimes against humanity and apartheid… ANUSA supports Palestinian self-determination and the right of return for Palestinian refugees". 
Adam similarly characterised this year's motion as  "reckless" and lamented the fact that "the Jewish community wasn't consulted". He also reflected that although the Israel-Palestine conflict "had already stirred up a lot of antisemitism", he felt the ANUSA motion "made things worse" for ANU's Jewish community. 
"We heard from students [last year] who went to class or the dining hall and were instantly berated with questions about their stance on Palestine multiple times a week", Adam recounted.
"It adds up after a while and eventually, it just becomes exhausting…a significant number of Jewish students had to return home, at least ten that I've been made aware of," he added. 
He highlighted that the students who left campus were disproportionately "Jewish women of colour", and suspected that they in particular may have been asked more for their stance on Palestine because they look "more Israeli". 
"In reality", he stated, "most Jews either don't care or don't want to talk about it, and when you are constantly being berated, students become stressed and exhausted". 
In a statement to Observer, ANUSA reiterated that it "condemns antisemitism in all forms and stands in solidarity with Jewish students and staff experiencing antisemitism at ANU." 
"ANUSA's condemnation of antisemitism and of Israel co-exist congruously", they added, "Jewish people are not inherently pro-Israel, and many people who are pro-Israel are not Jewish. As such, ANUSA rejects the conflation of antisemitism with critique of Israel. As a student union, ANUSA takes a firm and important position on Palestine. We do so with the crucial understanding that Jewish people are not assumed to be implicated in Israel's actions, or support Israel at all."
ANUSA also told Observer, that it "is committed to supporting and collaborating with Jewish students to address antisemitism."
A Jewish student – who will be referred to as Sarah – sat down with Observer to recount the "alienating" weeks that followed the 2021 ANUSA motion. 
Sarah described how on one hand, everybody was "looking at me for a reaction" and "interrogating [Jewish students] about war crimes and the conflict", but on the other hand she was being excluded from 'Free Palestine' conversations by people who "didn't want to offend me and the other Jewish kids". 
Sarah said she felt the 2021 ANUSA Facebook statement  "changed how I saw a lot of the people around me and the comments made me feel like I had less of a place on campus." When asked further about the language used in the hundreds of comments garnered by the post, Sarah said, "it made me feel really scared."
At the time of writing, the 2021 ANUSA statement has 198 comments. Whilst one commenter said they were "thinking this statement is a little anti-Semitic", and another accused ANUSA of "seemingly always forgetting to extend support to Jewish minorities on campus", other commenters thanked ANUSA for taking a "principled stand against the ongoing human rights violations" and expressed disappointment at the "vitriol" directed at an "entirely fair political statement". 
Sarah said that many Jews and Israelis, including herself, "oppose the government's settlements and many other human rights issues", but says that the lack of "nuance and sensitivity" in the discussion is detrimentally affecting her experience on campus. 
"It made me question if I had a place at ANU, and eventually I just kind of shut off." 
Adam described the response to concerns raised by him and other Jewish students at the SRC as "really disappointing". In telling Observer that ANUSA's solidarity stance with UMSU's boycott is "unacceptable", he articulated that "calling for the deliberate exclusion of Israeli academics is blatantly xenophobic". 
Sarah stressed in conversation with Observer that she doesn't believe ANUSA's motions on the Israel-Palestine conflict are motivated by hate, adding "they thought they were doing something good but ultimately it was making [Jewish students] feel uncomfortable". She remains concerned about the motion, and believes the 2021  motion fuelled a discourse that made many Jewish students feel "unsafe". 
"Growing up, I went to a Jewish school and I just didn't understand that some people haven't met Jews before and some people are antisemitic", Sarah said. "So, to see those [kinds of] comments was very confronting and nothing like what I'd experienced before". 
"It made me question that there might be a reason why Jewish communities are so insular, when other spaces can become hostile very quickly". 
---