Head to Head for ANUSA Welfare Officer
Posted On September 28, 2022
---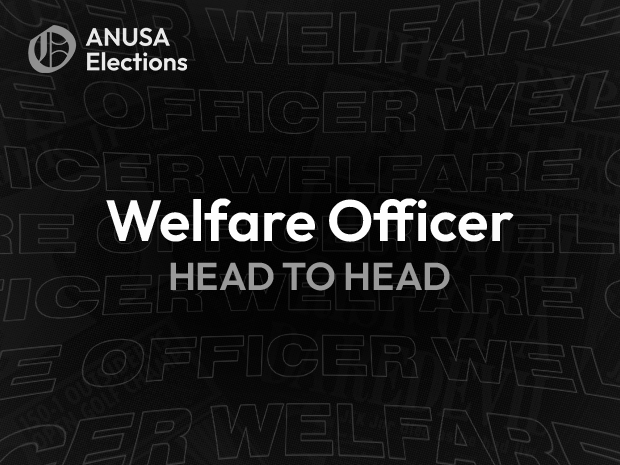 By James Day
There are four candidates running for the ANUSA Welfare Officer position this year: Isabella Harding (She/Her) from 'ACTION! For ANUSA'; Luke Harrison (He/They) from 'Power in Community'; Leo Hadley (He/Him) from 'Jedi Council for ANUSA'; and under an independent ticket Kai Dreyfus-Ballesi (He/Him). 
'Jedi Council for ANUSA' candidate, Leo Hadley, states his election promise to be that "all future elections must be settled by a lightsaber battle on Kambri Lawns". He has no further information pertaining to his policies, history, or personal ambition for the role. However, this statement can be found on their Facebook page:
"Brian Schmidt made the university a $150 million profit last year, whilst overseeing mass course cuts, degree extinctions & staff layoffs. Despite this, he still managed to get himself a payday that's higher than the Prime Minister's salary. Help us restore balance to the universe by voting in a bunch of Jedis, who Mr. Schmidt will be obliged to meet with every fortnight. And yes, we will be wearing the Jedi robes to every. single. meeting."
The Job
As the title suggests, the Welfare Officer takes on the responsibility of maintaining and improving the livelihood of all students at ANU. Whether it be through channels for providing services like housing, food, financial security, and legal assistance; or advocating on behalf of students to retain, improve, and expand what help is available to them. This role necessitates collaboration with the whole ANU community, from students to staff, of which the latter focuses on furthering the work of ANUSA's own Professional Student Assistance Officers.
The Candidates
Isabella Harding (She/Her)
Harding is from Melbourne, a second year Law/Public Policy student, and has resided at BnG Hall since coming to ANU. She is also Deputy of the ANU Disabilities Student Association and a working student. On the latter point, she states her knowledge of how the "STRUGGLE IS REAL", coupled with an "understanding of the intersectional struggles students face and the rights we so desperately need", underpins her offer as Welfare Officer to the ANU student community. Harding is also running for the NUS Delegate position under the 'Stand up for our Union' ticket. 
Luke Harrison (He/They)
Harrison is from Wagga Wagga, and a third year International Relations/Arts student, the latter of which he is majoring in Political Science and minoring in Environmental Policy. He has resided at Fenner Hall since arriving in Canberra, worked as the Gender and Sexuality Advocator and Educator (GSEA) in 2021, and is currently an SR there. 
They were elected as President of the Queer Interhall Council in 2021, and in 2022 they have been an elected ANUSA General Representative, before becoming a Deputy Education Officer. 
Underpinning Harrison's values is their "strong passion for welfare", with personal experience as "a worker, a carer, First Generation student" and someone with "accessibility needs". Along with being a self-identified "avid unionist", and believing "that ANUSA should be a strong, left-wing, independent, democratic union" – which should be "standing for the rights of all students and against neoliberalism" – Luke is also running to be a NUS Delegate, under the same ticket 'Power in Community'. 
Kai Dreyfus-Ballesi (He/Him)
Kai is a fifth year Science student running as an independent due to his belief in the importance of ANUSA being a place that is "open, accessible, and represent[s] a diversity of student voices". He also states that ANUSA should not be "dominated by factions with their own agendas and party lines to toe". In the past, he has worked with ANU Counselling to "develop new group support programs, engaged with students at ANUSA O-week events, and started the ADHD Collective, a community support network of over 300 students". 
His interpretation of the role's challenges involve communication, stating that the Welfare Officer "needs to have their finger on the pulse when it comes to students' needs". Kai says that the position "should do more than just service provision", with consistent consultation between the student body and ANUSA, highlighting that "many students aren't aware of what ANUSA is at all". He is also involved with running campaigns "in partnership with the Education Officer, to improve the material conditions and lives of students". 
The Policies
Isabella Harding
Harding's bid for the position is guided by four policy domains, the first being an actionable "ten-step plan on how to achieve meaningful tenancy rights at ANU residences based on legal advice and student feedback". This feedback will be garnered by a report, collating residential experiences from all corners of the University. She states the incentive behind this policy is that, "residents are not considered tenants but occupants which gives us less rights, such as an inability to cancel our contract without the permission of the university". 
Second is a multitude of efforts to revive ANU's student social scene by making an on-campus experience more affordable. This begins with increasing student representation in the management of Kambri, investigating its "unreasonable prices and how these profits influence the university and private businesses". Furthermore, it includes consistent funding for BKSS, working with the ANU Pharmacy in making "discount pharmacy rates", creating a "centralised parking availability network" that informs students of availability and the permit system, and an ANUSA bus that runs a regular route through campus, without charging students. 
Third is a policy centred on employment assistance for students. Harding promises to work with "nationally accredited providers" in making ANUSA's Skill Up program more affordable, on top of lobbying the ACT government to provide university students with free government accreditation such as RSAs, RCGs, WWVP.
Fourth is dedicated to unionism, which is implied to be supported by her assumed appointment as an NUS Delegate for which she is also running in this year's election. She intends to broaden ANU's voice on the national stage to "implement the best practice models for our comrades across the country here at ANU". 
Luke Harrison
Harrison sees the role of Welfare Officer as a "deeply political role" with activism "at the centre of the work", stating their main objective "is to educate, communicate, and organise with all students, especially those who come from marginalised backgrounds to facilitate this change from the ANU". To fulfil the responsibilities of this role, according to Luke, five key points of improvement must be implemented. 
On the area of student unionism and the ANUSA organisational structure, Harrison believes "there needs to be serious altercations". First, in increasing transparency between the ANUSA Executive and all the other members of the organisation. Harrison states that this will be achieved through introducing more of those members onto boards and committees, along with more dialogue from the Executive members, as Harrison believes that "secret meetings and backroom chatter need to end". Harrison also believes that this effort should be in tandem with a greater breadth of engagement between all ANUSA representatives and the student body, as well as an improvement in its "dispersion of information" for its services that he states many are unaware of, especially grants.
On his point regarding community building, Harrison wishes to collaborate effectively with a number of groups around campus. Aside from the Departments and Clubs, Luke also wishes to continue the work of the 'First Generation and Low-Income Students Collective', which was started by this year's Welfare Officer, Grace King, who is also on the 'Power in Community' ticket, running for Vice-President. He intends to start a 'Parents and Carers Committee' to ensure their needs are met, citing his own experience as a carer for his brother in high-school, as well as a 'Senior Residents and Resident Assistants Collective', bringing together SRs and RAs from all over campus to socialise, discuss "the nature of the work, and organise if they wish". This last point brings us to his intention of informing students how they can join their union through "summary sheets" that break down what they do, as well as providing a "student discount on membership fees". 
For their points on accessibility, Harrison endeavours to improve understanding amongst students on how to get Educational Assistance Plans (EAPs) through in-house crafted guides, encouraging "course convenors and lecturers" to inform students, and simplifying the EAP renewal process. Outside of EAPs, Harrison wishes to implement a '5 Day Simple Extension' policy that the University of Sydney recently adopted, which allows students to submit a request "without requiring a medical certificate, but instead are held accountable for what they say in their application". They also want to take away Proctorio due to it's "invasive monitoring system", introduce more measures for 'Multi-Modal learning' so that students are able to attain their education with a consistently reliable online platform, continue the 'Mutual Aid' system, and provide greater ease of access for physically disabled students across campus facilities.
Harrison has four points of action for his belief in the role's activism responsibilities. First, organising a 'Reverse the Rent' campaign with the Interhall Council, Residential Committees, and student community to lower the "rent of students to 2020 levels, promise to stop fee hikes, and implement a just system of fixing issues in residential colleges". Second, to "demand the NUS restart their campaign" to lower the age of independence for students in Australia to access Centrelink from 22 to 16, increase payments, "decrease eligibility requirements", and smoothen the process to apply. Third, to stop the ANU from privatising the on-campus medical centre and fourth, to create a framework for students to "quickly organise snap protests" as "welfare issues arise". 
Harrison's last area of improvement is to replace the current 'Education Committee' and 'Wellbeing Committee', with a new 'Education and Welfare Action Group' dedicated to mobilising students to fight against issues pertinent to them. They want to work closely with their ticket's candidate for Education Officer Beatrice Tucker, who is vying for a second term in the position, in pushing students to work on issues outside of the university. The two principal focuses of this group would be the aforementioned issues around Centrelink, and housing affordability in Canberra. 
Kai Dreyfus-Ballesi
Dreyfus-Ballesi's campaign operates within four distinct areas of improvement. First is an enlargement of ANUSA's capacity to communicate with the student body and provide it with greater degrees of accessibility. This issue, he says, can be resolved by communicating with students at residential hall O-week events, first year lectures, and SR training workshops, broadening ANUSA's information outreach to platforms like WeChat and Instagram, hosting in-person office hours within the BKSS, and making ANUSA meetings more transparent and inviting to the general community alongside the General Secretary. 
Second, to fight for affordable housing in Canberra where he makes reference to the city's position of rent being "over $175 per week higher than the national average", and the legally mandated annual residential hall rent rise. He states that he intends to achieve this through working with the Canberra Housing Coalition for "affordable student public housing", and running campaigns against rent hikes on campus.
Third, to disperse "free and affordable meals for students" that are "hearty" and "healthy", citing Kambri's unaffordability as a core reason. To do this he intends to expand the BKSS Student Bites program by not only providing these previously mentioned regular meals, but also creating an 'ANUSA Food Rescue Program' akin to OzHarvest. 
Fourth and final, to "meaningfully support and consult ANUSA's autonomous departments". This last point operates through both his missions to expand ANUSA's communication pathways and campaigns on student issues. On one end, he states a willingness to continue support for ongoing campaigns like the Women's Department 'Follow Through ANU'. On the other end, he again states a drive to intimately collaborate with departments such that "ANUSA meetings, services, and communities are safe spaces for marginalised groups".
---
Know something we don't know? Email [email protected], or hang onto it until our interim website gets an anonymous tipline again!
If you have an issue with this article, or a correction to make, or you would like to send your condolences for our loss, you can again contact us at [email protected]. You can also submit a formal dispute to [email protected]. 
Want to get involved? You can write articles, photograph, livestream or help us bring our web home back to life. Email [email protected] for that. However, do NOT visit anuobserver.org the website!
---