Millionaires Row: 'Unaffordable' Rents Surpass $500 a week at Colleges
Posted On November 22, 2022
---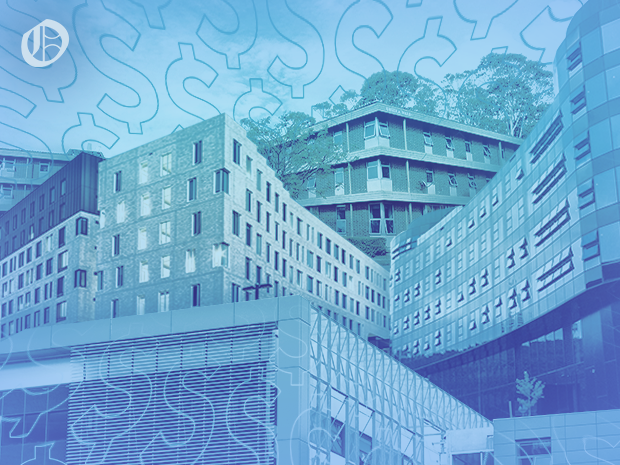 By Ryan Bourke
The Presidents of Burton & Garran Hall, Ursula Hall, and UniLodge have expressed serious concerns following another rent hike for ANU's on-campus accommodation. Foregrounded by the ongoing cost of living crisis, residential leaders have told Observer that the rise in rent threatens making on-campus accommodation inaccessible to students from low socioeconomic backgrounds. 
In 2023, rent will surpass $1000 a fortnight at three colleges; Bruce Hall ($500 p/wk), Burgmann College ($516 p/wk) and John 23rd College ($520 p/wk). While colleges like B&G ($260 p/wk), and Fenner Hall ($330 p/wk) offer more affordable tariffs, Observer understands that the demand for spots at both colleges significantly outweighs the number of beds available. Tariffs will also be raised at UniLodge, with many residents facing a rent rise of around $30 a week.
  A 2021 survey conducted by the Melbourne Institute of Applied Economic & Social Research reported that the average annual income of a full-time university student with part-time employment was $16,310.
 On this income, an ANU student would not be able to afford any of the catered undergraduate residences; the cheapest  catered option is Ursula Hall at $20,460 for a standard 44-week lease. While a student on the average income could technically afford all three of ANU's self-catered colleges, only B&G residents would have enough left over to afford groceries, which is $4992 a year for a single person according to Canstar Blue. 
Residential leaders say that the rises in rent have made ANU's residential experience "inaccessible" for students from low SES backgrounds.
At $465 p/wk, Ursula Hall's tariff will increase by $897 per year in 2023. Speaking to Observer on Tuesday, Ursula Hall President Archie Horneman-Wren said he was "really worried" about next year's tariff, which he claims will have risen by just under $100 a week since 2016.
"Despite being the cheapest catered [option], we are becoming financially inaccessible to a large part of the population," he said. "My sister was at Ursies, but since then the demographic has become so much different. It's a noticeable change in who's coming to college. It seems to be high SES [students] as opposed to  lower SES."
Horneman-Wren also said that he is aware of multiple residents who are leaving due to their inability to afford next year's tariffs. 
"Already I've spoken to several first years who can no longer afford to live here and have applied to B&G, but demand is so high that only a few have been accepted. The financial stress on some of the residents has been really quite sad to see."
UniLodge President Neve Lawson, also said  many students across the four UniLodges  are facing rent increases of "around $30 a week.
"A lot of people at Lodge are working really hard to make ends meet and it really is quite difficult when these are the prices we're facing. One of our ResCom members signed a lease in 2021 for a five-share apartment at Lena Karmel for $275 a week. That's now gone up to $301 per week, and will increase again to $335 next year.
"People have this idea that Lodge is cheap, but it's definitely not, and with these increases that are obviously more considerable than other halls, it is tricky because we are often detached from the rest of Uni culture," she said.
When asked what needs to change, Lawson told Observer, "As residential leaders, we definitely need to focus on getting our foot in the door of that room where decisions about our rent are being made. Often decisions get made without our input and then we find ourselves in the [Inter-Hall Council] having to fight those decisions when we should have been consulted before they were made."
Will Byrnes is one of Burton & Garran Hall's two Co-Presidents for 2023. He says that the rise in rent could lock people from low socioeconomic backgrounds out of college, compromising the commitments that ANU's strategic plan makes to equity and diversity. 
"ANU talks about being open to students from the widest range of possible backgrounds and perspectives, and I just worry about how wide of a range they'll get if they make it harder for low socio-economic students to live on campus.", He said.
"I think you've got to look at these increases in rent and ask yourself, does a switched-on student from any high school in Australia have the same opportunity to come here then maybe someone that went to a GPS [private] school?"
Speaking on the value that socioeconomic diversity brings to the residential experiences, Byrnes told Observer, "The beauty of college is that you get so many people from so many different backgrounds and perspectives. The people here are going to run the country one day, and exposing them to different perspectives and walks of life at such a critical stage is almost an obligation of the ANU."
Ultimately, Byrnes said he and many of his counterparts at other colleges want to "work constructively with the ANU."
"Let's look at the people who we might be blocking out of being able to come into ANU because of rent increases, and have additional equity-based scholarships."
ANUSA Welfare Officer Grace King has echoed the calls of residential leaders. 
"ANUSA condemns the ANU for its increase of on-campus accommodation rents above the consumer price index; it is clear to students that the ANU would rather prioritize its bottom line over the residents who so often struggle to make these payments." 
King also said that "these rent increases come amid mass inflation, a cost-of-living crisis, and a record-breaking off-campus rental market in Canberra," and that "the increases in on-campus accommodation rent in 2023 make this university more elitist."  
When asked to respond to the concerns of student and residential leaders, a spokesperson for the ANU told Observer, "It's important to note that these tariffs don't just cover rent. Tariffs at the upper end of the spectrum also cover a range of other costs including Internet, three meals a day and utilities." 
The Spokesperson also noted that, "The rent proportion of the weekly tariff is below market rent."
The spokesperson confirmed that there are no plans to put a freeze on rents due to special economic circumstances. They stated that "students who need financial assistance to help cover living costs while studying at ANU are able to apply for financial hardship bursaries."
Graphics by Will Novak
Know something we don't know? Email [email protected] or use our anonymous tip submission.
If you have an issue with this article, or a correction to make, you can contact us at [email protected], submit a formal dispute, or angery react the Facebook post.
Want to get involved? You can write articles, photograph, livestream or do web support. We're also looking for someone to yell "extra!" outside Davey Lodge at 1AM. Apply today!
---