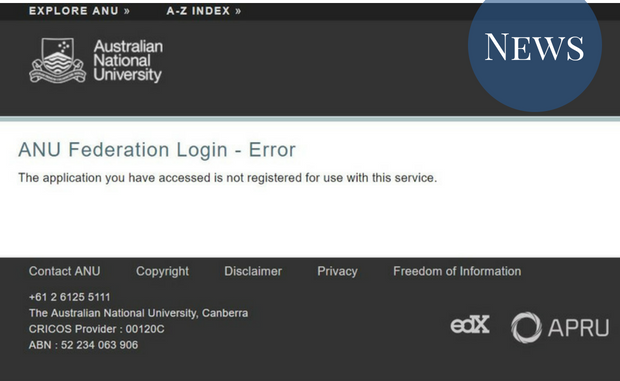 The opening of voting for the ANUSA Election has been delayed by issues with the online system. Voting was meant to open at 9am today.
Voting is done online through Membership Solutions Limited (MSL). Students first log in through an ANU portal. However, when the "log in" button is clicked, an ANU screen shows which reads, "The application you have accessed is not registered for use with this service." ANUSA President Eleanor Kay told Observer, "The issue seems to be with Shibboleth [ANU's identity verification platform] – so with ANU, rather than MSL."
This is not the first time there have been issues with the online voting system. Last year, a number of students had to be asked to re-cast their vote, after some candidates could not be voted for. That instance was due to an issue with the MSL system.
Kay could not say when the issue would be resolved. "We're working with both ANU and with MSL to make sure we get this sorted as soon as possible," she said. Reform ANUSA candidate Ashish Nagesh said the delay was "stressing a lot of candidates out". He queried whether the issue could be resolved in a timely manner given the fact that MSL is based in the UK, where it is currently the middle of the night.
Kay said ANUSA may not extend the voting period, as the Association's Regulations say voting needs to be open for 75 hours. With voting due to close at 4pm on Thursday, ANUSA has until 1pm today to resolve the issue before it is obligated to extend the voting period. "I will be in contact with the Returning Officer to see if she wants to extend voting on Thursday," Kay said.
When the system is operational, students will be able to vote at https://www.voteanusa.com/.
Want to get involved? You can write articles, photograph, livestream or do web support. We're also looking for someone to yell "extra!" outside Davey Lodge at 1AM. Apply today!
Know something we don't know? Email [email protected] or use our anonymous tip submission.
If you have an issue with this article, or a correction to make, you can contact us at [email protected], submit a formal dispute, or angery react the Facebook post.