Tensions at Hong Kong Solidarity Display
---
By Anthony Lotric
The tunnel which many students pass through everyday as they enter the Copland Courtyard from Kingsley St has become host to a 'Lennon Wall', a political display in support of the pro-democracy demonstrations in Hong Kong. Since the Wall was put up on Wednesday evening, it has been an area of tension, with pro-Beijing students apparently taking down parts of the display and putting up posters of their own.
The term 'Lennon Wall' refers to the mosaic of post-it notes featuring messages of protest and solidarity that was first created as part of the 'Umbrella Movement', a series of pro-democracy demonstrations that were held in Hong Kong in 2014. The current unrest is a response to a proposed law that would allow prisoners to be extradited to mainland China, a move that many perceive to be a violation of the 'two systems, one country' compromise that exists between Beijing and the Hong Kong special administrative region.
On Wednesday evening a number of students met to create a Lennon Wall at Copland, which included posters highlighting alleged wrongdoings by the Chinese Government in Hong Kong, and police brutality against protestors. A student speaking on condition of anonymity told Observer that the display was "initiated by ANU students and was spread across the Hong Kong student community via social media".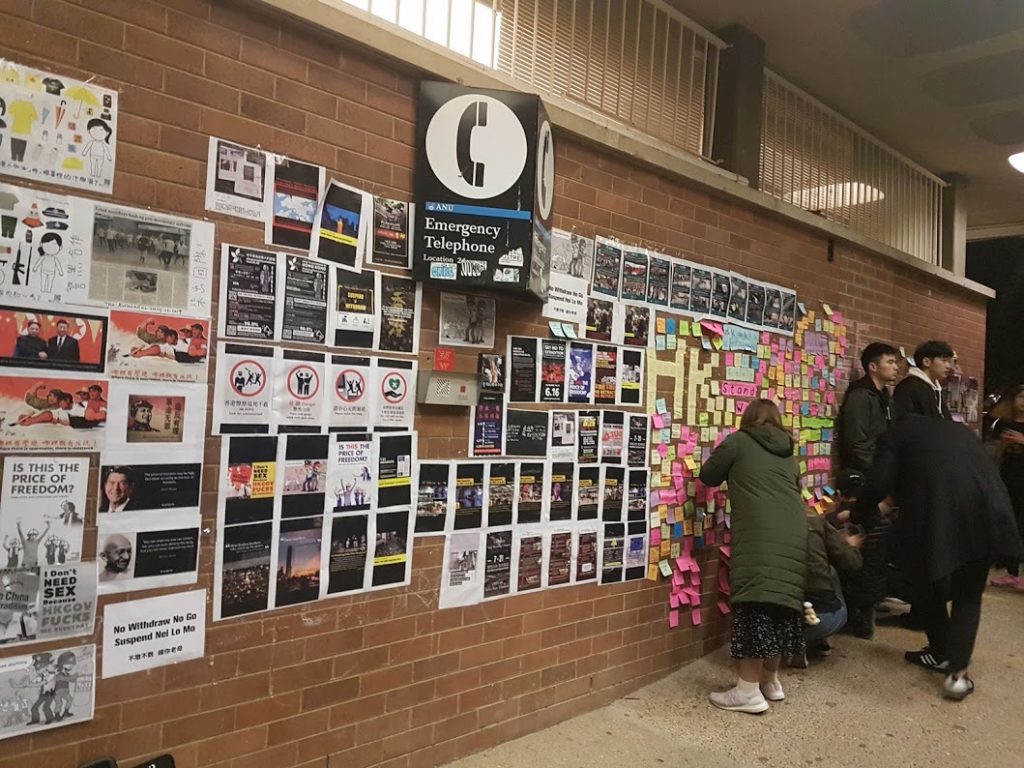 While the students were putting up the display, a number of other students arrived who were apparently opposed to the Wall. Two such students stood in front of the Wall for much of the time the display was being created. Students involved in the Wall told Observer that they expected the opposing students to take down the display. By morning, many of the posters had been taken off, along with some of the post-it notes. The wall was instead decorated with posters supporting the Chinese Government. Beijing has described the demonstrations in Hong Kong as unacceptable "riots".
While there have been no violent clashes at ANU, as were seen at the University of Queensland last week week, the atmosphere at the wall yesterday was described as "tense" by one student. An argument broke out between pro-democracy and pro-Beijing students when some of the latter tried to put up a poster covering the post-it notes. A compromise was reached that allowed pro-Beijing students to put up their posters, so long as they did not cover the Lennon Wall display.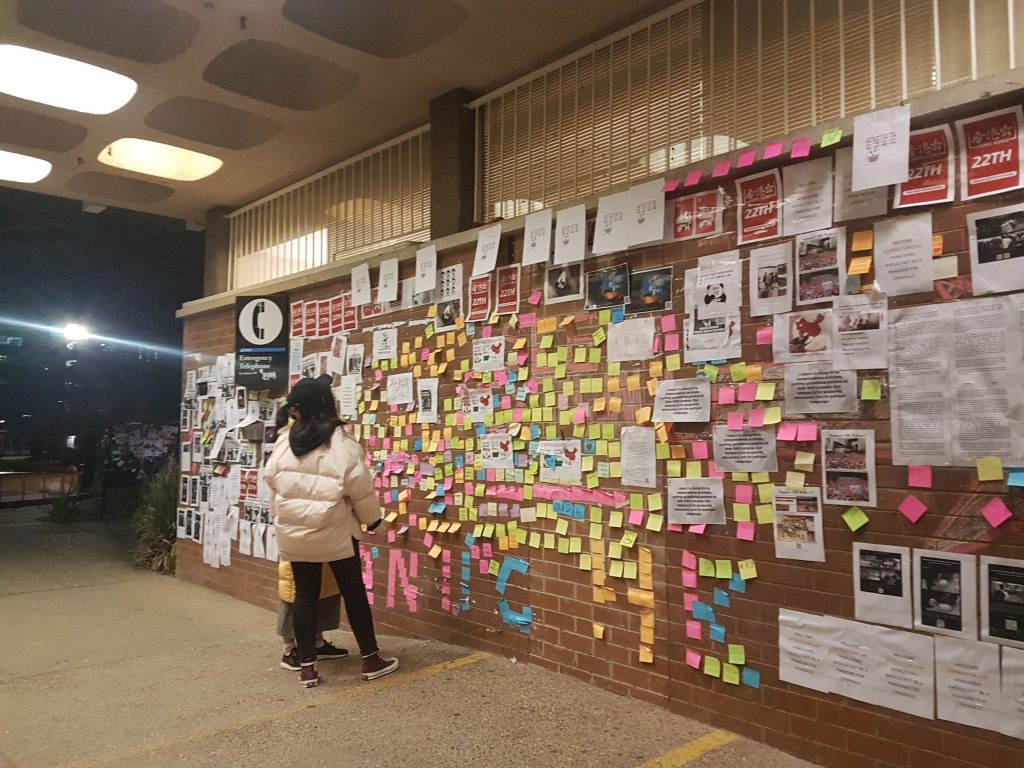 Later that afternoon, Observer was informed that tensions had flared up again, and that more pro-democracy messages had been obscured or destroyed. By Thursday evening, a significant number of pro-Beijing posters had been put up, some of which covered the Lennon Wall display.
Some pro-Beijing students claim that a local student mocked their accents when they voiced protest about the Lennon Wall. The International Students' Department put out a statement on Thursday that they "strongly condemn any racially charged speech or abusive slurs and hate speech targeting any nationality."
Observer understands that ANU has scheduled extra security for the area. A security guard present at the wall last night said he would be on patrol in the area until midnight. "The University encourages and inspires debate and lawful free speech," stated a University spokesperson. "We expect these views are also expressed in a lawful and respectful manner."
The wall was put up the day after ANUSA's Student Representative Council declined to consider a motion supporting the protests in Hong Kong. The motion had been put forward by the Socialist Alternative club, and called on ANUSA to "stand in solidarity with the student-led protests in Hong Kong against the proposed extradition law" and "call for support of efforts to show international solidarity in the struggle for democracy in Hong Kong and China, including by students at ANU". The SRC held an in-camera discussion and decided not to entertain the motion. ANUSA issued a statement saying this was because "the motion was not relevant to our objectives and goals under the constitution". However, the Socialist Alternative club told Observer that they were told the motion "was ruled out of order because it might offend Chinese people" and that "it's inappropriate for anyone to take a position on the protests in Hong Kong because it was just too complicated". ANUSA did not respond to Observer's request for comment on the motion and the Lennon Wall.
At time of publication, the Wall remains decorated with pro-democracy and pro-Beijing posters. Bright orange bollards and tape form a loose barrier in front of the display. One of the pro-democracy students told Observer that they plan to "put another wall up" if this one is destroyed. "We would not compromise to such [a] blatant assault on freedom of expression," they said.
The Posters
The Wall features messages ranging from pro-Hong Kong independence to those calling Hong Kong a "heaven of murderer [sic]". Some are written in English, others in Chinese, and some are merely images.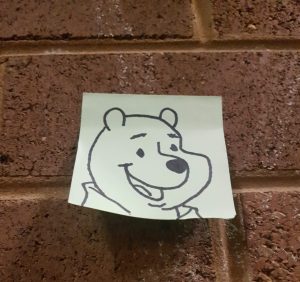 Pro-democracy messages include a poster saying "Say no to extradition & police brutality & Carrie Lam", and post-it notes with "Love 4 Hong Kong", "Born to be free", and "Fuck the CCP". There is also a post-it note with simply a drawing of Winnie the Pooh.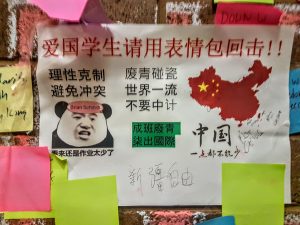 One of the pro-Beijing posters features a photoshopped image of Brian Schmidt's face, and text in Chinese. A student told Observer that the text indicates that Schmidt is saying "it seems like there is not enough homework". The poster also apparently says "no part of China will be lost", and "patriotic students, please use memes to fight back", among other things. Other pro-Beijing messages include "Hong Kong belongs to China" and "We love Hong Kong/We love China".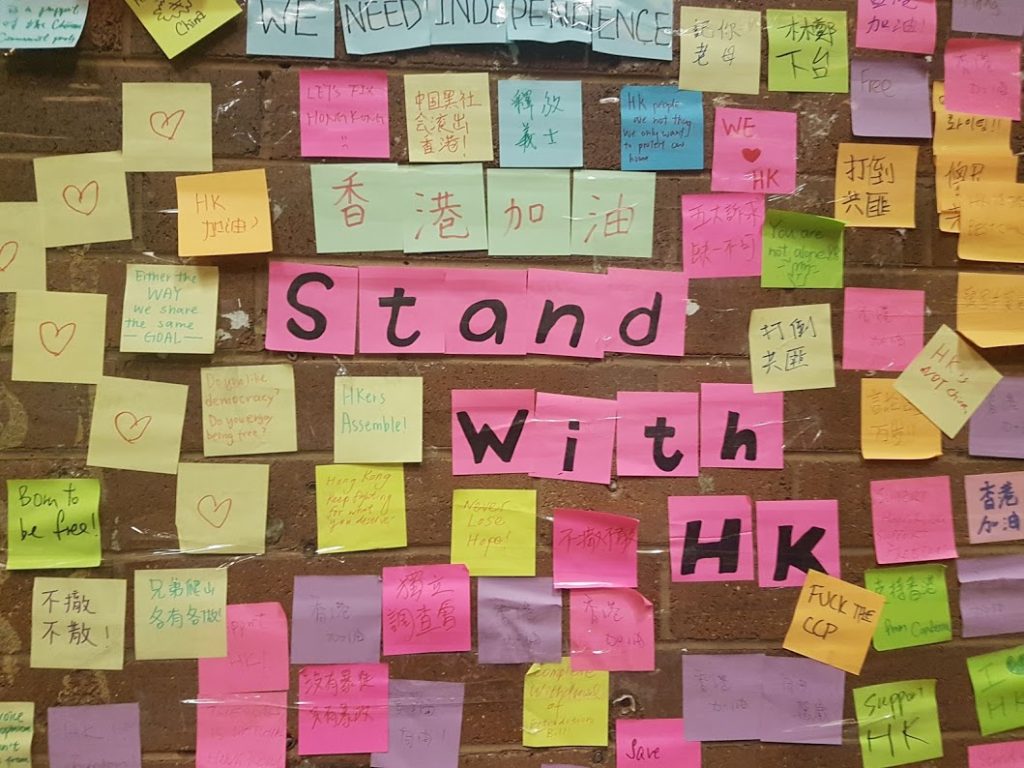 Another poster includes a QR code that links to a web page titled "Nobody Q&A Set", a mock question and answer between the author and other students. It informs the reader that the current protests are not necessarily supporting independence for Hong Kong, urges Chinese and Hong Kong student to not let "anger blind us", as well as to leave the wall alone as tearing it up would "leave us with empty walls", which would be "ugly". It also calls for both sides to avoid accusing their opponents of causing violence, as "most put too much focus on the violence of the other side and little [on] their own".
Eliza Croft contributed to reporting.
Know something we don't know? Email [email protected] or use our anonymous tip submission.
If you have an issue with this article, or a correction to make, you can contact us at [email protected], submit a formal dispute, or angery react the Facebook post.
Want to get involved? You can write articles, photograph, livestream or do web support. We're also looking for someone to yell "extra!" outside Davey Lodge at 1AM. Apply today!

---